There are generally 2 ways to record Android on computer, choose the one that suites you most.
With built-in or third-party screen recorder (e.g AZ recorder) for you Android phone maybe from OnePlus, Samsung Galaxy, Google Pixel, Xiaomi, Huawei or so, you can directly work out and save screencasts on the gadget. But unlike screen recording on PC, doing the screen video capture on smartphone is relatively a heavy work. Because screen recording is so "computationally expensive" that it's bound to take a toll on common devices, causing the device get a slow performance, become laggy and overheating, there's insufficient storage to save the recording etc.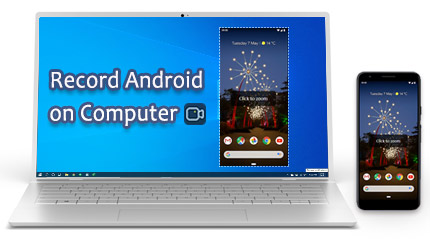 In spite of this, many people want to record Android screen on their Windows or macOS based computers. If you happen to be one of them with the same requirement, please follow this tutorial and learn 2 ways to create Android screen video on PC without any influence on Android performance. You have to know that the two ways essentially obtain the same workflow – mirror first record next, while mirroring or say casting type varies – one uses USB cable and the other one doesn't.
For a quick and easy recording, you are suggested to download and install a handy screen recorder on your machine beforehand, and RecMaster is the recommended desktop recorder for its simplicity and multifunctional recording modes.
Way 1 – Free Project Android to Windows 10 PC Wirelessly and Then Record Android on Computer
Windows 10, since its anniversary update in 2018, has the upgraded "Connect" app to support free screen mirroring. With your Android phone and computer connected to the same internet, you can record Android on computer with ease. Since different Android phones may have diverse support and settings, you follow the same or similar steps below to finish the recording on PC. (The demonstrative phone model is P30 from Huawei.)
1. Make sure the computer and mobile are connected to the same Wi-Fi.
2. Click notifications icon on the right bottom of screen and then "Connect" ->"Projecting to this PC" by turn to pop up a dedicated Settings panel. On this panel, you can check related permission & notification settings on projecting and customize them to what you want.
3. Navigate to the Android phone's Settings -> More connections -> Easy Projection, and toggle to enable the "Wireless Projection". After your PC name is detected and displayed on the AVAILABLE DEVICES, tap it to go ahead.

4. Back to computer, for the first time projecting or if you have set "Ask to project to this PC" to every time, you will receive a prompt and do confirm the connection by hit OK. After seconds loading, your mobile will be wirelessly connected with and displayed on the desktop.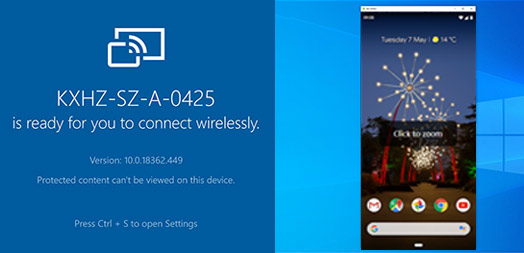 5. Open RecMaster and choose a proper recording mode. If you want to 1:1 record the screen with no other things included, Custom Area or the Mobile Phone Mode is the one to go.
6. After manually selecting the perfect size and determining the preferred format/quality/fps or so forth for mobile capture, simply press the red button to start the recording.

You can pause and resume, annotate the video and when your recording target like Gameplay/online streaming goes to an end, hit the red button again to stop it. From the recording list, you are still empowered to preview, rename, edit and share the final video at will.
Q: Does Mac have Connect-similar feature to display Android movement on Macbook/iMac?
A: Mac has such internal feature which's called AirPlay. But it only supports streaming content on Apple device (e.g iPhone, iPad, iPod, Mac) to Apple TV or smart TV that's compatible with AirPlay 2. In other words, to put Android phone to Mac-based computer, either desktop or laptop, you should rely on third-party mirror tool. Just move on the reading to Way 2 for a free tool. (>> How to Record iPhone on PC)
Way 2 – Free Mirror Android to Computer with Cable and Then Record
There are piles of commercial Android to PC mirror software for more convenient Android video capture on computer. However, besides the premium nature, two installations are the have-haves for successful connection without cable – one setup for computer and the other for Android. Here another open source mirror program is shared for cost-free mirroring with USB cable. If free stuff is competent for this same job, why not utilize it rather than employing a pro by breaking the bank?
Scrcpy is what's suggested here. Developed by Android emulator called GENYMOTION, it's born to help any Android owner to move mobile screen to computer with only a cable. Now please free download it from github and follow the instruction below to work it out.
1. Before the connection and capture, you should enable USB debugging on your phone. It's an Developer option you ca usually find out under Settings -> system & updates. Also the operations on Huawei P30 are shared:

Go to Settings -> About Phone and type the Build Number continuously for seven times to enable the developer mode of phone. Then back to Settings' main panel and navigate to System & updates ->Developer options to enable USB debugging.
2. Download and install RecMaster on your computer for the upcoming recording.
3. Connect Android and computer (Windows or Mac are both OK) with an official cable.
4. Run scrcpy by clicking "scrcpy.exe" file from its folder. If it says press any key to continue, do as it says.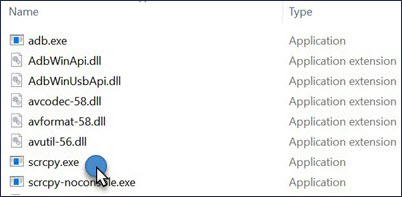 5. When your Android desktop appears on scrcpy's window, you can open up RecMaster on computer and select either suitable recording mode to start the capture. In most case, in order to keep a horizontal mobile-sized video, customers tend to use Custom Mode, which also has ready-made 9:16 mobile-friendly size for true one-click recording. (See also: How to Record Horizontal 9:16 Video on PC)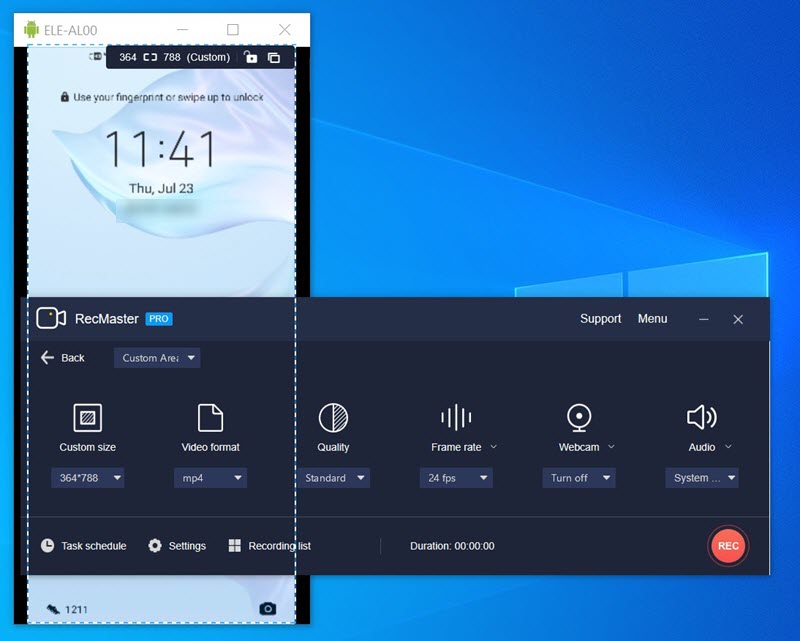 6. Stop the video grabbing when the activity is over. From the recording/video list, you can check the video, customize its name, delete the unnecessary parts, and share it to YouTube at one go.
Bottom Line
Many gamers build two-computer to enable one for gaming and the other one for recording, and this "record Android on computer" method works in the same way by separating mobile action and recording behavior onto two places to ensure both of them obtain the smooth performance. Although it will take you more time to realize the mirroring, once you've done, you will enjoy a lag-free and also hassle-free screencasting with the help of decent Windows/Mac recording software.
If you take all of these solutions so complicated and don't want to dive into either, you can gain benefit from Android emulator to initiate for example the gameplay process on computer and record it with RecMaster.