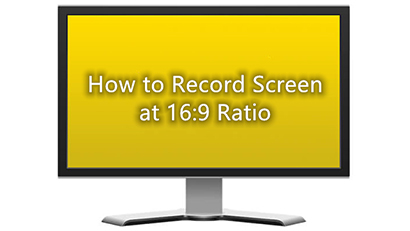 16:9 is a widescreen aspect ratio whose width divided by length ratio is 16:9 and since 2009 this typical ratio has become the most common aspect ratio for television and PC. You won't be strange with this aspect ratio since they are everywhere in our daily lives. 16:9 is the most adopted ratio in British and Japanese TVs. It is also the international standard format of HDTV, non-HD digital television and analog widescreen television PALplus. Now video makers have adopted this perfect aspect ratio too. To produce brilliant footages at 16:9, record screen at 16:9 with screen recorders is a good measure. After users made their 16:9 videos, they could choose to upload the videos to the major video portal websites or play them on the TVs. This article will tell you how to produce 16:9 aspect ratio videos.

How to Record Screen at 16:9 Aspect Ratio?
RecMaster is a potential screen recorder that bears rich features ranging from game recording, full-screen recording, and webcam recording to audio-only recording. This typical screen recorder avails users to record PC gameplays, streaming videos, online courses and also video presentations. Most importantly, with RecMaster's custom-area mode, users are able to record horizontal screen video at 16:9 aspect ratio.
2. Choose Custom-Area Mode and enter the setting panel.

Choose 'For PC'. Then according to your PC's resolution, select 2560*1440 (16:9) (This resolution accords with editor's own laptop, different PC could have different options for resolution here), 1920*1080 (16:9), 1280*720 (16:9).
BTW, If you want to expand the area or contract the area, you can drag the rectangle to reshape your recording field (with aspect ratio remains at 16:9).
Choose your inclined video format (MP4, AVI, FLV) > Video quality: Standard, High, Original (the highest quality) > Frame rate is suggested to set at 30, which is powerful enough to record normal activity on your screen. If you want to record gameplay, you should tweak the parameter thus to record video at 60 FPS. > Set up the audio sources.
3. Hit REC to start recording. While recording, users could operate on the floating bar to stop, pause, resume recording at any time.
4. Press the red button on the floating bar to stop recording. You can find your footages at the 'Recording List'.
How to Make Your 16:9-Aspect-Ratio Videos Look Better?
RecMaster has a series of useful features that can help embellish users' videos while they record screen at 16:9 aspect ratio.
● Edit Your Footages
After users finish recording, RecMaster allows them to edit their footages. The simple default editor helps users to cut unwanted beginning or ending fragments.
● Add Annotations
RecMaster has bountiful annotation tools for embellishing users' footages. The annotation tools include brushes, graphics, lines, erasers, etc. Annotate your 16:9 aspect ratio videos and highlight the contents.
● Add Webcam
Webcam is an important element for typical video types like presentation videos, and tutorial videos. This component brings verbal narration to videos.
● Add Watermark
RecMaster allows users to add two kinds of watermark to their 16:9 videos – text watermark and image watermark. Users could choose the transparency of the watermark and choose where to place the watermark.
What Is the Aspect Ratio?
Before you decide to record screen at 16:9, there is something you need to know about Aspect Ratio. The aspect ratio is the notion of the display ratio between the width and the height. It also writes as W:H where W is the width, and H is the height. And 16:9 aspect ratio means that a screen's width divided by height is 16:9.
● 16:9 works great for TVs
The ratio 16:9 is the mainstream aspect ratio used by the majority of today's TV shows, but unfortunately, most movies are made using the cinema standard, which is 21:9 – a wider ratio compared with 16:9, so if you watch 16:9 videos on your 21:9 TVs, it is inevitable to have black parts around of the image.
● 16:9 is often called a widescreen aspect ratio
Widescreen Aspect Ratio – this expression has things to do with 4:3 aspect ratio. In the old days when TV shows used to be made by 4:3 aspect ratio, a lot squarer ratio than the current TVs. And 16:9 aspect ratio is a little bit larger than 4:3, that's where the Widescreen Aspect Ratio comes from.
● The Most Common Aspect Ratio in the Industry
Aspect Ratio
Uses
TVs
4:3
SD Channels
Old TVs
16:9
HD Channels
The majority of HDTVs
21:9
Most movies
Most theaters
14:10
IMAX Film
Very few theaters
19:10
IMAX Digital
Most IMAX theaters
● What does different aspect ratios look like?


As you can see in the centre of the screen, there is always black area around the image. That is because black bars fill the extra space when the aspect ratio of the screen and content do not match.
Depending on different types of mismatch, the black bars could appear in different places on the screen. If the image is wider than the screen it is played on will have horizontal black bars, and if the image is taller than the screen, there will be vertical bars.
Conclusion
This passage is an all-around guidance for users who want to record screen at 16:9. The aspect ratio 16:9 is the most welcomed ratio among the world, and with RecMaster's help, anyone can produce good 16:9 videos, give the recorder a try and you will not be letdown.