AMD screen recorder does offer a quick and easy screencasting solution for decent AMD graphics cards owners…
Similar to Nvidia screen recorder from Geforce Experience, AMD's Radeon screen recorder is actually the Radeon Relive, now upgraded into Recording feature, from AMD Radeon Software suite. Since there are more than one edition of Radeon Software Adrenalin, the latest 2020 Edition will be our target one in this post.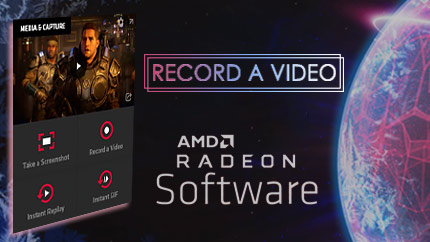 A Glance at Radeon Software Adrenalin 2020 Edition's Recording Functionality
As a free program provided by the developer of AMD graphics cards, AMD Radeon Software is actually a software package, with a rich toolkit to help its users check and obtain a better game experience, update drivers more conveniently and do more things in a quicker and faster way at no cost, among which Media capture & sharing is a typical example.
Screencasting is naturally a source-intensive task. So letting AMD graphics cards to take charge of this mission not only eases the burden from less powerful CPU, but also boosts the efficiency of video processing greatly. However, only when your graphics cards meet the requirement can you gain the benefit from Radeon Software's Recording function to record gameplay or other things natively totally on GPU while having less performance effect on the recording objective
Check The Availability of AMD Screen Recorder & Key Features
Supported Graphics Cards
Radeon™ RX 5000 /Vega/500/400 Series
Radeon™ VII
Radeon™ Pro Duo
AMD Radeon™ R9 Fury, R9 300, R7 300, R9 200, R7 200, R5 300, R5 240 Series
AMD Radeon™ HD 8500 – HD 8900 / HD 7700 – HD 7900 Series
Supported System
DirectX9-12 and VulkanAPIs on Windows7 64-bit and Windows10 64-bit.
RAM Requirement
More than 2GB VRAM memory.
Recording Modes
Game recording, Desktop recording, Borderless region capture
Available output settings on recording
Recording profile (quality)/resolution/fps/encoding type/bit rate (for video);
Audio bit rate/channels/boost (volume), Separate microphone track
Multi-monitor support
√ (But it only features single display recording or AMD Eyefinity display configuration recording.)
Hotkeys
√
AMD Radeon Software's recording function is capable of producing MP4-formated screen video on PC game, app or the whole desktop at your preferred quality, size and encoding method. AVC and HEVC are two available codecs for recording, both of which are super widely used. While compared to AVC (also known as H.264), HEVC creates video in a much smaller size. Now let's take a deep look at how AMD Radeon works for recording.
Record with Radeon Screen Recorder on PC, Follow the Steps Below…
Suppose that you are a newbie and this is the first time to use Radeon Software or its recording functionality, a full user guide is shared in the following part, covering things from the very start. If you've finished some steps, please just jump them over to go on.
Step 1. Download and install the latest edition of AMD Radeon Software Adrenalin on your PC. You can also click the official download link of 2020 Edition here.
Step 2. After the successful setup, right click the desktop to pop up a menu and click AMD Radeon Software to access its main window.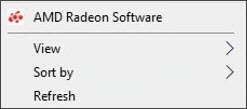 Step 3 – Hit the Gear icon on the top right corner of software to enter into a Settings window, where you should navigate to General -> Recording for more precise capture settings. In previous 2019 edition, you must manually enable the Relive recording feature manually to for more settings and further game experience grabbing.
Here you can freely select a recording mode and a ready-made recording profile with fixed resolution, fps and bit rate like Low, Medium, High, or customize them by picking the proper values from the available options, such as what are displayed below:
– Resolutions: 360p, 480p, 720p, 900p, 1080p, 1440p, 2160p (4K), and In-Game.
– Frame rate: 30fps, 60fps
– Video encoding type: AVC, HEVC
– Video bit rate: Up to 50Mbps
– Audio bit rate: Up to 320Kbps
….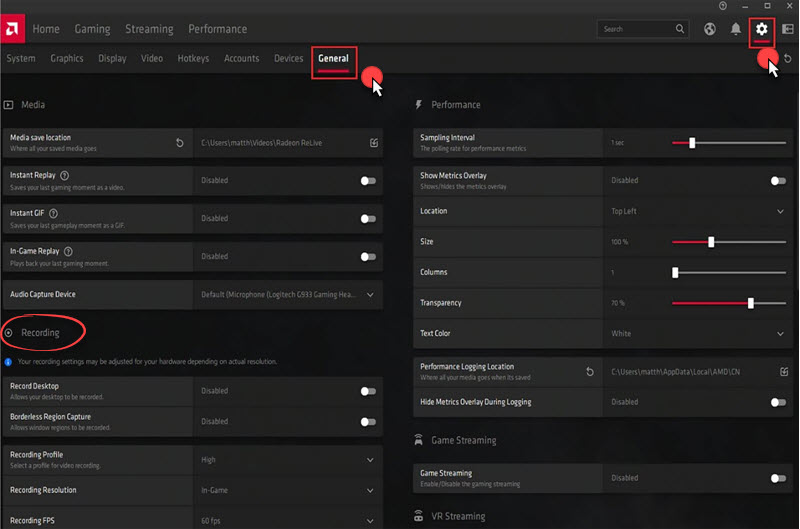 You'd better get familiar with other settings regarding Media like save location, enable or disable Instant Replay, Instant GIF, and In-Game Replay facilities. If you have multiple screens, choose the one under Display. Moreover, remember or personalize the hotkeys of recording under the Hotkeys section.
Default hotkeys examples:
Toggle Recording: CTRL + F9 | Toggle Camera: CTRL + SHIFT + C
Toggle Region Recording: None | Toggle Microphone: CTRL + SHIFT + M
Save Instant Replay: CTRL + SHIFT + S | Take Screenshot: CTRL + F12
Save Instant GIF: CTRL + SHIFT + J | Save In-game Replay: CTRL + SHIFT + U …
Step 4. With related adjustments done, you can run the target gameplay or other application and then start the recording immediately. After the capture, you can edit the file with Scene Editor under Streaming Window and share it to social platforms like YouTube and Weibo afterwards.
Limitations of AMD Screen Recorder
AMD Redeon software does offer a one-click recording solution for middle- or high-end AMD graphics cards based computers. And the preloaded media settings can meet most requirements on the output video. While compared to general dedicated desktop screen recorder, this part-time screen capture utility is more a pure recording tool than a versatile recorder, which usually has many additional abilities to automate the recording and polish the video footage.
Specifically, if you want to directly produce recording in non-MP4 format like AVI, MP3, and FLV, bring about more effects to video event, auto-initiate the recording at anytime you like, and do more video edits after the recording, since Radeon screen recorder is unable to do so, you can take advantage of quality AMD recorder alternatives like RecMaster.
Top Alternative Hits to Relive/Recording of AMD Radeon Software
Considering most customers takes AMD Relive/Recording as a game recorder to save gorgeous gameplay moments locally, here several handy and game-recording-enabled screen recorders are cherry-picked to help you realize a more flexible desktop capture. What's more, for those whose AMD graphics cards are not involved in Redeon Software available series, seeking for one Redeon Relive/Recording alternative is a must-do.
● RecMaster – A Multifunctional Screen Recorder with Game Mode
Supported PC: Anyone running Windows XP/7/8(.1)/10 or macOS 10.11-10.15
Suitable for: Both beginner and advanced users to record gameplay or other actions.
RecMaster is designed to document whatever activity happening on computer into a local media file, be it video or audio format. With it, you can screencast game sessions, software demo, video tutorial, PowerPoint presentation, and any common streaming sources. As long as the content is not copy protected, you can grab and save it easily.

Although as a entry-level screen recorder, RecMaster give both newbie and seasoned users the ability to make pro-looking screencasts out of plain display movements and freedom to record at any wanted time. How?
Firstly, you can enable some effects like mouse cursor color/highlight/sound, text or image watermark, and add webcam overlay for popular picture-in-picture frame.
Then, you can annotate the video with drawing pen and whiteboard tool, which is quite suitable for guide vlogging and online course creation. Better still, the bundled editor can cut unnecessary segments off in clicks.
At last, its internal scheduler and auto-start tools makes it hassle-free to record at customized duration and at system startup.
● OBS Studio – An Open Source Broadcasting and Screen Recording Program
Supported PC: Anyone running Windows 8(.1)/10, macOS 10.13 or newer
Suitable for: Veteran gamers, streamers, and general video makers with screen capture needs.
OBS is a piece of freeware that any gamer should know and use for either live broadcasting or screencasting. By offering more settings on recording output, video and audio than AMD's recorder, OBS empowers users to record screen video in many formats like MP4, MKV, FLV, MOV, TS, and M3U8 with general X264 or hardware accelerated codec. Multi-track support enables you to add and separate audio tracks at up to 6 quantity.
The best part is OBS has no limitation on recording sources and sizes. In other words, you can mix multiple apps into a single video as Source or Scene nature to achieve pro-level montage effect. If you are a potential video lover, OBS is really worth a shot.
>> Dig into more game recording software