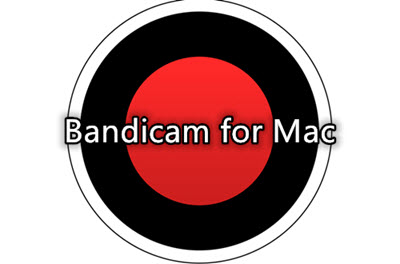 Bandicam is wildly acknowledged as a magnate in the screen recorder market. Although Bandicam has received praises from all over the world, until now it still doesn't support any Mac system. And Bandicam for mac has been an arduously searched keyword but hasn't seen the trace of realization.
For the purpose of showing Mac users Bandicam's features and performance on Windows and most importantly further find them other suitable substitutes on Mac, I write this passage.

Bandicam's Basic Features and Specs
Unfortunately, the keyword 'Bandicam for mac' does not exist – the face is that Bandicam won't work for any Mac operating system temporarily.
For those who are interested in Bandicam's working mode, here I list all the features, parameters of Bandicam.
● Bandicam Configurations– Video Recording Settings
Add webcam overlay: users can decide the position of their webcam and also the resolution of the webcam.
Cursor effect: users can decide the effect size, and highlight effect.
Add text or image logo/Water mark: Bandicam allows users to add customized watermark to their footages, the watermark could be text watermark or image watermark.
Video Format: AVI, MP4.
Codec: H264, Xvid, MPEG-1, Motion JPEG, YV12, RGB24
Video Quality: 10-100 up-to original video quality
Video FPS: 1-480
Audio Bitrate: 32-320
Audio Frequency: 22050-48000
Audio Channels: Stereo or mono
● The Feature of Custom-Area Recording
1. Open Bandicam and choose 'Rectangle on a screen'.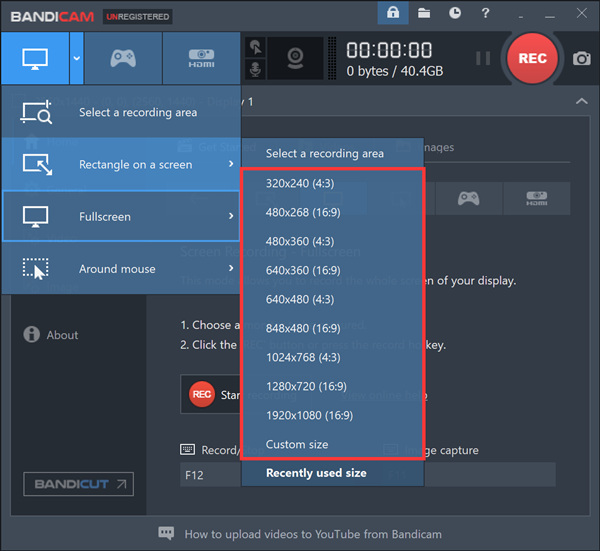 If you don't want to use the provided aspect ratios or resolutions, you can select 'Custom Size' to create a customized area for recording.
2. Then a transparent window will jump out, hit REC to start recording.
In the interface, you can annotate your footage with a series of useful tools.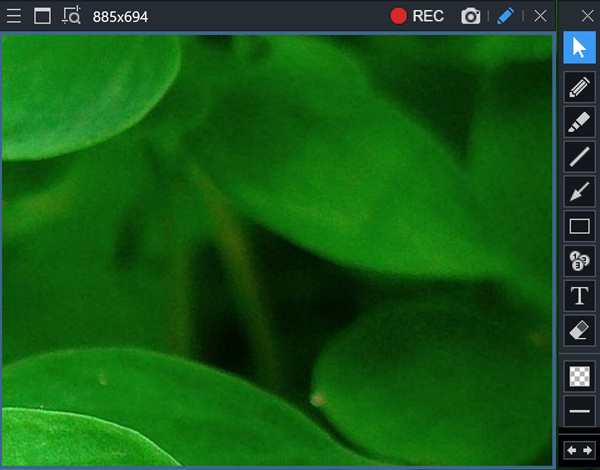 ● The Feature of Full-Screen Recording
1. Open Bandicam and select 'Full-Screen Mode'.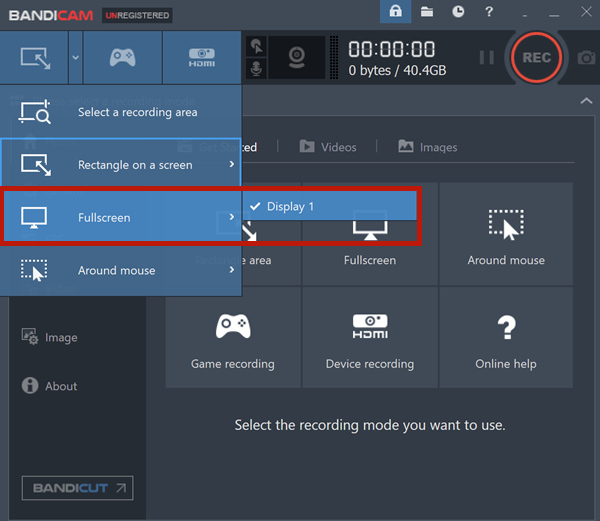 2. Click REC to start recording or hit the hotkey (F12) to start/stop recording.
3. Once users finish recording, they can edit or upload their footages by hitting 'Home'>'Video'.
● Other Useful Features of Bandicam
Scheduled recording: Users make Bandicam automatically record their screen at a pre-set duration.
Auto complete recording: Users can order Bandicam to auto stop recording once their recordings reach a specific time or file size.
Capture image: Users are allowed to take a screenshot of their screen.
Game recording: Bandicam offers its users with up-to 480 FPS, a parameter scarcely seen in the industry. With this premium recording condition, literally users can record any game without latency.
Alternative screen recorder of Bandicam that works on Mac
To save users from the dilemma of unable to use Bandicam for mac, I would recommend them to use the alternative software that could work on compatible Mac systems –RecMaster.

RecMaster is a newly-born screen capture software. It was designed to provide users with clean interfaces but gather the richest features at the same time. As a Mac screen recorder, RecMaster enables users to record live streaming content with the original audio, create tutorial for software with both webcam and (system/microphone) audio. In addition to that, RecMaster also captures the hottest games all without effort. Now you can get this program from the Apple app store and then conduct any capture immediately.

● Other features of RecMaster
Segmented recording: RecMaster can split the videos while recording.
Annotation tools:Users are allowed to use tools like white board, brushes, graphics, arrows and lines to annotate their footages.
Recording Modes: RecMaster prepares four recording modes for its Mac users – Full-Screen Mode, Game Mode, Audio-Only Mode, and Custom-Area Mode.
Watermark: RecMaster enables its users to add customized watermark to their videos while recording. The watermark takes forms of texts or images and users can feel free to decide where to put the watermark on the screen.
A Chart That Compares the Mentioned Two Software
● Compare the Key Features And Availability of Bandicam and RecMaster
Bandicam
RecMaster
System Requirements
Windows XP(SP3)/Vista/7/8/10
Mac OS X 10.11 or later
Windows 10/8/7/XP
Supported Resolutions
Up-to 4K UHD 3840*2160
Up-to 4K
Time Limit
10 minutes, unlimited if Users pay for its license
2 minutes, unlimited if users pay for its license
Video Quality
Up-to original video quality
Standard quality, high quality and original quality
FPS
Up-to 480 FPS
Up-to60 FPS but 120 FPS will be issued soon
Video Formats
AVI, MP4
MP4, M4V and MOV for Mac;
AVI, FLV, MP4 for Windows
Webcam
YES
YES
Recording Modes
Full-screen mode, game mode, custom-area mode
And HDMI mode
Full-Screen mode, game mode, custom-area mode, audio-only mode
Watermark for free trial
YES
YES
Customized Watermark
YES
YES
Multiple Screen Recording
Dual monitors
Multiple screen recording should be under Custom-Area Mode
Annotation Tools
YES
YES
Editor
No internal editor
YES
● Compare the Price of Two Recorders
The Bandicam license is a one-time purchase. Once users buy the license, their benefits and update rights are promised.
Bandicam's prices are variable and they have things to do with the number of users' PCs.
The license for 1 PC charges for 39 bucks.
The license for 2 PCs charges for 59 bucks.
The license for 5 PCs charges for 137 bucks.
RecMaster charges 24.99 bucks for a lifetime license and the license support 2 PC
Another choice is 19.95 bucks for one year's validation for 1 pc
Verdict
Bandicam is one of the strongest magnates in the screen recorder industry. But the fatal deficiency of it is that there is no Bandicam for Mac situations temporarily. As an alternative screen recorder of Bandicam, RecMaster not only works perfectly on Mac but also possesses strong features that are not a penny worse than Bandicam and charges far less money. Don't hesitate now and give RecMaster a try.
More information about RecMaster:
Best 5 Free Game Recording Software for Windows
RecMaster VS Game Bar, Which Is Better for Screen Recording on PC?
OBS Review: The Most Powerful Streaming and Recording Tool
How to Use Screencastify on Your Computer [Detailed Guide]