If you don't plan a budget on paid-for software, then the lucky for you, this article is about to recommend brilliant free game recording software. Some freeware bearing powerful features are even not a penny worse than professional paid-for software. We write this article to exhibit some best screen recorders for gaming and listed important characteristics of them. In this way, we hope users are primarily informed of the types and features of screen recorders.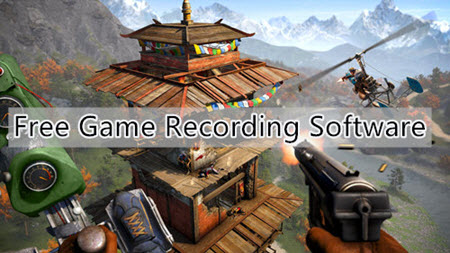 Commercial game recording software like RecMaster however, is not bad choice as usual. This type of game recorder has much more stable performance. And once users register into commercial software, their experiences are further ensured by the professional agents behind the software, if you need professional demands over screen recording, you could consider giving it a try.
But now, let's get straight to the point and see the 5 premium free game recording software.
1 – Built-in Xbox Game Bar of Microsoft
Xbox Game Bar is the most fundamental built-in program on PC. Coming along with the operating system – Windows 10, Xbox Game Bar was created to fill the void of a dedicated recorder.
This program, by the way, is not a sheer recorder. The game recording is, however, a feature of it. You can regard this feature as a built-in recorder of the Xbox Game Bar. The "recorder" is designed with a clean interface. It takes up the least area on your screen and delivers the most reliable functions for you. Xbox provides users with an intuitive control bar which means there won't be any learning curves of operation. But how do we know if this software suits game recording or not?
Here are some important factors of Game Bar as references to consider.
FPS: Literally, the higher FPS your recorder succeeds to provide, the smoother the recordings will be. 60 FPS is the standard parameter for game recording. The game bar allows users to record their gameplay at 60 FPS, a condition powerful enough to record most games with good quality.
Time Limit: 4 hours at most.
Interface Design: Clear and minimalist.
Watermark: no watermark.
Performance Penalty: Game Bar causes random in-game stutter now and then. Users should disable "background recording" for fluency of their games if necessary. If you record with "Game Mode" provide by this software, this problem could be mitigated.
Editor/Annotation Tools: Unfortunately Xbox Game Bar wasn't embedded with an editing feature. So if you have further demands on some trimming of your game footage, I am afraid you must turn to a third-party editor.
Features: screenshot, game recording, background recording (to capture previous plays),
Special feature: background recording without system tray icon.
Characteristics: background recording – no interruption of interfaces and no system tray icon while recording.
Supported OS: Windows 10 only.
Download Link: No need to download.
☛ How-to Guide: Record Windows 10 Gameplay with Game Bar
2 – Hard-Drive Free Game Recording Software Nvidia Share
Nvidia Share (former Nvidia Shadow Play) is a bundled screen recorder of Nvidia GPU.
Its interfaces and operation modes are similar to Windows 10's Game DVR. But Nvidia possesses more powerful features than Game Bar.
As free game recording software, Nvidia manages to manually record gameplay videos for as long as users want. An excellent part of it is that It succeeds in producing videos in crisp visibility and high quality. All thanks to its capacity to record at up to 4K at 60 frames per second. What's more, Nvidia Share is hardware accelerated, which means it has an extremely low impact on FPS and game performance in general.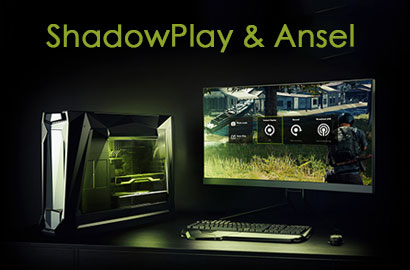 Supported Games: Not every game works with NVIDIA Share. ShadowPlay only directly supports with games that use Direct3D, and not OpenGL. While most games do use Direct3D, there are a few that use OpenGL instead. For example, DOOM, which we used as an example above, uses OpenGL, as does Minecraft.
Interface Design: Explicit and intuitive.
Time Limit: 20 minutes for Highlight recording. If users want to record more than 20 minutes, they should choose manual recording with Nvidia running background.
Performance Penalty: The performance hit from Nvidia Share is extremely low since it uses NVENC for the encoder which is done on the GPU. It's tied in with the drivers/Geforce Experience so it has very little impact on games.
Features: Instant replay and normal record, Highlights recording, GIF creates.
Characteristics:
– "Highlights" is a feature of NVIDIA automatically capturing users' key moments, clutch kills, and match-winning plays, ensuring that your best gaming moments are automatically saved.
– Users are allowed to capture and upload screenshots without leaving your game. Just simply hit "Alt+F1" to save a screenshot to the Gallery.
– Users are enabled to create up to a 15-second GIF from their favorite ShadowPlay video, and then they could upload it to Google, Facebook with a single click.
Configurations for GamePlay: Video quality should be set as High > 60 frames per second > 50 Mbps quality > H.264 video format. And in terms of audio sources, OBS allows audio and microphone sound> Webcam recording. All the parameters gathering together make Nvidia optimal game recording software.
Supported OS: Windows 7, 8, 8.1, 10
Download Link: https://www.geforce.com/geforce-experience/download
How-to Guide: Nvidia Screen Recorder: Features, Limits, and Best Alternative
3 – AMD Radeon ReLive
Radeon ReLive is packaged as an optional component with Radeon Software Crimson ReLive Edition and later versions. Radeon™ Software AMD ReLive allows users to capture their gameplay with good quality. It lets users tweak their gameplay experience by configuring game and display settings. AMD ReLive is currently supported on DirectX® 9, 10 11, 12, and Vulkan® APIs and it has a minimal impact on in-game frames per second (FPS) when enabled.
As the biggest competitor of Nvidia, AMD bears quite similar features on-screen capturing and stream service.
The very premise that users use Radeon ReLive comes to the hardware, say, When your Windows pc or laptop has a graphics from Radeon RX Vega/500/400 series, Radeon Pro Duo, Radeon HD 8500 – 8900 series, HD 7700 – 7900 series, or some Radeon R9/R7/R5 series, you are enabled to start this app up and record 1080p encoded game video at 60fps with no cost. HEVC encoding is also available on the Radeon RX series and newer products. You can see the detailed recording settings from its official guide page.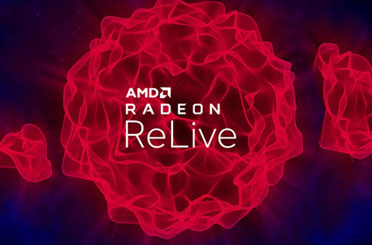 Supported Games: Recording is currently supported on DirectX® 9, 10 11, 12 and Vulkan® APIs on Windows® 7 64-bit and Windows® 10 64-bit.
Interface Design: Intuitive and uncluttered interfaces.
Watermark: No watermark.
Recording Resolution: These are the available resolutions to choose from: 360p, 480p, 720p, 900p, 1080p, 1440p, 2160p, and In-Game.
Editor and Annotations:  Simple editor.
Performance Penalty: No evident performance hit on Gameplay.
Recording Modes: Desktop recording, Borderless Region recording, Screenshot, Microphone recording.
Characteristics: Instant Replay, Instant GIF, In-game Replay, audio capture.
Configuration for Gameplay:
– Video Bit Rate and audio Bit Rate all adjustable.
– FPS is either 30 or 60, all depends on users' choices.
– Encoding type – HEVC or AVC.
– Resolution ranges from 360p to 2160p, and even in-game resolution.
Supported OS: Windows 7, 8.1 and 10.
Download Link: https://www.amd.com/en/support.
4 – OBS Studio
OBS studio is a magnet among all the free game recording software. It ranks top of the download list every year. The most rational answer citing for this phenomenon should be this software's professional and free features.
In general, OBS is an open-source screen recorder packing a lot of features and settings for users to explore. If you're willing to put in the time to learn it, this program will turn out prove its amazing versatility.
The best part of OBS is its configuration options. They are large in number and too powerful to ignore. With proper settings, uses will finally have access to high-quality gameplay videos.
However, many users have been complaining about the tough operation within OBS. OBS is indeed not a handy tool for fresh hands. But if you're willing to invest some time to learn this software or say, you have needs beyond simple game recording—professional Twitch streamers swear by OBS and its deep, configurable capacity—OBS Studio probably suit for you.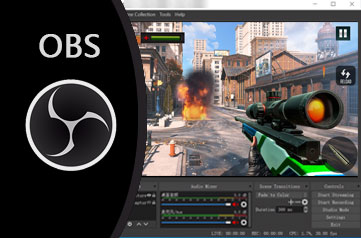 Time Limit: No time limit.
Interface Design: Complicated and not easy to get accustomed to.
Watermark: No watermark embedded with users' footages.
Editor and Annotations: No editor or any annotation tools.
Performance Penalty: OBS Studio is surprisingly low impact on budget systems.
Recording Modes: Game recording, Full-screen recording, Screenshot, Website recording.
Features: Multiple video sources filters, powerful configuration options, streamlined settings panel, multiple themes, real-time audio/video capturing and mixing.
Characteristics: 100% free of charge. Tons of configuration options for advanced demands.
Deficiencies: OBS Studio's lack of default hotkey settings for brief bursts of recording and sometimes it will collapse and "blackout" users' screen.
Supported OS: Windows 8, 8.1 and 10 | Download Link: https://obsproject.com/download.
5- Elgato Game Capture HD
Elgato Game Capture HD is free game recording software that bundled with Elgato hardware to record gameplay on game consoles. It was introduced in 2012. Basically, game capture HD was created to satisfy gamers that are craving for gameplay recording.
The heart of Elgato Game Capture HD is the Capture section. When you start the software this is the first section you see, and it lets you view and record video, and also access other features like Live Commentary and Live Streaming.
Elgato Game Capture HD is the world's first solution for making live streaming right within the software. For users who want to entertain their audience in real-time, Game Capture HD will be an instant method for it supports live streaming on a lot mainstream platforms including Twitch, YouTube, Facebook, USTREAM, Dailymotion.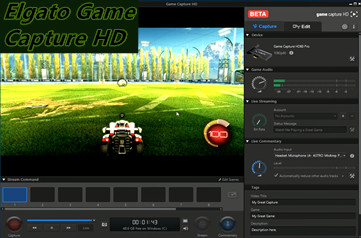 Watermark: No watermark.
Interface Design: Simple and clean.
Editor and Annotations: Simple editor and annotation tool.
Performance Penalty: Low. However, if you want to improve the performance of your game, some features should be disabled. Users are suggested to turn off Flashback Recording, Video Preview, Automatic Report, and Stream Command.
Recording Modes: Flashback recording, webcam recording.
Features: screenshot, game console recording, full-screen playback.
Characteristics: Live streaming, record headset audio, live commentary.
Configuration for Gameplay: HD 1080 resolution, 60 FPS, 8 Mbps at most .
Supported Device: Xbox One, Xbox 360, PlayStation 4, PC, iPad, iPhone/iPod touch, Wii U, Nintendo Switch.
Deficiencies: To use the basic functionality of Elgato Game Capture HD, including video capture and editing, your total amount of installed RAM needs to be 4GB or higher.
If you have less than 4GB of installed RAM, then there will be various problems that will not be solvable, such as incorrect playback or capture.
OS: Windows 10 (64-bit), 2nd generation Intel Core i5 CPU (i5-2xxx or comparable), 2 GHz or higher, before Turbo Boost, Sound card (if your laptop can play sound, then it meets this requirement), 4GB Total Installed RAM (or higher), Built-in USB 2.0 port.
Conclusion
5 free game recording software is listed above, along with their deficiencies and merits. Most of them succeed in pleading users by offering joyful service on-screen recording. First of all, no watermark is common sense, and the time limit is avoided basically. Most importantly for game recording, they provide optimum conditions on FPS and bit rate and even video quality for users, which are also the reason why they could be sifted as best game recording software for Windows.
More Game Capture Guides and Software Lists:
How to Record Minecraft on PC/Mac
How to Record League of Legends/LOL
How to Record Overwatch
Best Game Recorders for Windows 10
Best PC Game Capture Card List 2020 [with Corresponding Software]