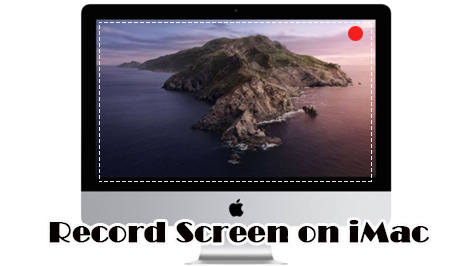 It is hard to ignore video streams when things relate to a computer are talked about. Videos strike its roots deep into netizens' daily lives. Taking forms of online lessons, tutorials, entertaining videos, social media videos, video stream is attracting us with its various channels. So, for compatible purposes, today I am going to introduce viewers screen recorder on iMac to record streaming videos. With proper iMac screen recorders, users are enabled to download their favorite contents and prevent them from disappearing.
Table Content:
1. Built-in Screen Recorder for iMac
2. Third-party Screen Recorder for iMac – RecMaster
3. Third-party iMac Screen Recorder – Snagit

1. Built-in Screen Recorder on iMac (QuickTime)
QuickTime is the default screen recorder on iMac. iMac users, no matter iMac 4K, iMac 5K or iMac Pro, find their accesses effortlessly to it. No bother to install or download, doubtlessly, QuickTime is the first choice for iMac users. QuickTime Player is well equipped with sophisticated features ranging from full-screen recording to customized-area recording to solve most customers' demands.
1. Double-click QuickTime Player.
2. Choose File > New Screen Recording from the menu bar.

3. Click the downward arrow adjacent to the record button and select an audio source. (If you have downloaded Soundflower, your menu will expand with Soundflower's option.)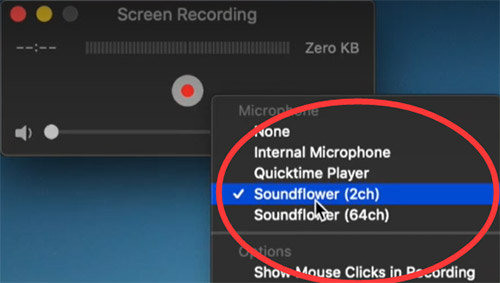 4. Click anywhere on the screen to start full-screen recording. Click and drag the cursor to draw a box for recording a customized area.
5. Hit the red button to stop recording. You can also press Command – Control – Esc to stop recording.
6. Press command + S to save your video.
A flaw of QuickTime:
However, there are complaints about the software's fail to record system sound, which means it has trouble carrying out audio tasks. The solution to this question is to ask "Soundflower" for help.
For your information, Soundflower doesn't come with your iMac, you need to do extra workflow to download and install. Here we don't expand on soundflower, check out another article to learn details about soundflower.
Another Built-in Screen Recorder on iMac (Screenshot)
macOS Mojave and Catalina provide users with a fabulous and novel screen recorder – Screenshot, which cancels redundant windows and complicated options. Hotkeys and graphs are designed to replace excessive workflow. But, one bad thing about the new-version screen recorder on iMac is that it still lacks the feature to record system sound. To mend up this flaw, as we mentioned, Soundflower is necessary.
Despite the little disadvantage, Screenshot is impressive in that it is armed with every needed function that normal screen recording software does.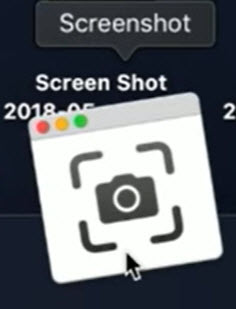 Let's get straight to the point and see how to do screen recording on iMac (OS: Mojave and Catalina) with this novel, built-in screen recorder.
In the very beginning, press Shift – Command – 5 to invoke Onscreen Controls.
1. Click 

in the onscreen controls to record the full screen. (If you have already checked the option "Show mouse pointer" in the options bar, your pointer changes to a camera

)
2. Click any screen to start recording that screen, or click Record in the onscreen controls.

3. Click 

in the onscreen controls to record on the customized area.
4. To start recording, click Record in the onscreen controls.
5. To stop recording, click 

in the menu bar. Or press Command-Control-Esc.
6. Use the thumbnail in the bottom corner to achieve trim, share, save, playback and other
7. Save your video by clicking Done.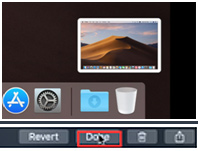 8. To share what you've been recording, click

in the thumbnail interface.
2. Third-Party Screen Recorder on iMac (RecMaster)
RecMaster commits itself to provide consumers with full features and the simplest interface. Trying to appease every anxiety on screen recording, RecMaster has managed to prove that screen recording is not a strenuous job for fresh hands.
IMac version of RecMaster has four primary recording modes. The screen recorder supports full-screen recording, customized area recording, webcam recording, and audio-only recording on your iMac. Besides, RecMaster also enables its iMac users with the capacity to edit videos.
Hit the blue button to download RecMaster

1. Finish Download and installation workflow.
2. Open RecMaster and choose a mode before recording.

3. Once you have chosen a certain mode, the setting window comes up. If you want to record your narrative voice, you should turn on System Sound and Microphone. BTW, webcam recording is RecMaster's unique feature compared with built-in Mac recorders.

4. After you complete all the setting-up work, click REC to start recording. (Side note: Hotkeys are appended below to help you save excessive operation.)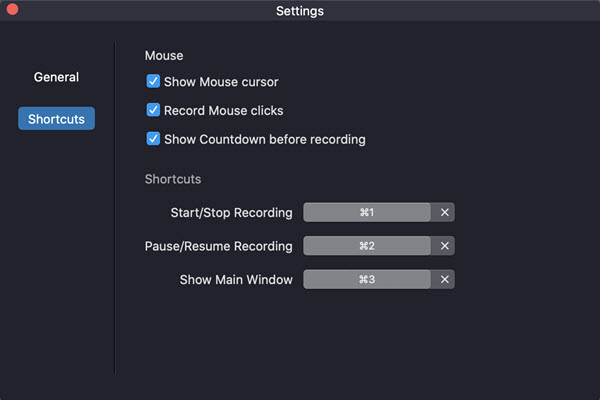 5. Stop recording and then you can rename your video as well as do playback and edit at an instant popping up window like below.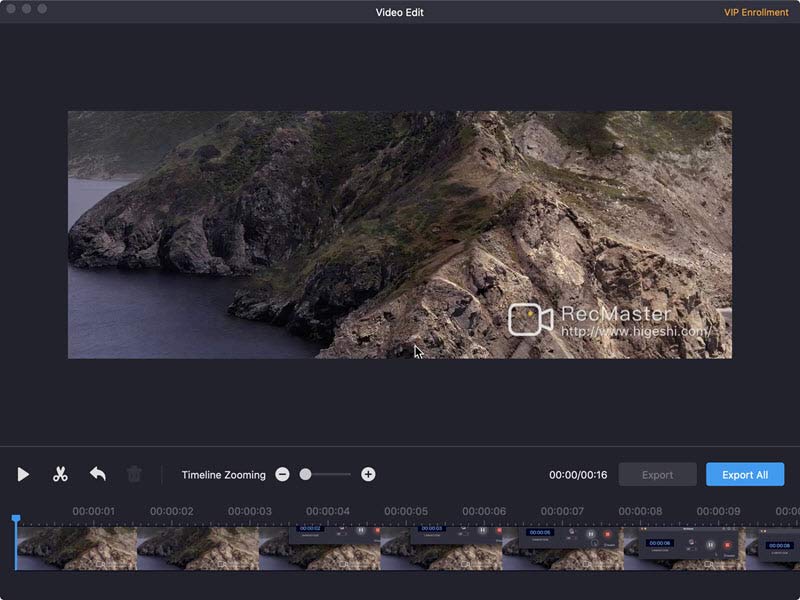 6. Click the right-below little arrow to upload your video to YouTube or Googe Drive.
3. Another Third-Party Screen Recorder for iMac (Snagit)
Snagit is the most versatile screen recorder no matter on Windows or Mac. Despite the most common features, Snagit manages to create more functions, like GIFs, editing tools, annotations, bountiful destinations to share, and No Time Limit at all (video file could corrupt if you record too long). Snagit suits both fresh beginners and professional old-hands. Being created with an uncluttered interface which is advanced with color mixes, Snagit is adored by a large number of users to record video on iMac.
1. Choose a recording mode, and click REC.
2. Choose the recording mode (window or region).
3. Click Capture to start recording.
4. Two green areas represent audio options. The upper greenish one decides whether turns on the system sound or not. The bottom one is the switch for your microphone sound.
5. After you complete video recording on your iMac, go and continue to edit your video footage.
By dint of tool bar, you can manage to add abundant annotations and icons and images to your video.
(Side note:If you want to record with webcam , you could succeed by clicking webcam options at the first interface.
Also, Snagit endowed its users with massive destinations for sharing.)
Snagit is flawless except its uncompetitive price. High above to almost 50 dollars for a lifetime and 12.5 dollars for an annual fee, Snagit has excelled its alternatives' charges.
Conclusion
That's all the introduction and instructions of the screen recorder on iMac. Briefly speaking, QuickTime is always classic and convenient. MacOS 10.14 and 10.15 Mojave and Catalina made public Screenshot which is even a more adorable built-in recorder. But the audio recording feature seems to be a perpetual puzzle for iMac-built-in screen recorders. Instead, third-party screen recorders – RecMaster and Snagit perform well in this respect. It is evident that Snagit possesses more features and functions than RecMaster, but it doesn't follow that everyone tends to choose Snagit since price-problems coop it up a little bit. RecMaster is in store for green hands with its rational price (nearly half the cost of Snagit) and full features.