YouTube Game channels are so common that anyone is encouraged to build up his or her own channel now. The big problem is whether you can find the right YouTube gaming recorder. When speaking of recording gaming clips for YouTube, gamers definitely have a lot of games for recording from Xbox One, Switch, etc.
But for the choice of recording tools, they may make mistakes in giving their first thought to those default recorders like Xbox Game Bar or QuickTime. These internal screen recorders that come with your operating system are good in that they charge none and offer you strong functions. But they both have big flaws that are unacceptable for advanced users.
To make your gameplay recordings in good quality and performance, professional screen recorders are suggested to substitute default screen recorders. Today I am going to recommend a premium YouTube gaming recorder to help you create good gameplay clips for uploading to YouTube.
How to Use YouTube Gaming Recorder to Produce Gameplay Videos for YouTube?
Immediately I could come up with 2 practical methods for you guys to produce awesome gameplay clips for uploading to YouTube.
The first method has a relation with the internal replay feature that your games bear. You can find some already-existed clips from your games (LOL, Fortnite, etc). These clips are created with its 'replay feature'.
Then the second and also the most extensively leveraged method come to leveraging screen recorders.
Use Screen Recorder Software to record gaming videos for YouTube
Game recording software surpasses the 'replay method' in that it avails gamers to do extra editing and annotating to their gameplay clips. With the aids of a proper screen recorder, you can easily create and record high-quality gaming videos for YouTube.
RecMaster is a good YouTube gaming recorder that serves as a competent tool to record games. Its light-weight attribute, easy-to-use overlays, negligible CPU consumption, and the ability to deliver strong recording function all prove RecMaster is a premium tool to produce high-quality gameplay clips.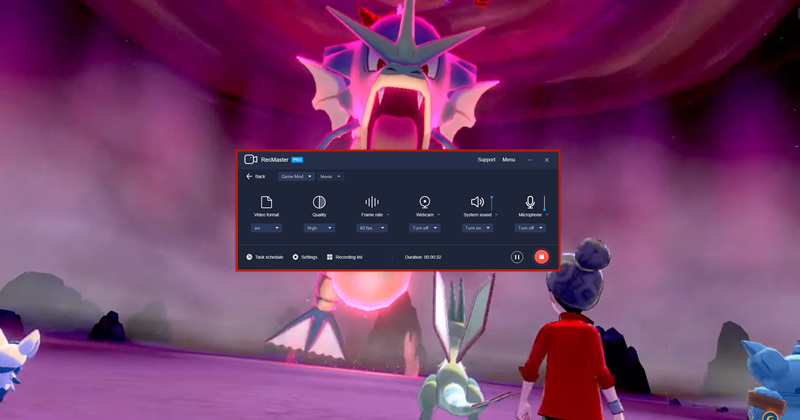 Steps:
1. Download and install RecMaster.
2. Open RecMaster and Choose Game Mode (Full-Screen Mode is also qualified).

3. Then it is high time for setting-ups.

Speak of configurations gamers are suggested to carefully tweak the options of video format, video quality, FPS, and audio sources. For the best performance of your videos, you shall choose Original quality and at the same time, set the FPS at 60 (this parameter will be 120 soon). As for webcam, you can record with a webcam if you are a game anchor, if you don't need it in your videos just disable it. As for the audio resources, make sure you turn on the 'system sound' or your video will have no sounds.
4. Hit 'REC' to start recording, and during the process, you can add annotations to your footage. This action is for highlighting your proud game moments.
5. Stop Recording and now you should go to Recording List to edit your footage. Editing is necessary if you want to cut unwanted fragments of your gameplay clips.
6. Upload your gaming videos to YouTube in one click.
Get Your Clips from Games' Replays – LOL as an Example
Getting gameplay clips from your games is a method that shares totally different mechanisms with the screen-recorder way. This very approach doesn't ask for any third-party software's participation and most importantly, it charges no money.
Here is an explanation of how this method works: Games like LOL, Dota2 records players' recent matches and automatically store them. Fortnite even stores the last 100 matches for players to replay and download.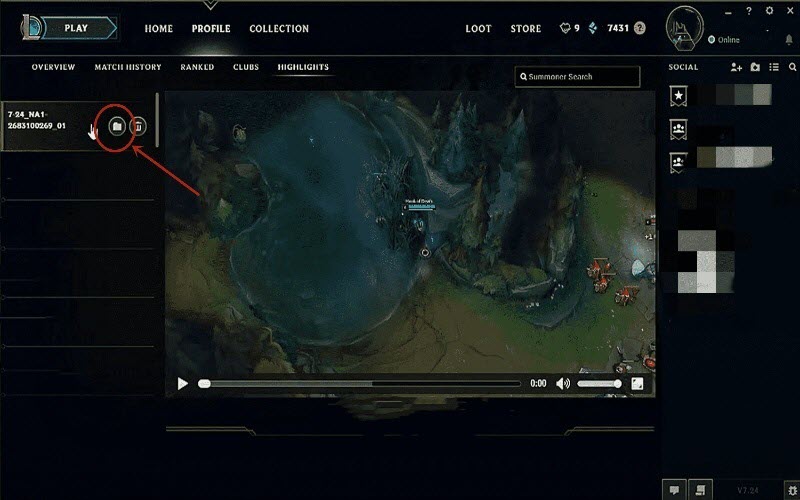 This method is tricky and may fall short dues to a big problem – many replay files use rarely seen video formats like WEBM. For example League of Legend's set its replay videos' format as WEBM which can't be directly played but can be directly uploaded to YouTube. However, Not all replay clips of the games on the market bear suitable formats for YouTube, like Dota 2 choose '.dem' files as its clips' format, which YouTube doesn't support.
To solve this problem, I used to write a tricky way to convert clips of gaming replay in the article of 'how to record League of Legends', you can figure it out yourself. But if you have no time scanning that passage, here is the extract version of it:
1. Open your client > go to your Profile > find the clip you want to save > click the 'Folder-like' button.
2. Now the clip is saved to your computer successfully. The clip folder then will show up. But here you may notice a strange thing – all your Highlights clips are in WBEM format, which means you can't open it directly. Don't worry, I have two ways for you to convert this unwatchable format – through VLC or Convertio (a 3rd-party converter).
After Recording – Upload Your Gaming Videos to YouTube
Now you've obtained your gameplay clips and it is high time to upload these footages to YouTube. Screen recorder RecMaster supports direct uploading to YouTube.
This link is simple so let's get straight to it.
1. Logged in.
2. Click the Create a video button at the top of the screen. And click "Upload Video" in the drop-down menu.
3. Under "Select files to upload," click "Public" and choose what level of visibility you want for the video.
4. While the video uploads, you can enter information like the title and description of the video.
5. Click "Publish" to complete the process. You can publish the video while it's still uploading, or wait till the upload is complete. Either way, the video won't appear online unless you click "Publish."
Writer's Words
This passage introduces a YouTube gaming recorder and a tricky way to record games for uploading to YouTube. Hope you get inspired by the offered two methods and successfully produce good clips eventually.