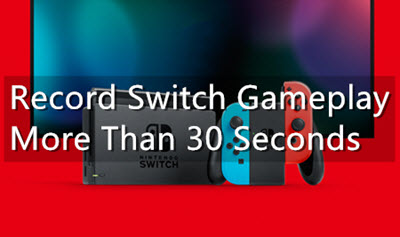 You must not be strange hearing these hottest brands – Legend of Zelda, Super Mario Odyssey, Super Smash Bros, and Pokemon Sword and Shield. They steal chunks of your leisure time and repay you with insurmountable happiness. To share your joy and experience that happens in the little Nintendo Switch console, you should consider using tools to capture them, edit videos, thus sending them to worldwide players' horizons. After you finished reading this passage, I promise you that you can have access to record Switch gameplay of the games mentioned above.
A game capture card and a PC screen recorder are the core elements in today's demonstration. Let's get straight to the point and learn further details about these two effective approaches.
Records Switch Gameplay with Capture Card [All-Around Tutorial]
Firstly I want to recommend one of the most powerful game capture cards – Elgato HD 60 S, a tool that is necessary for those game anchors that have the highest criteria on their game streaming.
Some players may put price factors over videos' performance, and for people bearing this kind of thought, they can use Switch's internal recording feature to capture gameplay.
This feature is not that rarely seen, the fact is that you can find built-in recorders in every game console – Xbox One and Playstation4. By dint of hitting the share button, players are enabled to export clips or take screenshots or stream to Twitch or YouTube but most importantly, this button controls the recording function.
The bad news is that using this free method and players can only record a 30-second video clip in 720p which is quite unsatisfying.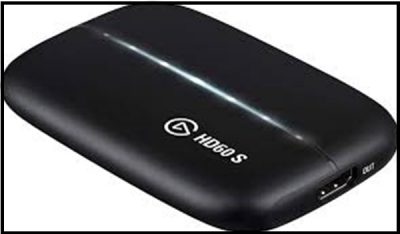 ● Why Elgato 60 S?
Selling at 177.99 on Amazon, Elgato HD 60 S is such a premium capture device that imposes no limitation on video length (be aware that the longer your videos, the larger the file will be. A 180 minutes video could take up 3.4 GB in MEPG-4 and 2.1 GB in H.264), it exerts low latencies and is not CPU-intensive at all. What's even better about Elgato HD 60 S is that it matches with Switch so well. It captures with 1080p and 60 FPS, which are also the highest possible parameters Switch Nintendo Switch can do.
If you are totally OK with its price, Elgato must be the best choice for any recording executed on Game consoles. But if you are looking for a more quality-to-cost method, you are suggested to jump to the second part of this passage.
● How to set up this capture card and start recording?
You take the HDMI cable from your Switch and plug it directly into the Elgato's inport.
Use another HDMI cable to go from the outport. The HD60 S then connects to your computer (TV) via USB.
Elgato HD 60 S provides you the interfaces of recording software, there you can tweak configurations and start the process of recording.
Use a 3rd-Party Screen Recorder to Record Switch Gameplay
A third-party screen recorder is another desirable solution to those who want to record Switch gameplay on PC.
Among all the good screen recorders, RecMaster is a cost-effective solution to record at 60 FPS (120 FPS in the near future), with 4K resolution (or 5K, 8K according to your monitor) and the ability to record with the original video quality.
Compared with the professional capture card – Elgato HD 60 S, RecMaster is much cheaper, with merely 25 bucks and users can record Switch gameplay stably on both Mac and Windows for a life-time long span.
● Prepare for recording – Set up Switch and RecMaster first
Arrange your Switch console, Switch dock, and PC and link them together. If you have difficulty processing the procedures, you can search the tutorial on Google, and to the point of passage length, I will not expand here.
Now it is time to set up RecMaster. For producing good videos, you should pay attention to these parameters: FPS, video quality, video formats, Bitrate, etc.
● Specific steps to record Switch gameplay on PC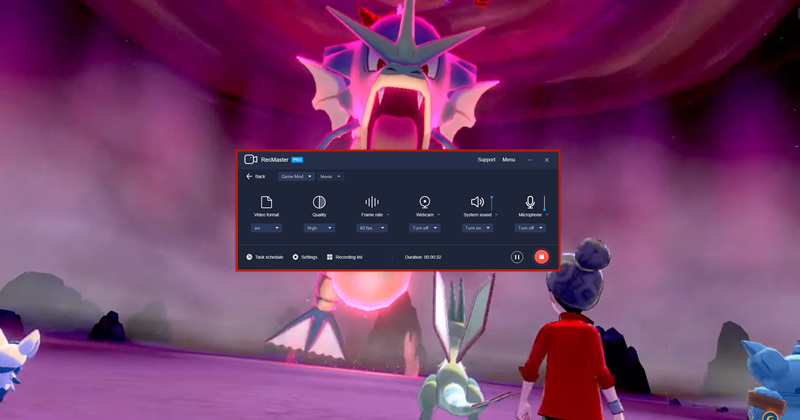 1. Download and install RecMaster.
2. Choose Game Mode to record Switch gameplay. (Full-Screen Mode is also powerful to record Switch games).

3. Tweak the settings. Make sure you set the FPS at 60 FPS and also choose the right video quality – the original video quality is the highest scale RecMaster can provide.

4. Start Recording. In the process of recording, you can add annotations to your gameplay recordings.
5. End recording and go to Recording List to edit your footages.
Final words
For avid Nintendo Switch gamers who want to create good clips of their gameplay, it is awkward since Switch's internal recorder supports only 30 seconds' recording with 720p unclear resolution. This article introduces two practical ways for users to record Switch gameplay. It is the game capture card and screen recorder software prove to be the two core elements in the two approaches respectively. Compare these two recording devices, and we can find that the capture card is more professional and the screen recorder is friendlier for common players.