You might take a long time finding the right PC screen recorder and you could exclaim at how many screen recorders are out there waiting. The thing is that different Screen recorder have different advantages. Some are good at recording games (Bandicma), some are lightweight and not CPU-intensive at all, some focuses on after-recording links and offers exquisite video editor for users.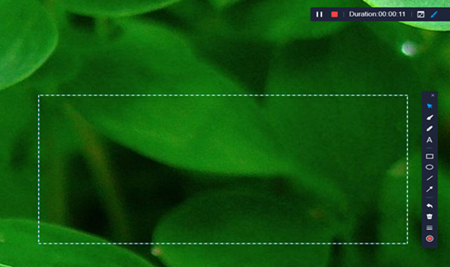 Well, this passage introduces you to some screen recorder app for PC. So you can use them to do some tasks like recording gaming videos for YouTube, ripping online songs from the Internet, or recording remote meetings from BlueJeans.
Screen Recorder App for Both Windows and Mac – RecMaster
RecMaster is an easy-to-use screen recorder with simple operation and intuitive overlays. It is powerful recording software that provides users with footage in crisp-HD quality, 60 FPS, customized-to-monitor resolution (theoretically 8k UHD). Besides the parameters, it is equipped with some really useful features. Task scheduler that assists users to do an automatic recording. Annotation tools help users highlight their videos. Customized watermark contributes to protecting users' originality.

In spite of the mentioned features, some unique features like audio-only recording mode, scheduled recording, annotations, and cursor effect are all within your hand's reach.
• RecMaster Overview
Recording modes: Choose the game mode to record any games effortlessly.
Parameters: HD video quality and up to 60 FPS, customized resolution (according to your monitor, this spec could be theoretically 8k UHD).
Other Features: Capture video and webcam simultaneously. Support annotation for highlighting. Scheduled function for automatic recording. Support instant social media sharing like uploading to YouTube.
Application Scenarios:
…
How to Become a YouTuber
QuickTime is basically a media player but more than merely a media player. This app is born with the powerful features of an ordinary screen recorder. It can capture your screen with microphone sounds, record with a webcam.
However, all the recordings are carried out in default parameters. Another unsatisfying part of QuickTime is that it can't capture internal audio without an additional plug-in –Soundflower.
Apart from the recording features, QuickTime is also embedded with a simple editor helping users to cut their videos. Multiple paths are offered to output videos to other platforms like YouTube, directly from QuickTime.
In a nutshell, QuickTime could be considered as a good way to deal with some recording tasks on iMac or MacBooks and it is totally free.
QuickTime Screen Recording Controls
• QuickTime Overview
Recording Mode: New Screen Recording, New Movie Recording, and New Audio Recording.
Output Format: MOV, MP4, M4V, MP3, WAV, AAC, AIFF.
Features: Capture screen with webcam, Capture screen with microphone sound. Capture Screen with system sound (need the help of Soundflower), Mouse Effect, and a simple Editor.
Time Limit: No time limit.
Lack Features: Annotation tools, Auto-Stop function, Whiteboard/Drawing. 60 FPS (generally support 30 FPS)
Screen Recorder App for PC Windows – OBS Studio (Also Supports Mac)
Many users' impressions of OBS Studio could be bittersweet. It is famous for its professional parameters and options. The best part that users find awesome about this software is that it is completely free of charge. As a matter of fact, if you are willing to spend some time until you finally get the hang of it, OBS is the most advanced option. Here is one passage introducing OBS's best settings that may inspire you.
OBS is good at streaming too. Quite a large quantities of game anchors use OBS to live stream gameplay to their YouTube or Twitch channels. They choose OBS because it exerts little influence on their games, and the procedures to stream are easy to operate.
Last but not least, you can use OBS's bountiful functions to produce high-quality videos with self-tailored parameters like FPS, MBPS, or text logo and webcam.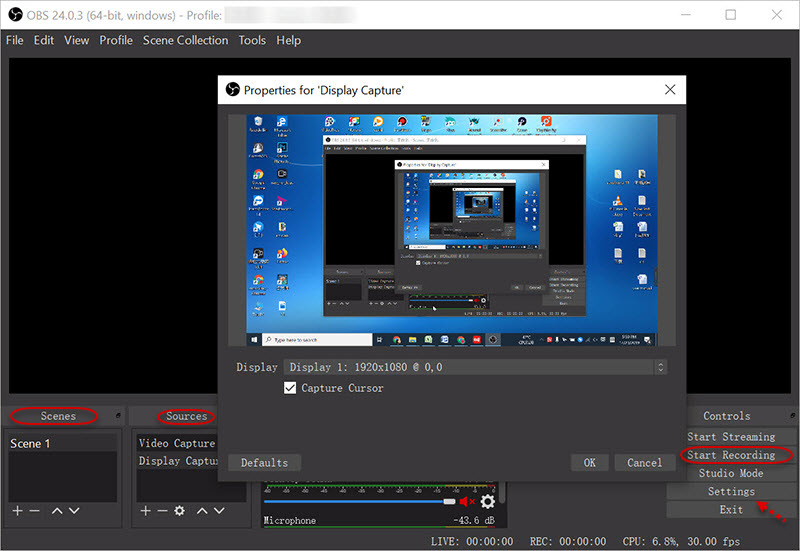 ● OBS Overview
Recording Mode: Audio capture, Multi-screen recording, Screen Recording, Picture-in-picture Mode, Full-Screen Mode, Custom-Area Mode, Game Mode.
Other Features: Webcam recording, Screenshot. Broadcast or stream. Audio mixer, Multiple video source filters.
OBS Price: Free.
Supported OS: Windows 8, 8.1 and 10 /macOS 10.13 and newer.
arameters Settings:P 60 FPS, HD resolution (Canvas and Scaled resolution), Multiple video formats, Hardware and software encoder, Downscale filter, Audio and video bitrate (Mbps/Kbps).
Final Words
QuickTime is the first choice for all Mac or MacBook users. And OBS is the best choice for Windows users. RecMaster is a screen recorder app for PC that runs Mac and Windows.