BGM (Background Music) is a very important element of a single video. Sometimes you may find that there are bare means to obtain the right music soundtracks from your favorite YouTube videos, and this dilemma could worsen dues to YouTube's large number of video resources. This passage introduces an effective YouTube voice recorder for those who are in need of capturing YouTube audios. With this kind of right-hand tool, users will have no difficulty in ripping all kinds of sounds from any videos on YouTube.
Method 1: Use YouTube MP3 Recorder – RecMaster to Capture Audios
RecMaster is a powerful YouTube recorder that also bears the function to capture sheer sounds from YouTube videos. The feature to rip sounds from videos is called Audio-Only Mode, which is extremely convenient for recording YouTube MP3. RecMaster used to have an extraordinary performance on recording streaming videos on YouTube so it is nothing for it to do audio capturing.
Besides, the audio files, be they songs copies or podcast copies are all of the good quality when they are produced by RecMaster's Audio-Only Mode. Negligible latency makes everything is so smooth to hear. Now let's proceed and get to the tutorial of this YouTube voice recorder – RecMaster.
Step 1. Download RecMaster and choose the right version according to your operating systems. Windows users have access to RecMaster if they are using Windows 10/8/7. Mac users can use RecMaster if they update their system to 10.11 or higher.
Step 2. Call out the 'main interface' of RecMaster and select the "Audio-Only Mode". With the assistance of this mode, you are free to set audio format into MP3 or WAV on Windows, M4A, or CAF for Mac.

Don't forget to tweak the settings, you need to turn on "System sound" and fine-tune its volume to a proper level. Microphone sounds are suggested to turn in case you absorb unwanted noises.

Step 3. Navigate to YouTube to play the target video or music in advance. If all the preparations are done, hit REC to start recording.
Step 4. You can pause and continue recording at any moment during the recording. When the recording is about to finish, you should hit the "Stop" button to end the recording. The audio file is saved automatically to local folders and you can find the audio in the Recording List.
Method 2: Use YouTube Voice Recorder – X2convert to Download YouTube Audios
X2convert is a safe and convenient website for converting MP4 videos to MP3. Its degree of safety manifests in that in light of Google Safe Browsing and Symantec, x2convert.com is pretty a safe domain. Besides, x2convert has a valid and up-to-date SSL certificate issued by Sectigo Limited. How to use YouTube video downloader to download your preferred videos when you are unable to download YouTube videos? Here are the steps:
Step 1. Enter the official website of X2convert.
Step 2. Paste your YouTube videos' URL (address) to the bar.

Step 3. Hit 'Get link video' and another interface will appear letting you choose video format and video quality.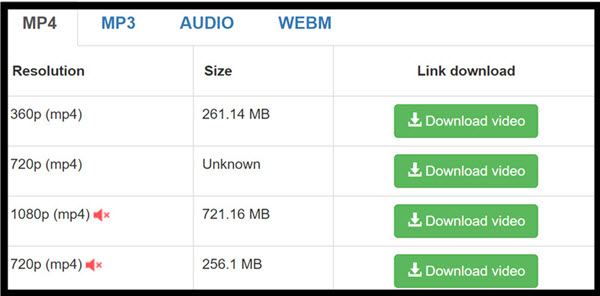 Step 4. Hit the green button for downloading then another window will jump up and it is another download button, hit it.
Step 5. Then your chosen video will be exhibited in the form of web tab, right-click the screen and select 'save video as… '. Choose the storage path and then the downloading process begins.
The deficits of YouTube video converters
Video converters have deficiencies though.
1. They fail to let users transform a designated fragment from a video.
2. They can't work offline.
3. They cause a quality loss in the process of converting.
4. They are not capable of editing videos or add other changes to your videos.
Precautions
According to Google's Terms of Service for YouTube, "You shall not download any Content unless you see a 'download' or similar link displayed by YouTube on the Service for that Content."
Final Words
This passage gives out a practical way to record audios from YouTube. With the assistance of YouTube Voice Recorder – RecMaster, it is no longer a trouble to rip soundtracks from YouTube videos anymore. This passage also introduces a more direct way of downloading YouTube audios and the relative tool comes to YouTube video converter. Hope you find the right method that suits you the most.