Songs, MVs, podcasts programs, the early morning broadcasting news, all could be named as valuable audio sources on the Internet. In your everyday life, you may sometimes find your favorite singer's issuing his or her latest album or the newest demo of an unpublished song. You could be bewildered about how to download them and save them to your playlist.
If you have a professional audio recorder, record online songs will never be a tough task for you. The audio recorder is very effective in capturing music from Vevo, YouTube, or Podcast. With this tool within your hands' reach, you can store those charming but unnamed BGM music in videos or podcasts to your playlist.
This passage introduces a brilliant screen recorder that not only records online songs but also can record those most delicately designed MVs, the inspiring podcast speeches, and the most surprising reaction videos on YouTube, let's check it out.
Record Online Songs – Vevo Songs and Podcasts Music Tracks
RecMaster is a powerful desktop screen recorder. It was endowed with the capability to record YouTube live streams, gameplay clips, online meetings, online lessons, and so on. The reason why it could be leveraged to record online audio sources is that it bears an Audio-Only Mode to record any system sounds on your PC. In this part, I will show you how to record Vevo songs and Online Podcast music Tracks with RecMaster.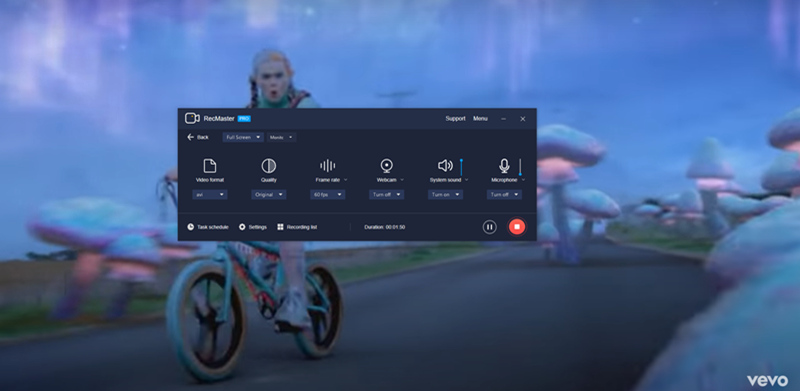 Steps:
1. Download RecMaster. RecMaster is suited for both Windows and Mac OS. Please check the version of your operating system and go to step 2.
2. Once you've launched RecMaster, you will find 5 recording modes in the main interface. You should select "Audio-Only" Mode for producing sheer audio files out of Vevo videos and podcast music tracks.

3. Generally, step 3 is for configuring the best settings for your online music tracks.
On the setting panel, you should turn on the "System sound" button and disable the Microphone option to prevent involving unnecessary noises.
Also, the footage format is important too. Choose MP3 or WAV on Windows, and M4A or CAF for Mac as your Audio files' format.
4. Now play the podcast program or Vevo songs and play it. Back to RecMaster's setting panel and hit REC to start recording. By the way, you can also use Audio-Only mode to capture music videos and transform them into an MP3 format.
5. When you feel like ending your recording, hit the "Stop" button to end the recording. The audio file is saved automatically to local folders and you can replay the audio in the Recording List.
Record Online Songs – YouTube MVs
In the section above a convenient mode is introduced for viewers to produce audio files out of any resources from the Internet. Now, this sector introduces another powerful mode that helps viewers RecMaster.
As a professional screen recorder, it is RecMaster's born-with-idea to record any on-screen activities. Considering that the most welcomed MVs are transmitted in the form of streaming videos, recording YouTube MVs is accessible with RecMaster's help.
Vevo is the partner of YouTube's music channel, so let's get straight to the point and see how to record Vevo MVs on YouTube.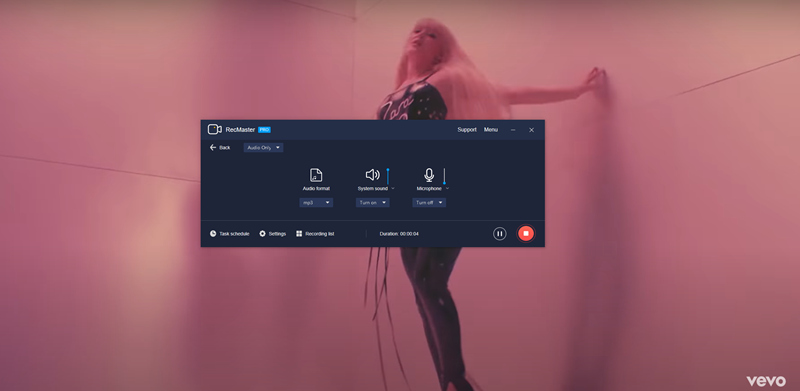 a) Open RecMaster and select Full-Screen mode (or Custom-Area Mode).

b) Configure the settings: Video Format (MP4, AVI, FLV) > Video Quality (high, standard, original – Original is the recommended option if you want the best performance of your MV recordings) > Frame Rate (30 FPS is adequate) > and settings for audio options (disable webcam and microphone sound, leave the button for system sound as 'turn on').

c) During your recording process, you can pause and resume to your recording anytime you want to. You can add annotations to your MV video as well by dint of clicking the brush at the floating bar. (FYI, RecMaster's Mac version is not able to add any annotations)
d) Stop recording and click 'Recording List' to check your footage or edit your videos.
Is Video Downloader or Converter Okay to Help Me Get Online Songs?
Use a downloader or a converter to rip music tracks from videos is convenient. It usually costs several seconds to produce MP3 files out of the music video.
Before you open Google and start to search for online music downloader or converters, there is one thing you need to bear in mind that this kind of tool usually brings malware or spam. And the worst part of it is that you can't download a certain part of the video. You can't edit your files either.
To mend this problem, I suggest you use another kind of software that allows you to record any part of your videos and edit your footages like a breeze. Third-party screen recorder –RecMaster is such a kind of tool and it could be helpful to you.
Final Words
This passage basically introduces two convenient modes to record online songs and MVs. RecMaster's Full-Screen Mode suits for recording any MVs from Vevo or YouTube. And the Audio-Only Mode is effective in producing MP3 files out of any music resources on the Internet.
You may also interest in:
How to record Pandora music for offline listening