Mac users, in spite of their Mac model, need to record the screen from time to time due to different reasons. The recording demands could be gameplay recording, online meeting recording, tutorial video recording, and so on. Chances are that you may not feel the necessity to install a screen recorder, but learning an additional skill is never a bad idea. Once you know the mechanism of 'how to record iMac screen with audio', many tasks could be achieved in the near future.
Speak of doing screen recording on iMac, many users won't be strange with the default tool – QuickTime. This versatile media player, similar to top-notch VLC, provides screen recording feature to meet the potential video capture needs. The problem, however, is that QuickTime won't record your system sounds. To amend this deficiency, iMac users are suggested to use 3rd-party screen recorders.
Why do Some Screen Recordings of QuickTime Have No Sound?
Due to the audio driver problem, QuickTime fails to record system sounds (microphone sound is accessible though) and this phenomenon is not an individual case. You could be really annoyed if you attempt to use QuickTime to record online meetings in Skype, Zoom, Windows Teams, and not mention those audio-oriented recording like recording Vevo music or recording Podcast.
To fix recording screen without audio, many iMac users choose to turn to Soundflower for help, which means another round of downloading and instructing workflow.
What's the easiest solution for users to record iMac screen with audio? The passage's rest content introduces 2 desirable approaches that you might find useful – a third-party virtual audio driver and a third-party screen recorder that records audio.
Way 1 – Use QuickTime Plus Third-party Audio Driver
Once you install any auxiliary plugin like Soundflower, QuickTime is empowered to grab app sound. The mechanism is that the extension Soundflower will route audio from any app to another. The relative tutorials are everywhere on the Internet, you can find them on Mac forums, YouTube channels, and considering the factor of passage length, I will not expand relative procedures here.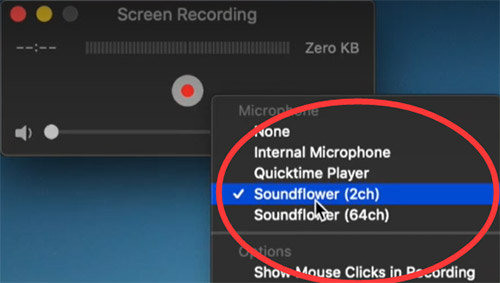 Way 2 – User Third-party Mac Screen and Audio Recorder
The reason why 3rd-party screen recorder surpasses QuickTime is that they capture screen with every system sound on iMac. Besides, a 3rd-party screen recorder usually bears much more useful features like video editor, annotative tools, webcam, customized watermark, etc.
And more professionally, the performance and quality of the 3rd-party screen recorder will be higher due to their more premium specs.
RecMaster is such a kind of software. It is both easy-to-use and professional. Its interfaces are delicately designed to be intuitive and uncluttered. You can use it to fulfill all kinds of recording purposes. You can capture gameplay on your iMac, record online meetings with sounds, record streaming videos, etc. RecMaster suits for Mac OS 10.11 and higher. Now please feel free to download it. And then I will show you how to use RecMaster to record iMac screen with audio.

Steps on how RecMaster records:
Step 1. Prepare the sources that you want to record, and open RecMaster.
Step 2. RecMaster is embedded with 4 recording modes. Full-Screen Mode, Custom-Area Mode, Webcam Mode, Audio-Only Mode. Full-Screen Mode is the most versatile mode, you can use it to record all kinds of activities on your iMac screen. And another worth mentioned recording mode is Audio-Only Mode, with this mode, you can create videos with sheer sounds.
Step 3. The next thing you need to do is tweaking settings before recording. You are free to self-tailor your video formats, video quality, frame rate per second, webcam mix, and audio source. For adding integral audio sounds to your recordings, you have to make sure the option for 'system sound' is turned on.

To start recording, you need to click the 'record button'. Note that the annotation feature will come to RecMaster for Mac soon
Step 4. Stop the recording. Footages will be stored on your hard discs instantly and wait for your further editing.
These are all the procedures needed to record an iMac screen with audio using RecMaster. From the tutorial above, you can see RecMaster is not a learning-curve-needed recorder.
Final Words
This passage answers the question 'how to record iMac screen with audio'. There are two practical ways to fix QuickTime recording without sounds – One is through leveraging a 3rd-party audio driver like Soundflower, another way is using a third-party recorder that has the ability to record with audio.