Prelude
It sometimes bothers people when they can't download video on YouTube. Normally YouTube downloaders will do users great help as well as YouTube video converters. Well, considering that the choices for downloading YouTube videos are multiple and today we will focus on one of the most effective tools – X2convert.
With this tool, users can convert any YouTube videos to MP3 files and download them to local hard discs.
X2convert is such an effective YouTube MP3 converter that bases on the website and providing simple operations – just paste the URL to X2convert's central bar and you are allowed to download YouTube videos in MP3 format.
Finish this article and you will further learn about this tool.
YouTube Downloader [Free Software – X2convert]
● Is X2convert a safe website?
Like many other online YouTube downloader and YouTube recorder services, X2convert is a safe website currently. Firstly, it has a safe domain – Per Google Safe Browsing and Symantec, x2convert.com is pretty safe.
Secondly, it has a reliable certificate – X2convert has a valid and up-to-date SSL certificate issued by Sectigo Limited.
● How to use YouTube video converter to transform your preferred videos?
Here are the steps:
a) Go to the website of X2convert.
b) Paste your YouTube videos' URL (address) to the bar.

c) Hit 'Get link video' and another interface will appear letting you choose video format and video quality.
d) Hit the green button for downloading then another window will jump up and it is another download button, hit it.
e) Then your chosen video will be exhibited in the form of a web tab, right-click the screen and select 'save video as… '. Choose the storage path and then the downloading process begins.
YouTube Downloader is usually bundled with malware and users are suggested to keep a wary eye on the software they use in case they get fooled. And more annoyingly is that YouTube downloader usually receives copyrights attacks, making it unstable for users to leverage.
Deficiencies of X2convert
1. This tool is simple, easy to get by but the problem is that it bears only one feature – to transform YouTube videos into MP3. If you want to convert YouTube to mp4, not practical.
2. The overlays have Ads and not clean enough.
3. This tool can't work offline.
4. Still the problem, X2 cannot deliver users functions to do changes to their videos. E.G. users can't edit their videos, can't add annotation effects to their videos.
More Features and Less Flaw: Another MP3/MP4 Converter
RecMaster is an easy YouTube recording and converting app but not in a 'traditional way'. This tool possesses more features, allowing users to capture YouTube music videos, and thus transforming them to MP3/MP4. The mechanism of its transforming links is basically by dint of re-recording the target videos with video formats (mp3, mp4) set in advance.
Features: scheduled recording, annotation tools, editor, customized watermark – all cater to users' multiple demands over recording MP3/MP4 videos from YouTube.
The determinative link to achieve this goal is to tweak settings. If you make it right, you can produce not only an MP3 audio file but also MP4 videos with the help of RecMaster.
1. Download and install RecMaster. (Mac version doesn't support MP3 recording temporarily now)
2. Open RecMaster, Choose Audio-Only Mode.

Audio-Only Mode, as its name suggests, captures only sounds.
Tips: During the process of recording, RecMaster captures every system sounds from your PC. Make sure you mute every disturbing sound before you actually record your screen.
3. Enter the setting panel of Audio-Only Mode.

You can now see the options for 'audio format'.
Choose MP3 as the target format > turn on system sound > disable microphone sounds (you don't want to be interfered by the noises from your environment right?) > Play your YouTube video in advance and hit REC to start recording.
4. The whole scene is like the picture below suggests.
5. Stop recording and you get an MP3 format file of your chosen YouTube video. You can check this file out at the Recording List.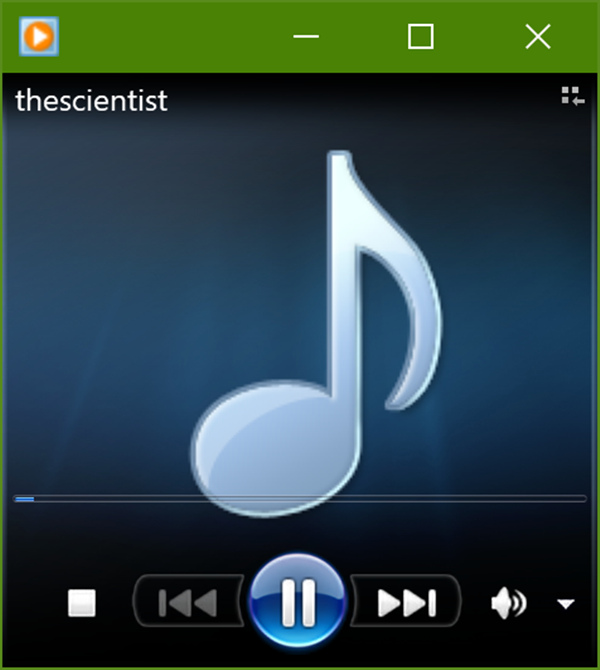 Now it's time to play the MP3 with the help of your media player. Here I use the windows media player. And everything goes on well, I get a crisp, high-quality MP3 copy of the video 'The Scientist'.
And dear readers if you want to convert your YouTube videos into MP4 format, RecMaster's Game Mode, Custom-Area Mode, Full-Screen Mode can help you achieve that. The procedures are similar to those in 'Audio-Only Mode', and all you need to do is going to the setting panel of each Mode and tweak the video format into MP4 and hit REC to start recording.
Final Words
X2convert is a desirable YouTube mp3 converter. It is safe, fast, and reliable. However, this tool is not equipped with versatile features, advanced users could have a problem dealing with the demands over editing, annotating, etc.
RecMaster is a YouTube MP3 recorder that also does a good job of converting YouTube videos to MP3/MP4 format. It bears annotation tools, editor, task scheduler, etc. If you have high requirements for your videos' quality, RecMaster is definitely a good choice.
See also: URL to MP3 Converter