From this article, you will learn how to record the webcam video on your computer with RecMaster. Some best webcam recorder of 2020 are also shared.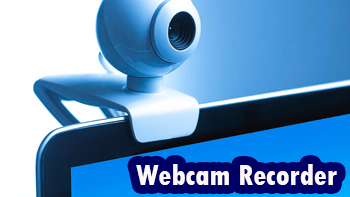 No matter for illustrating something or saving some great content online, screencasting is an important but basic skill for vloggers, online teachers, streamers and also the general public. Compared to a set of screenshots or a piece of article, the video does a great job of explanation and demonstration. Therefore, in many cases, people would like to take a webcam video to showcase their thoughts, talents or similar by themselves.
If you are one of them, you will get an easy guide on how to use RecMaster webcam recorder to shoot yourself on a computer, Windows or Mac. If this is not what you want, you can try either from the 2020 best webcam video recorders list.


How to Record Integrated or External Webcam with RecMaster
RecMaster is an all-in-one screen recording application that empowers you to grab computer desktop, webcam, system audio and microphone at random. Here when it acts as a webcam recorder, you can complete the capture operation in this way:
Step 1 – Free download and install RecMaster
Click the right download button below according to your computer system, and then finish the installation. After that, launch it to standby.



Step 2 – Choose Webcam recording option
On the main UI of RecMaster, several recording modes are attached for different usage. For webcam video recording, surely you should select the Webcam option.



Note that the other three recording modes – Game Mode (will come to Mac version soon), Full Screen, and Custom Area – all features adding webcam layer into the computer screen to realize picture-in-picture effect if you have this requirement.
Step 3 – Set for webcam recording
Once you click the Webcam in Step 2, you will enter into a secondary window, with a Webcam popup in front of it. On this popup, you should pick one video resolution (up to 1080p) and choose a webcam (if your machine is equipped with two or more cams like integrated webcam plus USB Logitech camera). After you confirm and close or drag it out of the main window, you are free to define webcam recording format to MP4/AVI/FLV, turn on or off the system sound & microphone. When you plan to record a webcam movie with external microphone sound, don't forget to click the down arrow near the Microphone icon and tick its name.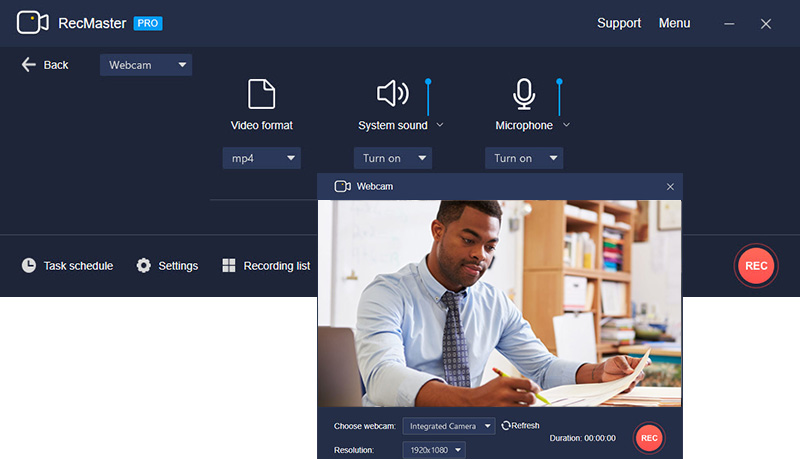 Step 4 – Start and Stop
Click the REC red circle button to begin your screencast. You will be informed that you can use hotkeys during recording:
Alt+1 -> Start/Pause | Alt+2 -> Stop recording | Alt+3 -> Show the main window
In theory, you can change the video resolution or switch webcams during the recording. But it totally depends on your actual situation.
When your show is over, press the stop button to give it an end. From the recording list, you can check your high-quality film, access to edit panel for easy cuts or upload it directly into YouTube or Google Drive.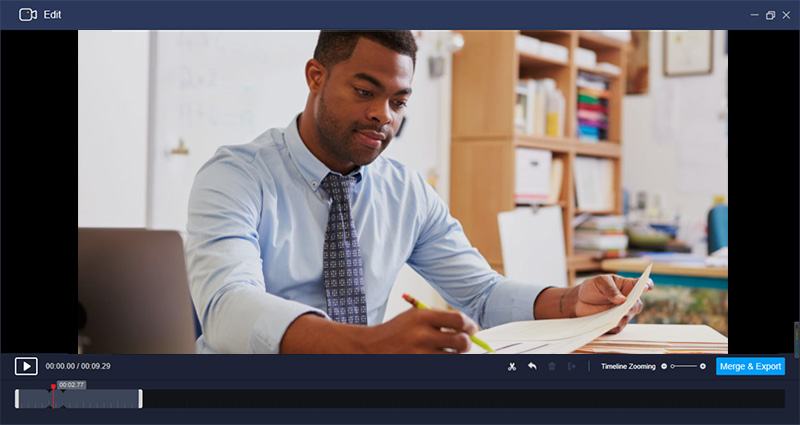 Shooting webcam video is the most convenient and down-to-earth method for common users. Without investing too much money (a solid USB microphone is recommended for better sound quality), we can share our thoughts, lecture, vocals, instrument skills, make-up and so on easily. In consideration of various webcam recording circumstances, some of which may be beyond the capability of RecMaster, in the following part, we will group 2020 top 10 webcam recorders for computer together for your reference.

2020 Top Webcam Video Recorders for Computer
There are plenty of webcam recorders for computer on the market, free or paid, online services or desktop-based software. Therefore, we are going to give a full-list on top webcam recorders for your Windows or macOS machine. Hopefully, you can get the one that suits you most.
1. RecMaster | OS: Windows & Mac
RecMaster, as one of the 2020 top screen recorder for Windows and Mac, is able to capture your integrated or plugged webcam video into MP4, FLV or AVI at up to 1080p high quality level. You can choose audio source and adjust the volume at will. In addition, it can not only act as a webcam recorder, but also a game recorder and an audio recorder.
2. OBS Studio | OS: Windows, Mac & Linux
OBS Studio is an open-source entity for video recording and live streaming. As the most popular freebie in live streaming crowds, it features well in shooting one or more webcams at the same time and outputting (multi-track) MP4/MKV at customized video size, quality and color effect. If your computer is not so outdated, you could turn on QuickSync H.264 encorder to enjoy a faster video processing.
3. Windows Camera | OS: Windows 10
The preloaded Windows Camera of Windows 10 is the most convenient method for webcam video capture. No matter your computer is a Windows laptop with an internal front cam, or a desktop one with an external camera, you can open the Camera app -> switch from photo to video shooting mode -> and then take a .mp4 film on yourself at 16:9 or 4:3 aspect ratio.
4. QuickTime Player | OS: macOS
Windows 10 has a Camera app to take webcam video, and on Mac computer, bundled QuickTime plays the same role. When you plan to create such a self-introduction or so with Mac webcam, please open QuickTime Players -> Choose New Movie Recording under File drop-down list -> Do some video or audio settings -> When you are ready, click the round button to start and end the recording -> The last thing is to save it in a defined location.
5. Webcamra.io | OS: A browser-based online tool that's compatible with any OS
As a free online tool, it gives you a straightforward method to take 480p/720p webcam video with audio or in mirror mode once you open the webpage and allow it to use the camera and microphone to share. Of course, a good web connection is a must-have. So for any offline screencast, it's not a good choice.
6. Screencastify | OS: A Chrome plug-in for any computer OS with Chrome browser
Screencastify, claimed as the #1 screen recorder extension for Google Chrome, delivers a simple way to record embed webcam video at 720p HD WebM. After the recording, you are free to save video onto disk, or export it as a GIF/MP4/audio file. Also, you can edit or share the cloud-stored video to what you want.
We don't want to make things complicated, so we made this simplified list and reviews on top webcam video recorders for computer. Free, open-source, no-download tools are all included. Hope you can find the one that works for you.