Different users utilize their webcams on PC in different ways with versatile purposes. Some people use the humble webcam to take wide-angle selfies with their friends and family. Others leverage webcam to introduce themselves to the viewers before directly showing and explaining things through desktop or laptop like online cursors, online lectures. However, no matter what you want to benefit from webcam recording, you all need a webcam recorder to carry out all the webcam actions. As a Windows 10 user, you may ignore that there is a potential webcam recorder running on your PC. So here in this article, we will introduce this tool for you and recommend the best webcam recorder for Windows 10.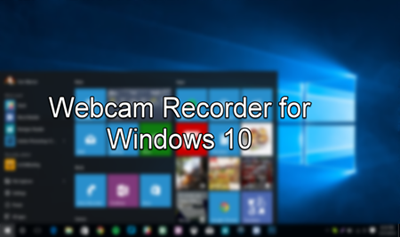 Windows Camera app: the Built-in Webcam Recorder for Windows 10
Many modern devices with Windows 10 include a webcam and to use it, you need an app that helps you take pictures, record videos or stream video while video chatting. For this purpose Microsoft has embedded an app called Camera, which is available by default in Windows 10.
As a simple, fast and one-touch shoot webcam recorder, it has a load of features like auto video stabilization to record fantastic smooth videos, 4k video captures that let you save superb still images from the video, photo timer, and more. If you only want to record from the camera, Windows Camera app is the right choice for you.
How to use Windows Camera app to capture videos
Step 1: The Camera app from Windows 10 can be launched in multiple ways. You can either tap on the search box from the taskbar to start the Camera app or open it in Windows 10 from the Start Menu.
Step 2: Once you open this application, you can see two menus in the right side. One is for screenshot and the other is to record video from camera. If this is your first time launching the Camera app, the application may ask you to allow it to use your webcam and microphone as well as your location. You'd better allow it to access all these devices and features.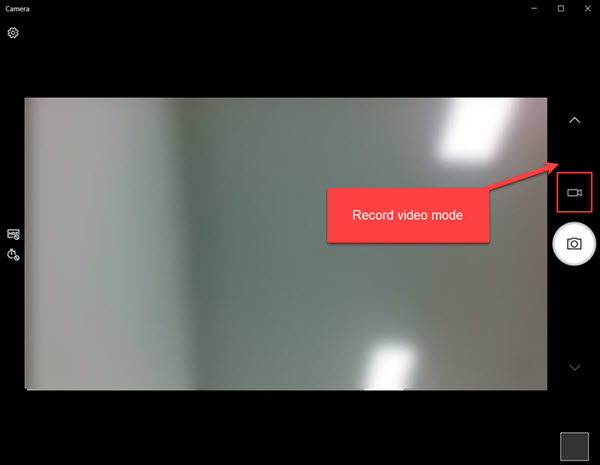 Step 3: To record video with the Camera app from Windows 10, switch to Take Video mode. Then click or tap the Take Video button once more. When you start recording a video, the camera app displays a stopwatch on the bottom keeping track of the time that has passed since you started recording. When it's finished, you need to press the stop menu.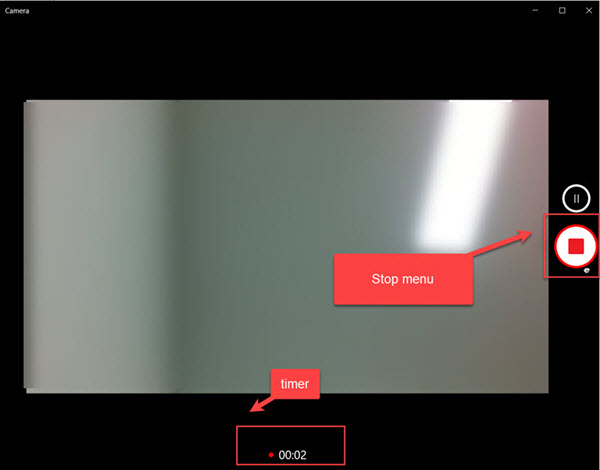 It's no doubt that Windows Camera is the most convenient choice for Windows user. However, it only endows you to grab video from your camera and has no way to operate other onscreen activities. Note that you may also want to record screen with facecam, change video format to for different situations or control webcam recording quality, so in the following part we will recommend a flexible webcam recorder for Windows 10 users.
RecMaster: the Recommended Webcam Recorder for Windows 10
RecMaster is a handy screen recorder with facecam for Windows, which adapts to multiple webcam recording situations including recording video form external webcam or internal facecam. You can not only use this software to grab video from webcam but also record computer screen with your real-time facial reaction. Additionally, it comes with many useful features including picture-in-picture effect, task schedule tool, webcam recording editor, mouse cursor effect and more. Now let's go through this webcam recording software for windows 10.
Step 1: Download the installation package to launch this webcam recorder on your Windows 10 and complete the whole process by the wizard.

Step 2: RecMaster offers many webcam recording modes. If you only want to directly record video with webcam, you need to choose Webcam mode. Under other circumstances, you can record your computer screen with webcam in full screen, a particular window or any designated area of your computer.

Step 3: You need to manually toggle on the webcam button except the Webcam mode. Here you can also set up audio source (system sound/microphone), frame rate (0-60 frame rate), video quality (original/standard/high), video format (MP4/FLV/AVI) and more. Advanced tools like mouse effect, fixed-time recording tool are also available on the left bottom of the interface.

Step 4: Webcam recording can be started with the REC button. There is a timer for you to observe the recording duration. Moreover, if you're creating online courses, tutorials or how-to videos, the annotation tool can make your video look more attractive.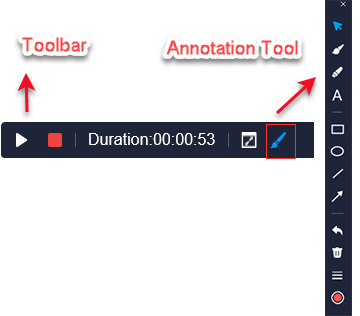 Step 5: After finishing the webcam recording process, you can rely on the built-in editor to make some adjustments to your video files like cutting the beginning or ending part.
Add-in: RecMaster supports one-click upload function to YouTube/ Google Drive platforms or you can save to your local storage space to share with ease.
Conclusion
The post introduces two webcam recorders for Windows 10. To sum up, Windows Camera is a safe bet if you only need a basic and quick webcam recording solution. Otherwise, you're still suggested to try the best webcam recorder for Windows 10 – RecMaster.