Recording computer screen and webcam simultaneously is a good idea to engage the viewers. Therefore, many newcomers – gamers, educators, narrators or similar – plan to create such a picture-in-picture screencast by overlaying facecam image on screen picture from the very beginning, rather than taking a webcam video first and adding it into screen video afterwards. If you're one of those customers in need, and no matter you're looking to a how-to method or some good screen and webcam recorder software, you will get what you want in this article.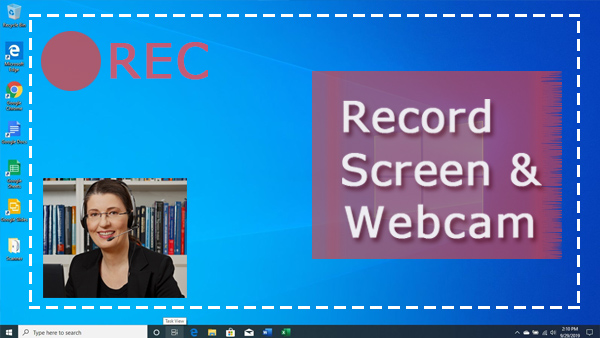 Contents:
Top Screen and Webcam Recording Software for Windows 10/8/7
How do I Take a Screen and Webcam Capture on My Windows with RecMaster?
How can I Capture Screen Video with Webcam on My PC with OBS Studio?
Top 4 Screen Recorder with Facecam for Windows Computer
For common desktop screen recording applications, it's not something special to empower users to take desktop and webcam at once. But there are some minor differences. Below you can see four best screen and webcam recording programs for Windows (in no particular order), with a brief comparison on their webcam capture functionality.
After checking through a large number of online reviews and our real testing, we have cherry-picked 4 decent target recorders covering free open-source entities and commercial screen recorders for computer.
● RecMaster: A multi-mode screen recording master that enables you to capture everything on the screen, including 4K@60fps gameplay, online streaming, webcam and audio.
● OBS Studio: An all-in-one live streaming and recording freebie that's uber-popular among twitch gamers. Twitch, NVIDIA GEFORCE RTX and Logitech are all its sponsors.
● CamStudio: An free and old screencasting stager since 2001.
● Filmora Scrn: An easy screen capture recorder that's preloaded with an advanced editor.
In the following part, two how-to record guides and a comparison between the four best tools are shared.
How Does RecMaster Screen Record Windows Desktop with Webcam
RecMaster, with five clear recording modes built in, is ideal for both beginners and advanced users to record any games, full- or customized-screen actions with front camera video layer attached. Before or during recording, you can drag the webcam to a certain position or size, rotate it to another angle. More convenient than other screen and webcam recorders, it allows us to hide or show facecam window by using hotkeys (Alt + 4 by default). Now let's take how RecMaster records both a specific area and webcam on Windows PC as the demonstration.
Step 1. Free download and install RecMaster screen and webcam recorder in clicks.

Step 2. Launch and hit Custom Area recording mode to select a fixed region to record. Here we've just selected an area bigger than RecMaster to make as if we will take a RecMaster tutorial.
Step 3. Turn on WebCam. Then set for output video format, quality, frame rate and audio we'd like to capture alongside.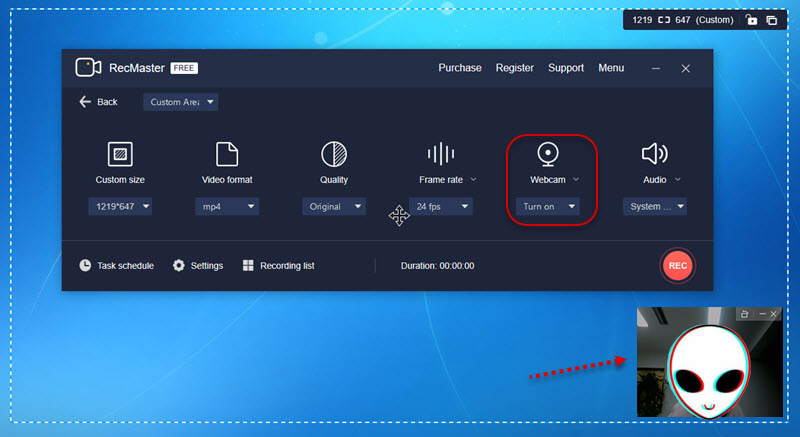 Step 4. Hit REC red button to begin the recording process, during which you can take rich annotations via a draw panel.
Step 5. When the tutorial is finished, hit red stop icon to end the capture. RecMaster gives edit or upload options in ase you want to do some edits or one-click share the video to YouTube.

How Does OBS Studio Screen Record Windows Desktop with Webcam
OBS Studio is the most powerful screen recording freeware for gamers and other users with screencast needs. Many editors claim that it's not suitable for novices due to the complicated interface and settings. But it's not really true if you just follow an explicit instruction without entangling yourself into the various settings. Here we will deliver such a simple guide on how to screen record the full desktop screen with integrated camera on Windows 10.
Step 1. Download OBS Studio for Windows and install it on Win 10 computer from official site.
Step 2. Launch it and create: 1 scene and 2 sources, one source for Display Capture and the other one for Video Capture Device that's exactly the integrated front camera. You are free to preview them on the software and drag them to the position and size you prefer.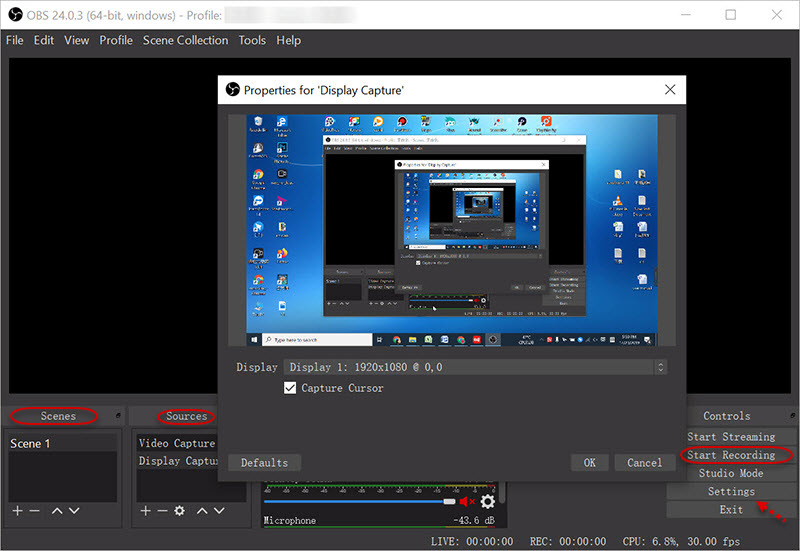 Step 3. Click settings to set output recording format into MP4 (the most compatible video type nowadays). If you are familiar with such video parameters like bit rte, encoder, resolution and frame rate, you can tweak them as necessary. If you're a green hand, just leave them by default and then move on.
Step 4. Make sure the audio you want to record with video is turned on under Audio Mixer. If you have any external audio source, please add it too from the sources by clicking + -> "Audio Input/Output Capture". Note that the recorded audio will be saved in one track by OBS. On condition that you want to save multiple audio sources into tracks respectively, please select the track number under Output -> Recording -> Audio Track.
Step 5. Tap "Start Recording" to get the recording started.
Step 6. When the content goes to an end, click "Stop recording". Now you can do whatever you want with this video file.
This demonstration only applies one scene and two sources. For more complex recording, you will need to add more sources or scenes to switch from time to time. For more details, you can check some online tutorials from YouTube like LEARN OBS IN 30 MINUTES | Complete Tutorial for Beginners 2019.
Top Screen and Webcam Recording Software for Windows [Brief Comparison]
Name
Supported Windows Versions
Output Video Format
Auto start/close webcam
Adjust webcam
Built-in Editor
Real-time Annotate
Record webcam only
OBS Studio
Windows 10/8.1/8
MKV, MP4, FLV, MOV, TS, M3U8
Y (click on main ui)
Y – both quality and location.
N
N
Y
RecMaster
Windows 10/8(.1)/7/XP
MP4, AVI, FLV
Y (click on main window or use hotkey alt+4)
Y – Size and location
Y
Y
Y
CamStudio
Officially Windows Vista/XP/7 (the latest update occurred in Oct. 2013)
AVI
N
N
N
N
N
Wondershare Filmora Scrn
Windows 10/8/7
MP4, MOV, GIF
Y (click on main ui)
Y – Resolution /FPS

(Unable to preview webcam during recording)

Y
N (But you can annotate afterwards in the editor)
Y
Well, that's all about our content on best screen recorder with webcam and how to grab screen video with webcam inset. Have you found what you need yet? If you still have any question on this topic and don't want to get lost in the endless Google results, you can feel free to email us.