Summary: From this post, you will learn how to record audio on computer, including what you hear or speak, with the best audio recording software for computer.
We do not always record screen videos because we sometimes only need to capture the audio alone. For example, you come across a (game/music/teaching) video online with elegant melody or informative narration and just want to save the soundtrack file with no image included, you are preparing for a dub or similar and only need to record the audio from speaker, even between times, you should record computer speaker audio and external microphone sound at the same time for a certain purpose…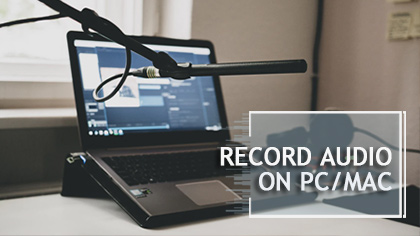 In view of this, this article will teach you how to record internal or/and external sound on your computer, along with some best audio recording software for different user needs.
Since besides dedicated audio recorder, a lot of multimedia software like media player and screen recorder still have audio recording feature, the best 6 audio recorders for computer list we've rounded up contains the three types tool.
If you're inclined to easy audio recorder with simple recording operation, please go ahead to #1 RecMaster, #2 VLC and #4 Audio Recorder. If your target is a pure audio recorder that gives more controls of the audio, please navigate to #3 Audacity, #5 Stereo Mix and #6 QuickTime Player.
Six Best Screen Audio Recorder for Computer
1. RecMaster – A multi-featured screen recorder with recording audio only option
OS: Windows & Mac
Official Site: https://www.recmaster.net/
Audio is surely a file type displaying on the computer screen, so common screen recorders are designed with the capacity to grab it while recording the screen video. However, most of those screen recorders don't feature recording audio only while RecMaster is one of the exceptions. If you are looking for an easy screen audio or voice recorder and you also need to do some video capture, RecMaster is the top choice. Now free download it to record high-quality MP3/WAV audio from online content or your performance at defined volume.
Related Guide: How to Record MP3/WAV Audio on Windows 10
2. VLC – A free media player that enables audio recording
OS: Windows & Mac
Official Download: https://www.videolan.org/vlc/
VLC, as a versatile player, is able to do many things except perfect playing the media files. And recording audio is just one of its hidden functions. Once you click "Open Capture Device" and go to the DirectShow capture mode under Capture Device section, you are free to disable video device and choose any of the audio devices to capture and output the file into OGG, MP3, FLAC or CD format (what you should set under Convert profile). In addition, VLC can extract audio from any input source as a single file, including local video files, DVDs, CDs, and online streamings. (>>Screen recording DVD/CD)
Related Source: VLC Capture Screen Guide | [WikiHow] Record Audio with VLC
3. Audacity – The No.1 open source audio recorder and editor
OS: Windows & Mac & Linux
Official Download: https://www.audacityteam.org/download/
Audacity is such a powerful entity that it's highly praised by a large number of users and editors for recording and editing audio on computer at no cost. With it, you can take any system and microphone sound recording, edit the recorded audio by cutting, removing noise, adding effects, etc., and mix multiple audio tracks into a single one in clicks. If the preloaded audio effects don't fulfill your needs, you can expand the tool with plug-ins. Seems equal of many paid-for programs, isn't it? That's exactly why many customers use it to start their podcast or music capture journey.
Unlike many other open source software, Audacity provides an official manual to assist newcomers to get on board with the product quickly.
4. Audio Recorder – The easiest audio recorder for Windows 10
OS: Windows 10
Official Download (if your system doesn't have it): https://www.microsoft.com/en-us/p/windows-voice-recorder/9wzdncrfhwkn
Microsoft has improved its latest computer system a lot. To meet the requirement of various recording needs, Windows 10 is born with many video recording features – the Xbox Game bar/DVR, a webcam-capture-enabled Camera app, and an independent voice recorder. The last voice recorder, according to the store description, makes it a breeze to "record (microphone) sounds, lectures, interviews, and other events" into M4A format. Also, you can add the marker to crucial moments as you record, trim the clip and share it to contacts, email, and Skype.
Hot Related: How to Record Internal Audio from Windows 10
5. Stereo Mix – An audio recording helper to mix and display all sounds on Windows
OS: Windows
Download: No
The recorder software may get a failure when grabbing some audio sources. That's where Stereo Mix – a specific function of some sound cards – comes in. When you enabled it under Sound -> Recording settings like shown in the screenshot, you can record whatever sound appearing on the computer by coupling it with any third-party software. But the fact is due to copyright and pirate issue, Stereo Mix is abandoned by most audio cards. That's why many Windows (10) users complain their Stereo Mix option becomes missing after the system or driver update. In this case, the only way to fix it is to go back to an elder driver or system…

Related Source: How to Enable "Stereo Mix" in Windows and Record Audio from Your PC
6. QuickTime Player – A handy audio recorder for macOS
OS: Mac OS X
Download: No
Similar to VLC, QuickTime player can also act as voice recorder for Mac. However, it only enables you to record the voice from your Mac's built-in Mic and is problematic in capturing the internal audio from computer programs such as browser video and app sound. To fix this screen recording has no sound matter, a system extension called Soundflower is created and released on Github (download the latest Soundflower 2.0b2 here). With the help of it, you can input all audio sources into QuickTime and record the system sound directly.
Source: QuickTime Player Screen Recording Guide on Mac | Instruction on how to record audio using QuickTime + Soundflower
Start Your Audio Recording!
Now you have finished the reading on top 6 screen audio recorder for Windows and Mac computer, you can choose either according to your system and actual needs and then catch the audio coming from system or your voice via the Mic effortlessly.
Related:
Internal Audio Recorder
Three Admirable Ways to Record Audio from Computer