Summary: Recording Telegram call is necessary for you to save valuable, fun and important calls and the post is going to give you an ability to do that by offering measurable ways.
The current global lockdown highlights the in dire need for a trusted communication tool via internet. There are tons of instant messengers based on user's requirement like Facebook Messenger, WhatsApp, Telegram and countless others, supporting at least voice calling or video calling service to users.
Among these applications, Telegram is robust and succeeds at reaching 400 million monthly active users in 6 years. With the announcement of no ads and no subscription fees service, a majority of users are switching from other messenger applications to Telegram at an accelerating pace. What really maintains users is the secure and fast service provided by Telegram especially the call function.
It's no doubt that there are some valuable, interesting or hilarious moments on your Telegram calls. As a Telegram user, you may search for ways to record Telegram call on your desktop. Here in this article, we will talk about Telegram call along with two ways to save Telegram call.
Basic information about Telegram call
Before we directly moving to the key point, there are preliminary information needed to know. Different from WhatsAPP calling service, there is no option for video calling in Telegram and only an audio calling facility is available. Additionally, Telegram comes with a mobile and web version so that you can manage your conversation across multiple devices available for constantly switching between phones and desktop screens.
For voice calling, Telegram supports end-to-end encrypted service and generates a one-time encryption key for this voice call. Moreover, when two people are making a call over Telegram, they will be able to compare four emojis as a key exchange to ensure that their call is encrypted. As for voice call quality, it uses artificial intelligence to increase crystal-clear quality. It's obvious that Telegram is an instant messenger in terms of quality, speed and security.
Can you record Telegram call with the built-in function?
It's a pity that Telegram isn't competent for voice call recording. So if you want to capture Telegram calls with relatives or friends, you must rely on a third-party Telegram call recorder to accomplish that. Here we will recommend two Telegram call recorders according to your different demands.
Necessary preparations for Telegram call
● Stable and connected internet for fluid Telegram audio calling.
● Inform the person who you want to contact and check whether it's ready to accept the call. In addition, you need to negotiate the protocols, learn the IP address and generate a one-time encryption key for this voice call with the person.
● Check the device status of your computer including the microphone, the running speed of your computer (CPU) and storage space.
How to record Telegram call on your desktop with RecMaster [Recommended]
Recmaster is an excellent Telegram call recorder for Windows/ Mac users with simple interface and rich features. As an audio recorder, it has the ability to capture Facebook Messenger call, Skype call and Google Hangouts call. So we will introduce the process of recording Telegram call by utilizing RecMaster, which can capture Telegram call in web or desktop version.
Step 1 Launch and install Telegram call recorder RecMaster
Supposing that you are the newcomer of this application, you're suggested to download and complete the installation with the wizard.
Step 2 Choose recording mode and get started
RecMaster offers multiple recording modes for Telegram desktop users all of which are available to capture audio. Full screen is competent to capture the whole Telegram interface with audio while Custom area is for particular region of the screen like the conversation window of a Telegram call. Webcam allows you to capture your performance along with the dialogue. Here the most suitable one is Audio Only for mere voice calling record rather than other video modes.

Step 3 Make configurations
In the settings window you can configure the related parameter of Telegram call recording according to your needs.
If you want to save Telegram call in video mode like Full screen, there are three video formats for you to choose as a Windows user –MP4, AVI, FLV. In addition, you can do settings on frame rate, quality. While for audio mode, it comes with two options: MP3 and WAV.
Useful functions like task schedule, mouse cursor are permitted to assist your recording in all these modes.

Step 4 Start recording
Start capturing by click REC or use the keyboard combination Alt+1 to launch the recording.
Step 5 End recording
Press Stop button and the recording will go to an end.
How to record Telegram call on your desktop with Nimbus [Suitable for Web version]
Note that you may use the web version of Telegram and prefer a recorder without installation. Here we pick out a plug-in recorder of Chrome– Nimbus to assist your recording. Nimbus is powered to capture a tab window with webcam and audio. Now continuously follow the guidance to get more details.
Step 1 Add Nimbus to your Chrome
Search Nimbus in the Chrome store and then add this extension to your Chrome menu.
Step 2 Configure a mode
Although it offers three choices for video recording, only the Tab mode has the ability to capture internal audio as well as microphone. If you do capture Telegram call with Nimbus, you need to choose Tab mode.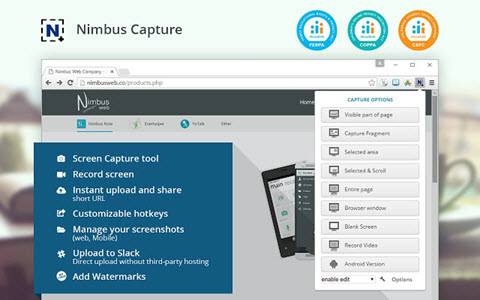 Step 3 Optionally change settings
HD, Full HD, 4K and Auto are four accessible options for audio quality. Unique watermark for audio copyright can be realized with Nimbus.
Step 4 Start recording
Simply select the Start Record to launch the Telegram web call. There is a drawing feature in case you need to take notes during the recording.
Step 5 End and share
Click the Nimbus icon to stop. After that you can share the Telegram audio to Google Drive.
Conclusion
This is how you can record Telegram audio call with two audio recorders. You can select based on our recommendation or choose with ease.
Audio related:
How to record Discord audio
How to record Zoom meeting
How to record GoToMeeting call
How to record Microsoft Teams call