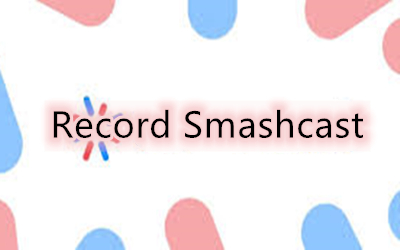 Smashcast, the newly-born stream platform is full of awesome contents that catalyze demands for recording streaming videos. This passage will show viewers the easiest way to record Smashcast.
Smashcast is a stream platform that leads with its games and esports streams. Viewers might be more familiar with its former name – Hitbox. In the year 2017, Smashcast, the site is a combined with another one-time Twitch competitor, Hitbox, which Azubu acquired earlier in 2017. This acquisition shots new blood into Hitbox, there is no denying that the live-stream industry is going to see a rising star in the near future.
Smashcast then bears new features such as the 'Hype-o-Meter' which designs for viewers of esports to cheer for their favorite teams. Besides, Smashcast add a feed on every profile page, and build up integration with Discord.
How Does Streaming Videos Affect Our Daily Lives?
Streaming video is the major form of the contents on Smashcast.
The word 'streaming' basically means the process of compressing a series of multimedia data, then sending data in segments through the Internet to transmit video and audio in real time for online viewing.
This technology streamlines data packets and the technology is wildly adopted by the biggest video portal website like YouTube and Netflix, etc.
This technology is a double-edged sword though. Viewers' time are saved because of it but the technology causes videos easily lost if they are not properly stored. That the reason why we need a streaming video recorder.
How to Record Smashcast with External Recorder?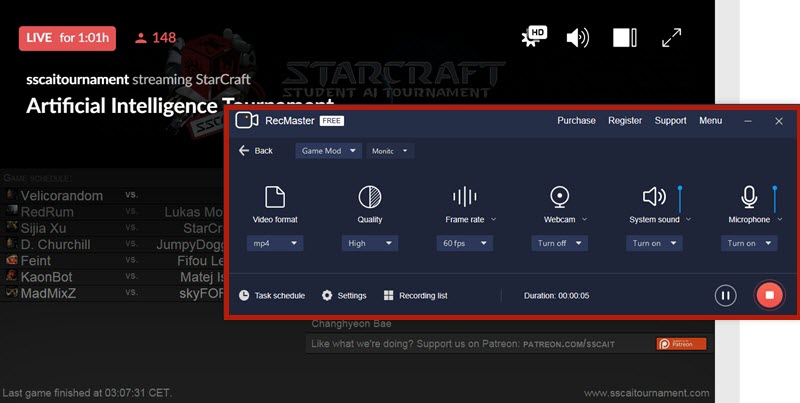 RecMaster is a third-party screen recorder majoring in recording streaming videos and audios.
It has no difficulty recording streams on YouTube, Twitch, or Mixer. So users should have no doubt in its performance in recording Smashcast streams.
RecMaster has strong features. It fundamentally has 5 recording modes: Full-Screen recording, Custom Area recording, Webcam recording, Game recording, and Audio-Only recording. Also, useful annotation tools are bountiful. They are created to highlight users' footages. Beyond that, a simple built-in editor of RecMaster will help users to cut unwanted fragments.
The best part of RecMaster proves to be its capacity to record Game videos at up-to 60 FPS, a crucial premise for recording Smashcast streams and even real-time games.
☛ How to Record Smashcast Streams with RecMaster?
1. Steps: Open RecMaster and Select Game Mode.

2. Configure the settings. Make sure to turn on System Sound (to capture the sounds in games) and turn off Microphone sound (to avoid the capture the noises caused by external environment).

3. Click REC to start recording. During the process, users are allowed to add annotations.
4. Click a red button in the floating bar to stop recording. The recordings will be automatically stored in users' PC local folders. Users could find the footages in the Recording List too.
5. Edit your footage. RecMaster provides simple editing feature for users to cut their videos.
● Another useful feature that helps viewers to record Smashcast – Task Schedule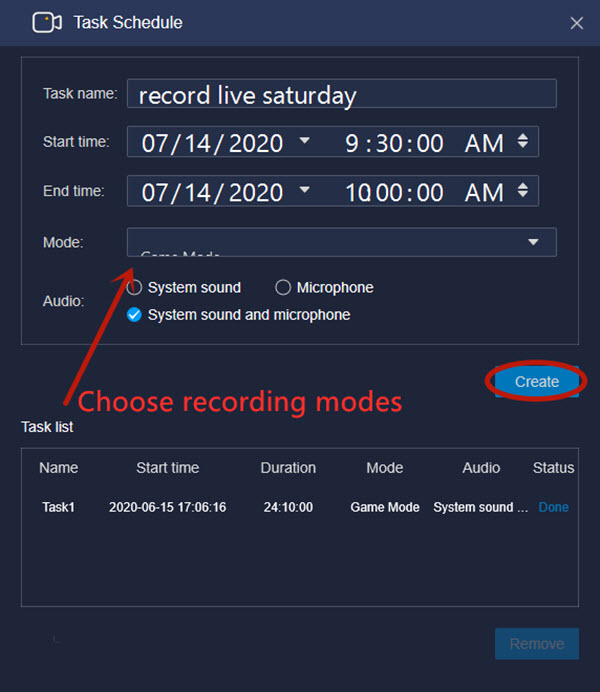 Users have to enter the setting interface to leverage the Task Schedule feature. Once the entry is found, click "Task schedule" and jump to its operation interface where users are able to create scheduling tasks, defining Task name, setting the start and end time. Settings also include the selection of recording modes and audio source. As for recording format and quality, you are suggested to output MP4 video at high or original quality or MP3 audio format for better compatibility. Frame rate value doesn't matter too much unless you are going to capturing some high-paced moments like game.
Precaution:
Users should avoid their tasks to be overlapped. RecMaster cannot carry out two recordings at the same time.
The task schedule needs RecMaster running in the background. Make sure it loads at Windows's booting up.
Can I Record Streaming Videos From Smashcast?
To find answer to this question, we could refer to YouTube's terms of service: "You are not allowed to access, reproduce, download, distribute, transmit, broadcast, display, sell, license, alter, modify or otherwise use any part of the Service or any Content except: as expressly authorized by the Service; or with prior written permission from YouTube and, if applicable, the respective rights holders."
If you get the permission of the, for example, game anchors, you are allowed to record his live streaming. And even though you manage to do that, you cannot transmit it or distribute it for commercial purposes.
With observation of the rules, viewers could record any contents on Smashcast.
Click here to watch more details about relative regulations on recording streams.
Conclusion
Smashcast is full of resources. Among the rich resources, game stream and esports contents are received utmost welcome by viewers. This passage shows viewers how to record Smashcast with a desirable external screen recorder – RecMaster. However, users have to observe relative rules of copyright in case commit some violation of regulations.
See also:
How to Record Live Broadcast from Platforms on Computer