Summary: Never need to worry about missing important live broadcast because this post gives a way to record live broadcast from YouTube/Facebook/Periscope etc. on your computer.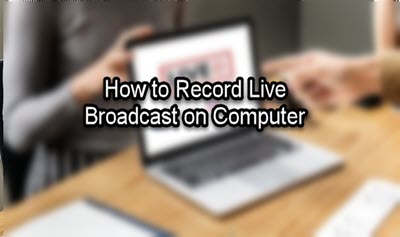 As referred to Wikipedia, a live broadcast, also called a live transmission, generally refers to various types of media that are broadcasted without a significant delay. Thanks to the advancement of technology, nowadays we are bombarded with live broadcast videos from Facebook live, YouTube live streaming and Twitter, providing newest and funny information to us. However, the downside is that live broadcasts are temporary-only existing for a predetermined time period and they are may be gone in the blink of an eye.
How can you save live broadcast content so it's not all lost in the internet's void? In this article our answer is to leverage a screen recorder to record live broadcast content. You can easily capture or record live broadcast videos and share it with your friends or save it for later viewing which is easy and fast live broadcast recorder- RecMaster.
Brief Introduction about Live Broadcast Recorder RecMaster
RecMaster is a user-friendly and feature-rich live streaming recorder, capable of YouTube live broadcast, Facebook live and Twitter capturing. With this live broadcast recorder, you can record all the live video content without lag and save it to your hard drive in desired format for later-viewing. RecMaster offers a bunch of recording live streaming videos and here we can take a look at what the program has in detail:
● Record and edit stunning live broadcast videos in an all-in-one form.
● Website, desktop and software activity capture.
● Save live content in multiple file formats.
● High flexibility and compatibility to different
● Support for Windows and Mac.
Let's learn how to record live broadcast video with this real-time video grabber. Download the live broadcast recorder right now and capture any web video!
Step 1: Install this live broadcast recorder on your PC or Mac
Wait for the download process to finish and then run the installation file by following simple instructions to successfully install RecMaster on your personal computer.
Step 2: Decide recording mode
RecMaster processes multiple recording modes which allows for full screen, a window or any particular region recording. If you're going to view and record live broadcast content at maximum resolution, you're suggested to select a full screen mode for recording.

Step 3: Set the capture parameters
You can further change the frame by hand according to your requirement. If you're going to save the live video in a more compatible format, we recommend MP4 format as your final choice. You are also allowed to choose from AVI/FLV (Windows) and MOV/M4V (Mac).

If you need to leave your computer for a while, use the live broadcast task scheduler and the program will stop grabbing the video at the designated time. To preset the capture time settings, click the Task Schedule icon. The main interface will pop up and then all you need to do is to specify the exact time for the program to start recording your screen as well as the required duration.
Step 4: Record the live broadcast
Open the web page that contains the video you want to capture. Click the REC button to start the screen video recording or use the keyboard combination Alt+1/ Command +1 as an alternative. It will commence after a 3-second countdown, which leaves you plenty of time to prepare.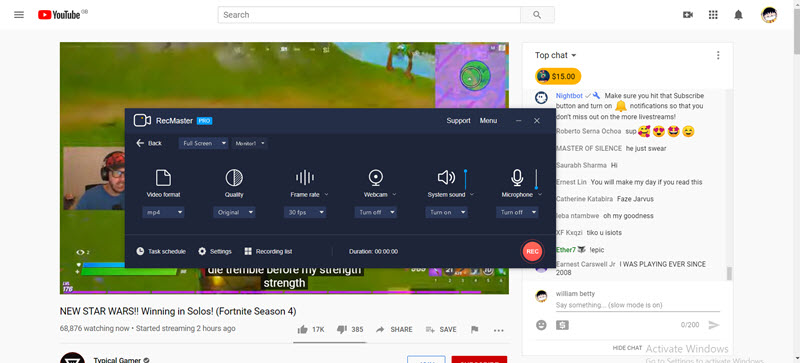 A timer will appear on the top side of the whole page making it convenient for you to observe recording duration. Besides, in case you need to mark up some points, there is also an annotation tool settled for you.
Step 5: Stop and edit recorded file
Once you've captured the video from the web page, click Stop icon and a Recording list interface will immediately jump to your eye where you can make further actions for the recorded videos. If you find that there are some drawbacks of your recording like unwanted clips, freely to use the editor to remove unnecessary moments.
FAQ: More about live broadcast video recorders
What is the best streaming video recorder?
It's hard to give an exact answer since it depends on different factors. If you're a beginner, RecMaster is your best choice because it is super easy-to-use. If you are an expert and searching for an editing-advanced tool, then OBS maybe what you look for. If you want to know more about OBS, please refer to this OBS review.
Can I freely record live broadcast video with this tool?
In theory the answer is totally yes! But in practice you are not suggested to do so. Recording live video content that didn't produce by yourself is not encouraged because you may place yourself in direct violation of various copyright and privacy laws. In this way, you need to obey the rules to leverage this method.
Conclusion
RecMaster is a suitable tool to record live broadcast either for the green-hand or professional. We sincerely hope this tool can help you recording so that you won't miss any important streaming events.
Topics you may interest in:
How to record audio/video from YouTube
Unable to download YouTube videos? Three safe ways to solve