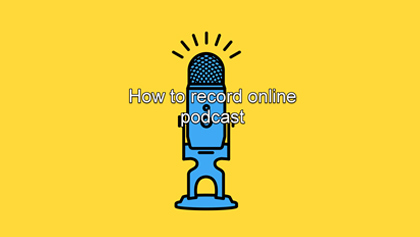 In recent years, the popularity of online podcast increases dramatically. Most individuals are either launching podcast or listening to one. It's reported that podcast in 2020 is at 75% of the U.S. population, which means that 212 million people had contact with podcast by 2020 in total. Obviously, online podcast is the leading trend of entertainment fitting into people's busy lives.
No matter where you are, with a connected internet you can tune in and watch or listen to podcast which sparks your interest. However, podcast – especially video podcasts are often large files which make them hard even unable to download for anyone with a slow internet connection. Moreover, sometime it's necessary to convert online podcast files into other format like Ogg to MP3 for high accessibility. Under this circumstance, finding ways to record online podcast becomes in dire need. This post will expound how to record online podcast on computer with RecMaster either as a podcaster or listener.
Reasons to record online podcast
Along with the popularity of online podcast, it also causes some problems needed to be solved by recording.
● High requirement for internet status: The form of podcast can be audio or video. Video podcast are often in large size that requires higher stability of internet than audio podcast. For anyone with a slow internet connection or even incapacity to connect internet, recording online podcast is a good way to solve the internet limit.
● Unplayable file format: The general podcast formats are MP3, M4A, AAC, OGG and WMA. These are all universal file formats and can be played by most media player except for OGG. OGG is unplayable for most media players and internet connected TVs. So you need to change the format to other format through recording or freely convert file format as needed.
● Length and content of Podcast: The length of a podcast is commonly in 10 – 15 minutes and podcasters are permitted to upload files with maximum to 1 hour like Anchor. However, not all the contents in the same podcast are equally important to you. If you only want to save some segments of a podcast, recording is a workable and time-saving method.
No worries! These tricky problems can be easily settled by using the screen recorder RecMaster. Now let's move to the key point.
How to record online podcast on your computer with RecMaster as a viewer
RecMaster, as a podcast audio and video recorder, is embraced with many features related to online podcast recording. It has versatile recording modes for you to choose and rich recording settings for you to use. No matter video podcast or audio podcast can both get recorded with high quality. Now follow the explicit guidance to get the way.
Step 1 Download and launch RecMaster
Please download RecMaster on your computer and follow the wizard to complete installation.
Step 2 Decide recording mode
Make sure what type of online podcast will be recorded from the common four types: Nonfiction narrative storytelling, Hybrid, Interviews/Panel discussion and Repurposed content and then choose one recording mode as you like. As audio podcast is more common, you're suggested to choose audio only mode. If you're going to record video podcast, RecMaster enables you to record podcast video in full screen or in any selected region with sound.

Step 3 Do settings
In the setting window, you are permitted to customize settings. It offers two audio formats: MP3, WAV and three video formats for windows user: MP4, AVI, FLV. Decide the involved parameter like frame rate, quality with ease. Remember to turn on system button and toggle off microphone icon if you don't want any noise spoil the clarity of the audio.
Scheduled recording function is also supported by RecMaster. If you need to accomplish fixed-time podcast recording, you can employ this function.

Step 4 Start recording
Click REC button to get started. During the recording, there is an annotation function for you to use.
Step 5 Stop and edit
Press Stop menu to end this recording. RecMaster permits you to edit your file by cutting and merging.
How to record online podcast on your computer with RecMaster as a podcaster
Making a podcast is fairly simple. All you need is a computer or smartphone, software to record your presentation and a connection to upload it to your internet. RecMaster is able to create online podcast with easy operations.
Supposing that you haven't installed RecMaster on your computer, you'd better launch them before following the instructions as below.
Step 1 Make preparation
Viewers care about the content and audio quality. So you need to carefully deicide the topic and outline of your podcast on pair with the state of your microphone.
Step 2 Launch and get started
In accordance with user's demand, audio podcasts are more welcomed than video podcasts. So we recommend audio only mode as our suggestion to produce online podcast. You also have the ability to record video podcast in Full screen/ Custom mode. Configure the related parameter according to your actual needs.
Turn on microphone button to capture your voice. If you need any background music as the interlude, you can choose system sound menu so that you can record internal audio.

Step 3 Record podcast
Start with REC icon or the keyboard combination Alt+1. If you're making a video podcast, you can apply the annotation function to make video with productivity.
Step 4 Edit and share
When the recording is over, you can edit the file to discard unnecessary clips. You can upload the recorded podcast to YouTube and other podcast platforms.
Advantages of online podcast
Let's learn some related information about podcast for full comprehension.
● Convenient: A listener can stream or download the file and replay it at whatever time is allowable for him like jogging, driving and doing housework. Once the internet is connected, a viewer can enjoy absorbing podcast with ease on his computer, smartphone or other devices.
● Time – efficient: Some types of meetings can be eliminated in favor of podcasts, saving time and improving productivity. Instead of trying to get everyone together for one meeting, podcasting makes it easier to announce a new policy or decision especially during the lockdown quarantine. Moreover, you can take advantage of your pocket time to learn skills through online podcast.
● Useful: Podcast gives a chance to those who have problem to read or people who are accustomed to reading books through listening. Once they subscribe to a podcast feed, new podcaster will automatically download to your device as soon as they are available.
Final word
RecMaster is competent for recording online podcast. Give it a try and it can satisfy your different needs. With this tool, you can also record live streaming, record online radio, and also record online music onto your computer with ease.