Vevo provides premium music video content for mobile and the web to some of the world's biggest artists. You can go to Vevo's distribution partners to watch Vevo music videos on the devices of your favorite app, these platforms include YouTube, Roku, Apple TV, etc.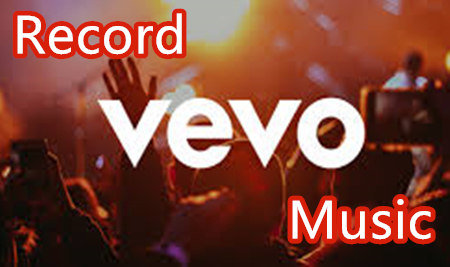 Vevo video download is necessary and worth trying. With your favorite content saved from Vevo, you can replay the songs or MVs anytime you care to especially if there is no internet connection.
How to Do Vevo Video Download (Songs/MVs) on YouTube?
Downloading Vevo streaming videos is somehow very similar to download YouTube streaming videos, viewers can download Vevo videos from its official website or download them directly from YouTube. This passage specifically introduces a practical and effective way to download Vevo resources – the hottest songs and MVs of the greatest artists.
There are so many approaches waiting to be leveraged when it relates to downloading streaming videos on Vevo or YouTube. There are typical video downloaders, YouTube video converters, chrome video recorders, etc. But today, the focus is put on a screen recorder which is green and reliable, fast and easy-to-use, a screen recorder that charges the least but delivers the best performance.
•Vevo Video Download – Convert Videos into Audio Files
RecMaster is competent YouTube recording software. It is not a downloader in a traditional sense, it carries out the tasks of downloading like record YouTube live streams with its recording features. The best part of this screen recorder is that you can regard it as an audio recorder because it is created with Audio-Only mode, which is super convenient in recording Vevo songs. Now follow the instructions below to save Vevo music from YouTube immediately.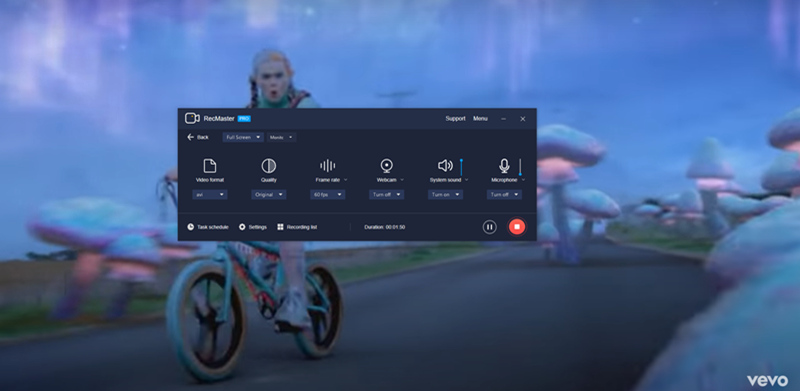 Steps:
1. Download RecMaster and choose the right version according to your operating systems.
2. In the main interface, you should select "Audio-Only" Mode for producing sheer audio files out of Vevo videos.
Don't forget to tweak the settings. Typically, you need to turn on "System sound" and fine-tune its volume to a proper level. Microphone sounds are suggested to turn off in case you capture unwanted noises. Also, the footage format is important too. Choose MP3 or WAV on Windows, and M4A or CAF for Mac as your Audio files' format.

3. Navigate to YouTube to play the target video or music and Start recording.
4. Pause and continue recording if necessary. When the recording is about to finish, you should hit the "Stop" button to end the recording. The audio file is saved automatically to local folders and you can find the audio in the Recording List.
•Vevo Video Download – Record the Hottest Vevo MVs
As a professional screen recorder, it is RecMaster's instinct to record any on-screen activities and make them into intact videos. Thus to say, recording streaming videos from YouTube is not a hard task. What I like RecMaster especially is that this kind of software not only duplicates the original YouTube videos but also brings users a batch of useful features that neither the YouTube downloader nor media player bears.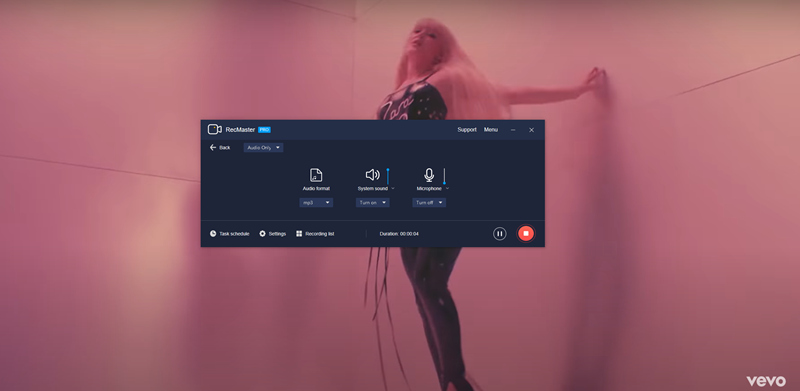 a) Open RecMaster and select Full-Screen mode.

b) Configure the settings: Video Format (mp4, avi, flv) > Video Quality (high, standard, original) > Frame Rate (30 FPS) > and settings for audio options (webcam, system sound, and microphone sound).

c) Arrange your process by operations on the floating bar. You can add annotations by dint of clicking the brush circled in the picture below. (FYI, RecMaster's Mac version is not able to add any annotations)
d) Stop recording and click 'Recording List' to check your footage or edit your videos.
About Vevo
Vevo is a music video service created by Universal Music, Sony Music, and Abu Dhabi Media Co. The site is powered by YouTube and it provides music videos produced from Universal Music, Sony Music, and EMI Music.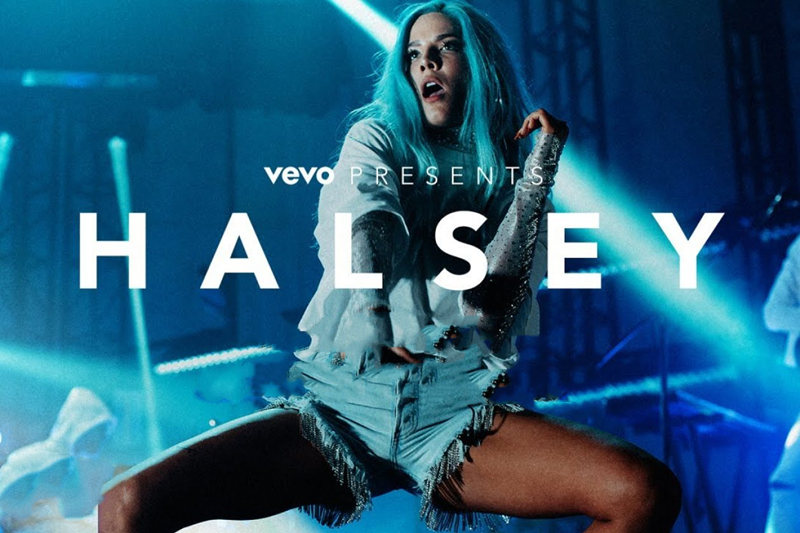 Vevo is such a premium music video and entertainment site for consumers that from advertisers to content owners are all offering top-notch music piggybacked by YouTube's video technology. Content is available through a new Vevo channel, on Vevo.com, the main site, and with a Vevo embedded player. It also serves as a syndication platform for additional sites that will expand Vevo across the web.
Precautions
Videos from Vevo.com are copyrighted. Any redistribution of them without the consent of the copyright owners may be a violation of the laws. This page is provided for compatibility purposes only, and in no case should be considered an endorsement of RecMaster Software products by any associated 3rd party.
Writer's Words
This article introduces a screen-recorder-way to do Vevo video download from its official website and from YouTube. RecMaster is safe and effective so you can definitely trust it in recording Vevo songs and MVs.