Windows 7's Sound Recorder creates WAV sound file while the Voice Recorder of Windows 10 only records W4A format. Then how to record WAV or MP3-formated audio on Windows 10?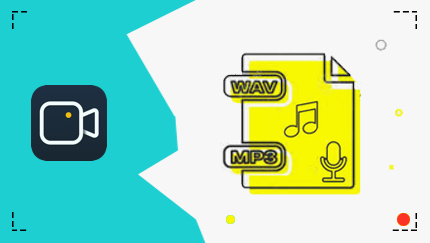 Handheld audio recorders are convenient for collecting voice on the move, such as class lecture, interview and private evidence (collection). While speaking of common audio recording requirements on Windows 10, a handy voice and sound recorder is just enough. As a part of screen capture, computer audio capture is usually taken by users to maintain some online streaming music, lecture, (voice) call, conference, webinar material or create file by themselves for voice memo, narration, podcast, interview, or other events.
Is there any internal tool to enable Windows 10 users to record audio natively? To some degree, yes and Voice Recorder is the official name. But this tool is an absolutely a voice recorder, which only supports saving sound from microphone into M4A. That's to say, if you want to take internal sound coming from system, app, browser, video game or other places, or if you'd like to record audio into mainstream MP3 or WAV, you will have no other choice but to rely on a third-party audio or voice recorder.
What's the best third party (MP3/WAV) audio recorder for Windows 10? Well, it's totally based on your computing skill, feature requirements and surely the budget. Here after testing and reviewing on nearly 10 audio recorders for Windows 10, we've selected 3 typical ones out to level up your audio capture experience on the new-standard Windows system.
Now check out the 3 detailed guides on how to record MP3/WAV on Windows 10, each of which contains a quality MP3/WAV recorder.
Part 1. How to Record MP3/WAV on Windows 10 with RecMaster [Recommended]
Pros: Simple UI and workflow, Capture any system sound or microphone with ease, Allow screen & webcam video recording
Cons: Lack audio editor
RecMaster is a decent screen recording program that's born with both video and audio capture capabilities. On one hand, it supports grabbing any screen activity with audio into MP4/AVI/FLV. On the other hand, the internal audio recording mode empowers users to save any system sound or microphone voice or they both to hard drive as WAV or MP3. No you can free download RecMaster and then follow the how-to steps below:

Step 1. Install and launch RecMaster, then navigate to "Audio Only" main window.
Step 2. Define the audio format as MP3 or WAV, and then turn on the audio you plan to record and adjust the volume. System sound or Microphone, if your machine has more than one input or output, click the down arrow icon to select either at will.
Step 3. Click REC button to make the capture happen. Then play your target audio content or start your taking with mic. RecMaster has its default hotkeys for easier operation, so you can type Alt + 1 to start, Alt + 2 to end, Alt + 3 to pause and resume the process.

Note: Task schedule is a necessary function for automatic recording, which is widely used for live broadcast or private desktop capture. After creating and enabling a task with it, you can leave off software or even the computer, and it will start and stop by itself.
Part 2: How to Record MP3/WAV on Win 10 with Audacity
Pros: Multiple audio capture modes to record any sound from PC, Allow parameter settings and multi-track capture and waveform editing
For those who are not satisfied with general audio recording shareware or beginner tool and desire for a more professional video recorder and editor, free and open source Audacity should be the first destination. By offering an overall recording solution with several different capture patterns and many practical editing options, Audacity can help you record both what you hear and what you speak in high quality and moderate it to music/podcast file effortlessly. Specifically, it supports recording 16- or 24-bit audio at up to 192,000 Hz sample rate, editing recorded file by cutting, trimming, denoising, adding effects (from ready-made effects or effect plug-ins), or mixing external file (as high as 32-bit/384kHz). Also,user can export THE project into various audio formats such as MP3, WAV, FLAC, AIFF, and Ogg Vobis.
Step 1 – Download and set the latest Audacity v2.3.3 up on your Windows 10.
Step 2 – Connect your audio input, e.g Mic/instrument/mixer to computer if there is. And then open Audacity up and choose the source to record on Device Toolbar, and the quality to obtain with Mixer Toolbar, Recording Meter etc.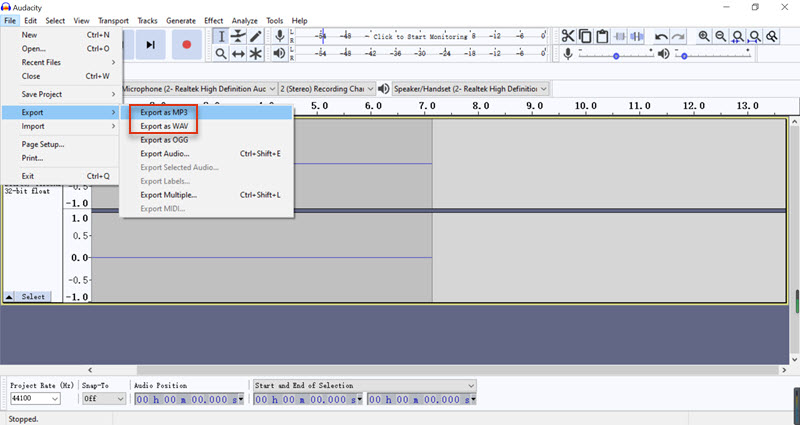 Step 3 – Test the recording beforehand and then start the real-time recording. Pause and resume your single track or more tracks recording.
Step 4 – Do editing if necessary. You are able to reduce background noise, delete any parts off, duplicate audio segment, rearrange and mix tracks, and do many edits for a perfect work. Although it can't match many pro-level nonlinear music editor, if you are a light user and not going to product some composed music with virtual instruments, Audacity could be your first and last stop.
Related: Audacity's Official Tutorial on Your First Recording
Part 3: How to Record WAV, MP3 with NCH Audio Recorder
Pros: Capture any from Mic or sound card.
NCH is a famed Australian software company providing a series of (80+) good-to-use multimedia-related utilities including audio recording. And SoundTap Streaming Audio Recorder is one of the NCH family members. Its free version – Ashampoo Audio Recorder is claimed as "a fuss-free audio recorder for Windows" embracing both microphone and sound card audio signals. However, actually, you will have to upgrade to the SoundTap version to capture everything you hear to (lossless) MP3/WAV, especially that from web like streaming broadcast/conference, internet webcasts, podcasts and music.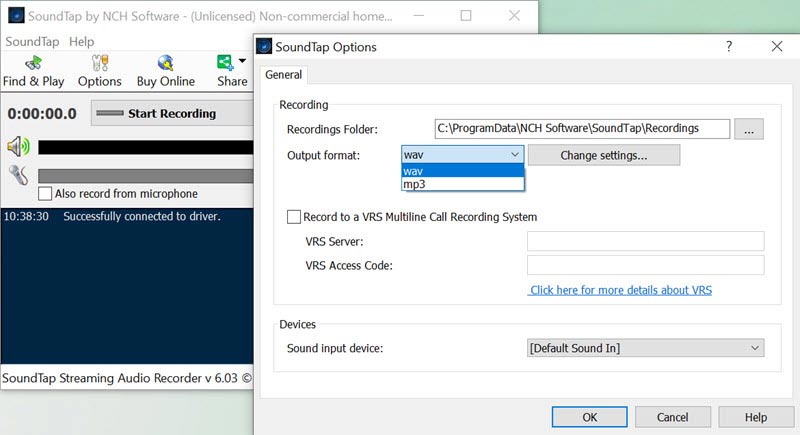 Step 1 – Go to NCH official site to get the most suitable audio recording facility for your PC.
Step 2 – Record your voice, system sound or streaming content to MP3 or WAV by following the simple wizard.
Step 3 – Listen to the audio and if you need to edit it, turn to NCH's WavePad.
After finishing the reviews and how-tos on three MP3/WAV audio recorders for Windows 10, you will get to know what kind of software is more appropriate for you. RecMaster delivers a one-stop screen recording solution covering both audio and image. Audacity puts it focus on audio recording and editing. While the NCH line can meet your any audio recording and post-production needs with its diversified products.
See also:
Voice Recorder for Mac
How to Record Interview as HR/Podcaster on PC
How to Download YouTube to MP4/MP3 Without Security Problem