You've been attempting to record the audio playing from Windows 10 PC but don't know how, please follow this guide to save any (streaming) music, podcast, lecture, meetings, game sound or similar audio materials from computer to local hard drive easily.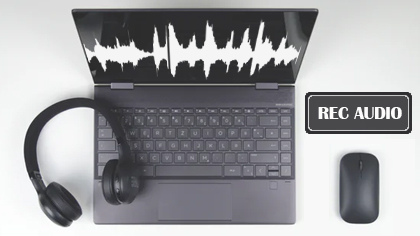 No matter what's your reason to record audio on your Windows 10 PC, to start with, you need to know that computer audio sources usually come from two places – the internal computer system (speaker) or the external microphone. And this guide will focus on recording internal audio from Windows 10.
If you are a conventional Windows user, you must know that Windows, from the very beginning, has an integrated sound recorder to capture the audio from mic whose name is Sound Recorder or Voice Recorder. And in the latest Windows 10, Microsoft even introduced another video recording tool name Game Bar to take screen video on game or application. However, there's still no such tool for system sound capture. So in order to help you record what you hear on Win 10, keep reading on to get 4 ways on how to record audio on Windows 10.
#WAY 1 – How to Record Audio on Windows 10 with RecMaster (Recommended)
#WAY 2 – How to Record Audio on Windows 10 with Audacity
#WAY 3 – How to Record Audio on Windows 10 with Voice Recorder
#WAY 4 – How to Record Windows 10 Audio with Common Screen Video Capture Software
Way 1 – Record Any Internal or External Sound on Windows 10 with RecMaster
Using a dedicated screen audio recorder is the best way to record whatever you hear on Windows 10. And RecMaster is one of such good bets. It enables any PC user to capture the audio coming from both audio cards or microphone effortlessly without installing any third-party tool. Also, it features taking screencasts on any on-screen activity and content with audio for sharing online, watch offline or storing locally. Now you can free download and set it up on your Windows 10 machine and see how it works.

Workflow: Open software -> Choose "Audio Only" recording mode on the main UI –> Set the audio format (to MP3 or WAV), audio source and adjust the volume if necessary -> Start and end the recording.

For timed audio recording on Windows 10, you need to follow this workflow: Open software -> Pick "Audio Only" -> Click "Task Schedule" to create and enable a future audio recording task with customized start and end time -> Keep computer and software running until the recording is over.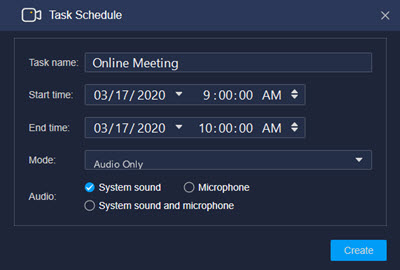 Way 2 – Record Windows 10's Internal Audio with Audacity
If you have no need for screen video capture or have more requirements on audio recording settings and editing, you can turn to expert audio software like Audacity. It is a free and open-source screen audio recorder and editor which provides several types of audio recording methods and gives all-sided editing suites covering cutting, trimming, copying & pasting, adding effects with built-in LADSPA/VST/Nyquist plug-in and multi-track mixing. Now let's take a look at how Audacity records internal audio on Windows 10.
Workflow: Install Audacity on your Windows 10 and open it -> Set for audio recording, such as Audio Host (Stereo Mix or Windows WASAPI), Recording Device, Recording Channels, Playback Device and Project Rate (Hz) -> Click the red circle button to start and the gray square button to stop the capture.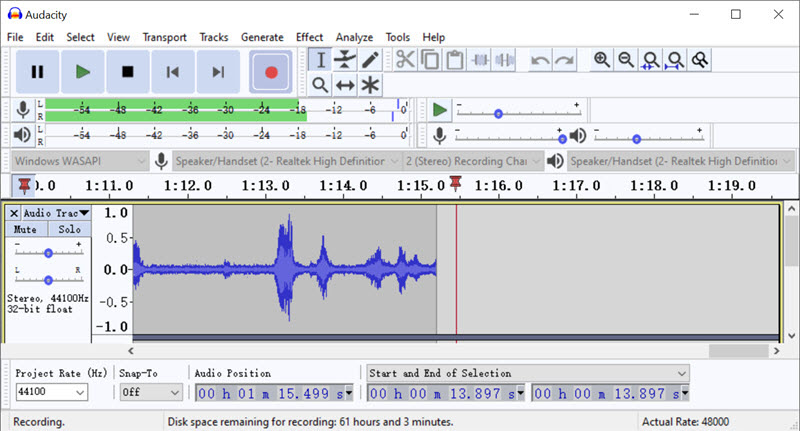 Frequently Asked Questions on Audacity audio recording:
– Windows WASAPI, MME and DirectSound, which audio host should I select?
Among these three host options, MME is elder than the other two and compatible with most Windows systems and WASAPI is more recent and recommended for Audacity playback capture. Some computer has a fourth host option Stereo Mix and it's also a good choice if your audio card is a solid one.
– What is Stereo Mix and why there's no such option on my Windows 10 sound recording control?
Well, Stereo Mix is actually an audio recording function brought by sound card/driver. Nevertheless, in the modern Windows PCs like Windows 10, this feature is removed by default to stop copyright infringement. To fix this Stereo Mix missing problem, you can "Show Disabled Device" on Sound Control Panel's recording section, reinstall the sound driver or straightforward utilize another recording mode like WASAPI in Audacity.
See also: Audacity Record from YouTube with Explicit Guidance
Way 3 – Record Audio Off Windows 10 with the Built-in Voice Recorder
This is a little bit crude solution for Windows 10 speaker audio capture, because no complicated tech behavior is needed but only an audio cable. We know that Windows 10 has integrated Voice Recorder into it to "record lectures, sounds, interviews, and other events" from external audio devices. Then once you plug the male 3.5mm connectors of audio cable to headphone line-out jack and microphone line-in jack, you can use Voice Recorder to record the "voice" produced by computer easily. During the recording, you are free to mark key moments and after recording, trimming and sharing the .m4a audio file are both available. If you don't have or are unwilling to pay for an audio cable, try some virtual audio cable.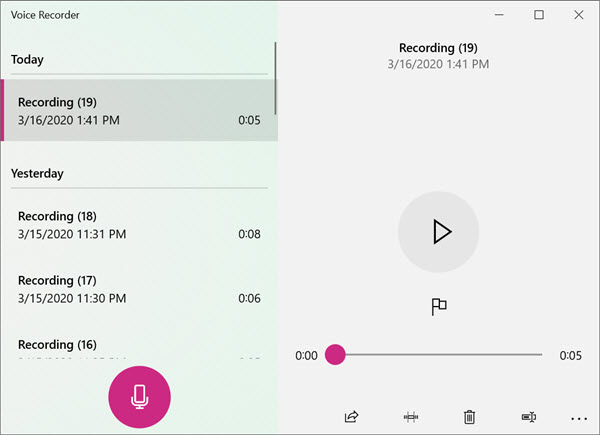 Way 4 – Record Screen and Audio Firstly and Then Extract Audio File from It
Compared to the 3 ways mentioned above, this method seems silly but it really works well. The firstly step is, with the Windows 10 bundled Game Bar (a video capture tool) or any other screen and audio recorder, you take a screencast with the target system or application sound in. And what comes next is leveraging a free video converter like VSDC to transform recorded video to audio file.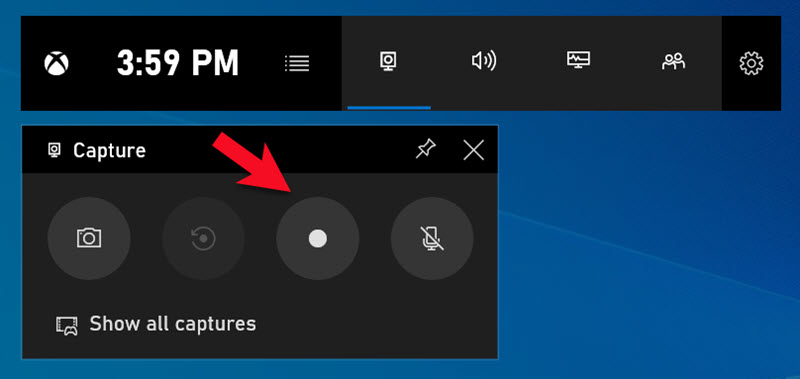 In fact, some screen recorders are now supporting capturing screen audio, either coming from system or microphone, as a single file. And RecMaster is a good example. No specific audio driver, audio cable, or video converter, you can obtain the simplest way on how to record audio on Windows 10 within clicks. In this way, you are free to save elegant songs, informational courses, notable podcasts, funny audio calls and many more as easy as ABC.
But before your real capture, you should take a note on the possibility of copyright infringement. If you plan to record Skype, Google Hangouts, WhatsApp or similar conversations, please inform the participants to prevent from some potential legal issues.
Topics you may also interest in:
Three Admirable Ways to Record Audio from Computer
Audio recorder for Windows 7: capture sound in an easy way