You may find yourself in need of recording audio from computer when you need to grab sound from system and built-in apps like Skype, WhatsApp, Zoom, Facebook and YouTube. Then how to make this accessible? The first solution that pops up to your mind may be finding a screen or audio recorder which is exactly a workable method for most applications. But not all audio recording tools support internal audio recording like QuickTime, so it may take you quantity of time to find an ideal one. To assist your audio recording process, here we list three admirable ways to record audio from computer both desktop and online.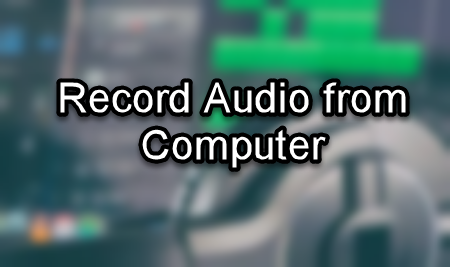 1. Record Audio from Computer Running Windows
Audacity is a convenient audio recorder for Windows 10 users, which acts both as an audio recorder and an audio editor. However, if you are excluded from this group, you can't get access to enjoy this benefit. No worries! You can take advantage of an Audacity alternative called RecMaster.
RecMaster is an excellent internal audio recorder. It's easy to use and lightning fast that works on Windows 7/8/10/XP. It enables you to capture sound from your computer on any platform like YouTube audio, Periscope videos and even Zoom meetings. Moreover, it has a load of audio recording features such as save audio in multiple formats, record internal audio and external audio simultaneously and so on. Now you can free download and set it up on your computer and see how it works.
Workflow: Open software >> Choose Audio Only recording mode on the main U I>> set audio format (to MP3/WAV), audio source and adjust the volume if necessary>> Start and end recording.

If you want to record screen with audio, RecMaster also accomplishes this goal by offering a little different process. Turn on this application>> Choose Full screen or Custom area as your recording mode>> Configure file format as MP4/AVI/FLV and setup involved parameters>> Start recording and stop.
(alt: record audio from computer with recmaster full screen)
Don't want to manually launch a recording task? Simple leverage the task schedulefunction to designate a recording task and then it will automate the whole process.
See also: Audacity record from YouTube with Explicit Guidance
2. Record Audio from Computer Running Mac
QuickTime is not a new stuff for Mac users which runs not only as a media player but also a screen recorder. It processes three basic recording modes to launch a screen recording: New Screen Recording, New Movie Recording and New Audio Recording. With QuickTime, you're easy to capture screen, webcam and audio. Moreover, it's also equipped editing feature to trim video/audio from the beginning or ending part. In short, if you only need a fundamental screen recorder, Mac is the best bet for you. Now let's see how to record screen with QuickTime.
Note that QuickTime itself doesn't feature capturing screen with sound coming from computer which means that you can only capture audio inputting via microphone. Don't be worried! As long as you have a sound extension like Soundflower, you can route audio from any application on your computer.
Workflow: Open QuickTime>> Click File and Select recording mode (here we set New Screen Recording as an example)>> Define the target recording area and choose Microphone source>> Start and end QuickTime screen recording.

Note: If you take QuickTime plus Soundflower too complicated to capture internal sound from Mac, you can free download RecMaster for Mac above to make everything easier.
3.    Record Audio from Computer Online
Want to find a way to record audio from computer without standalone software? Need a snappy and user-friendly choice? Apowersoft Free Online Audio Recorder can meet your needs from online lecture recording to YouTube music saving. It promises to provide audio recording service without requiring plug-in installation or subscription. Moreover, it endows you the ability to record sound from various inputs- system sound, microphone or both. Apart from this, it can offers abundant output formats including MP3, WMA, AAC, FLAC, WAV, M4A, OGG.
Workflow: Move to the official website>> Click Start Recording icon and enable the Apowersoft Audio Launcher installation>> Choose System sound as input audio source>> Start and end audio recording.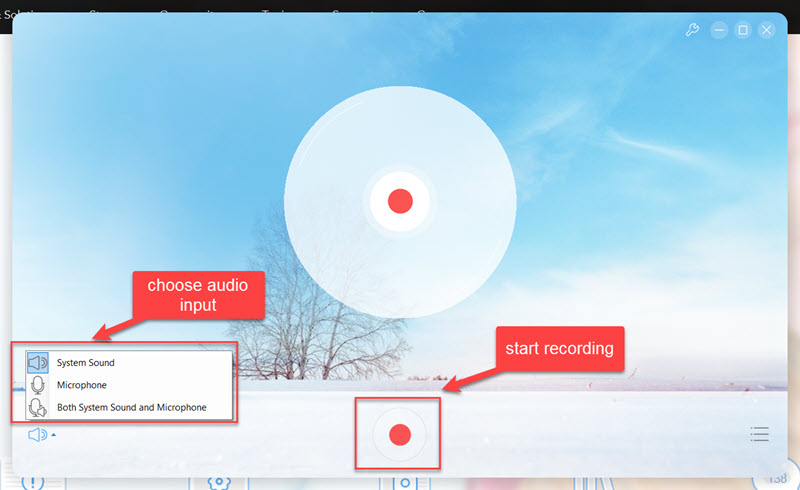 Conclusion
In the case that you want to record onscreen activities with audio, RecMaster is the suitable choice for you. If you prefer QuickTime or Apowersoft Free Online Audio Recorder to record audio from computer, follow the guidance to achieve this goal.