Lecture, usually refers to a kind of teaching method most frequently seen in campuses. Sometimes it indicates public speeches too. Given lectures' cardinal trait has been a one-way-communication mode, loss of information during lectures' addressing is naturally inevitable. To help with this problem, we could turn to voice recorders for lecture for help.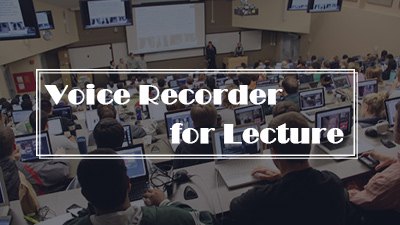 There are two correlative directions we could head to in solving the information loss. The first way is to use digital voice recorders for face-face public speeches. For your information, digital voice recorders including Sony ICD-PX470, Olympus WS-853, Zoom H1 are all in good quality and delivers good performance. The second way is to use voice recorders on computers to cope with academic lectures. However, digital voice recorders fall short due to its budget element, inconvenience to carry and battery limitations.
However, by dint of exclusive convenience and versatile features, computer software surpasses real devices. Voice recorders on computers mostly have superior attributes such as they charge far less than digital voice recorders, they could record external sound as well as system sound, they save files and support play-back at any time, they work in background, etc. Let's see the best 4 computer-only voice recorders for lecture.
Content Navigation:
RecMaster | Rev Voice Recorder | Apowersoft | Online-voice-recorder.com
1. RecMaster: Easy Lecture Recording Software for Both Windows and Mac
OS: Windows 10/8/7/XP and MacOS X 10.11 or above.
Are you already to record lectures but feel difficulty picking up reliable voice recorders?
Do all these complicated voice or audio recorder software sets you in a real fix?
Are you in wanting of software that has minimalist design and rich features at the same time?
RecMaster is the exact voice recorder that you've been seeking for.
RecMaster is endowed with versatility whose functions range from voice recording to screen recording and video editing. For voice recording, you can capture the system sound from PC in high quality and also input external voices to record screen with narration. For screen recording, RecMaster can take screencasts on any in-progress activity. Suit for Mac and Windows, RecMaster offers consumers with handy operation and explicit instructions.
How to record lecture voice with RecMaster?
Workflow:
a. Download RecMaster
b. Choose "Audio Only" mode on the main UI
c. Set the audio format (to MP3 or WAV for Windows and M4A or CAF for Mac), turn off the system sound for better recording.
d. Start recording and end recording

(Side note:
If you want to do voice record in a pre-set span, you could check out the options on the Task Schedule panel.
Here are instructions to pre set timer for voice recording:
a. Open RecMaster.
b. Choose mode "Audio Only".
c. Click "Task Schedule" to create and enable a future audio recording task with customized start and end time.
d. Keep computer and software running until the recording is over.)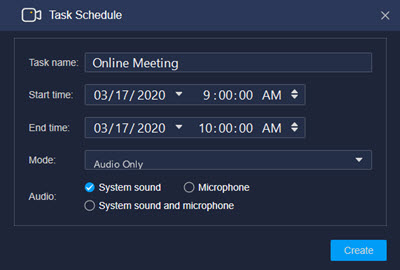 Merits: High-quality audio recording, Pre-set the time for recording.
Shortcuts: No audio editor built-in.
2. Windows Voice Recorder: Most Basic Voice Recorder for Lecture Coming with Your PC
If you are urgently searching for a voice recorder to record lecture, software that comes with windows 10 helps quench the fire on your hair. This very voice recorder—Windows Voice Recorder, contributes to record interviews, conversations, lectures, podcasts, almost anything that make a noise.
Never an alternative app succeeds in surmounting Windows Voice Recorder. Frankly speaking, Windows Voice Recorder has never been qualified as versatile software, but it stands its ground firmly and continuously provides users with the most basic functions.
How to record lecture voice with Windows Voice Recorder?
Workflow:
1. Double-click the icon
2. Press the circled area to start recording.
(Hot key: Ctrl + R)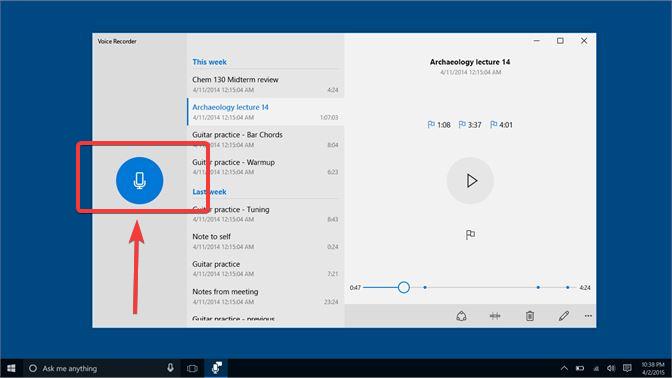 3. Use the Flag image to mark the track (as a reminder).
4. Click the Stop button to finish recording.
Side note:
a. Your audio file will be saved instantly.
b. Check out your panel to play back.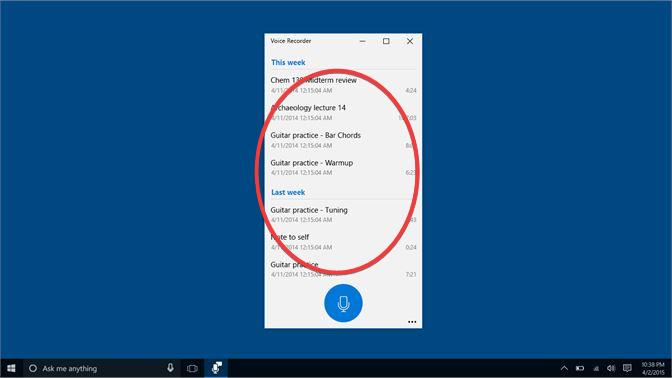 c. Click the circled image to gain access to Trimming feature.

d. Rename your recordings for better management.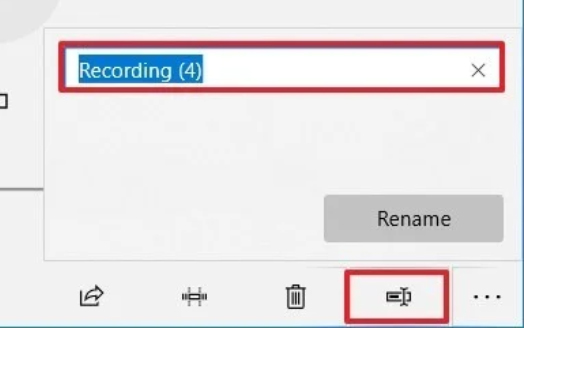 Merits: Easy to come by. Free of charge.
Shortcuts: Unstable performance, Microphone only, background noise.
3. Apowersoft: Online Voice Recorder for Lecture Within a Hand's Reach
Apowersoft also is a good assistant for recording lecture voice. As a free online audio recorder, Apowersoft allows you to record audio on Windows or Mac computer with no requirements for extra plug-in or subscription. The app has no correlation with complexity, Apowersoft concentrates on delivering best experience on audio recording. It's no exaggeration that Apowersoft allows you to record any sound that you can hear in original quality. It endows you the ability to record the sound from various audio inputs – System Sound, Microphone, or both.
How to record lecture voice with Apowersoft?
Workflow:
1. Select audio source before starting recording.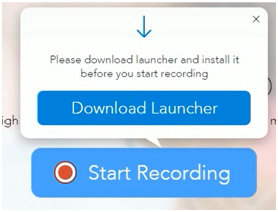 2. New users need to download a launcher to help record.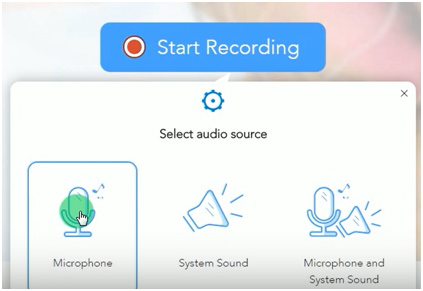 3. Click to start recording.
4. Stop recording.
5. Click the circled button to rename and define your audio file.

Merits: Convenience, clear layout of interface, free of charge.
Shortcuts: It needs launcher to run in full performance and it is not equipped with edit feature yet.
4. Online-Voice-Recorder: Online Voice Recorder for Lecture with No Launcher
Online-Voice-Recorder is a type of network program which frees consumers from download and installation workflow. The program promises no file will be saved to your computer unless you ask to. Good things about Online-Voice-Recorder is that it manifests a clean interface, which means consumers don't have many options to do, Online-Voice-Recorder devotes itself to cater sheer voice recording feature. However, this type of online recorders is subjected to Network Connectivity, which stands for Apowersoft's main weakness too.
How to record lecture voice with Online-Voice-Recorder?
1. Enter web address, online-voice-recorder.com.
2. Click the gear to select your microphone.

3. Press the red button to start recording.
4. Stop voice recording in any moment, click Save and your audio file will be saved in default place.
Merits: support clipping, silence fragment removal, operate through browser, utterly free.
Shortcut: 44-second time limit, fixed exporting format (mp4), service is unavailable when network separates.
This article basically introduces two types of voice recorders for lecture – Voice recorders for computer only and online voice recorders. Four voice recorders in total. Each recorder possesses unique features and distinct itself from each other at the same time. So take the given pros and cons in mind and choose your preferred one to record lecture.
BTW, as COVID-19 now has set off panic, normal courses are gradually replaced by online courses. Professors nowadays could record their lectures locally and upload them to network to substitute daily imparting. Under such a circumstance, voice recorders are incapable of satisfying correlative demand. Speak of the feature of screen record for lecture, RecMaster as I mentioned above, enables consumers to screen record. Check out more relative how-tos & tips about screen recording.
COVID-19 Related:
Tech Tools for Online Course
Top Remote Work Software
How to Record Online Meeting
How to Record Online Lecture
How to Record Remote Desktop