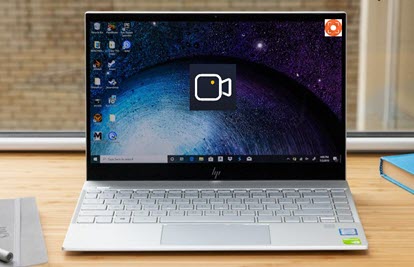 Summary: Looking for one method to video record on laptop including Dell, Acer, Asus, Lenovo and Apple MacBook? Here are two efficient ways for you.
It's significantly that laptop computers discard the shortcomings of bulky desktop computer and provide a more portable solution for users to handle online works. Thanks to the popularity and convenience it bringing for us, laptop computers have integrated into every aspect of people's daily life.
However, as you frequently use of laptop computer, you'll see the necessity to know how to record screen on laptop like capturing online media video, showing your laptop computer screen, and producing new software tutorial. In the past you may feel difficult to get one workable method contributing to laptop screen recording. But now with the development of technology, you can easily resolve this problem by virtue of a screen recorder.
Considering your screencast needs, therefore we pick out two simple and feature-rich screen recorders for you to video record on laptop. Keep on reading to select the suitable one from your point of view.
1. How to video record on laptop with RecMaster [Recommendation]
RecMaster is easiest and most reliable laptop screen recorder in the market. No matter you're a HP, Lenovo, or MacBook laptop user, you can enjoy the benefit of RecMaster as long as your computer running Windows (7/8/10) or Mac (macOS 10.11 or above) system. As a laptop screen video recorder, it imposes versatile features that give you flexible control over screen recording.
Firstly, every video record on laptop can be instructed in one-click operation with proper parameter settings. Secondly, it allows you to set additional functions to give you highly flexibility such as webcam, audio source, mouse effect and so on. Thirdly, it also offers post-recording-need solutions including in-built editor, instant file sharing. To sum up, it's the best bet for laptop screen recording.
How to video record on laptop with RecMaster
Step 1: Download the installation package from the links below for free and keep pace with the wizard to complete the whole process.
Step 2: Plan your recording type to pick recording mode.
If you're going to create specific software tutorial videos, you'd better display the content in whole desktop for better viewing. Besides, you can also change the recording area to any designated size by manually dragging. If you plan to produce some oral narration videos, you can record audio and webcam simultaneously. Make decisions according to your actual needs.

Step 3: Make configuration on settings
Do settings on your recording parameters from video format, quality to webcam and storage resolution. You can record microphone audio and system sound simultaneously as well as embed the webcam to produce picture-in-picture effect. If time allows, you can pre-test the device status before launching recording.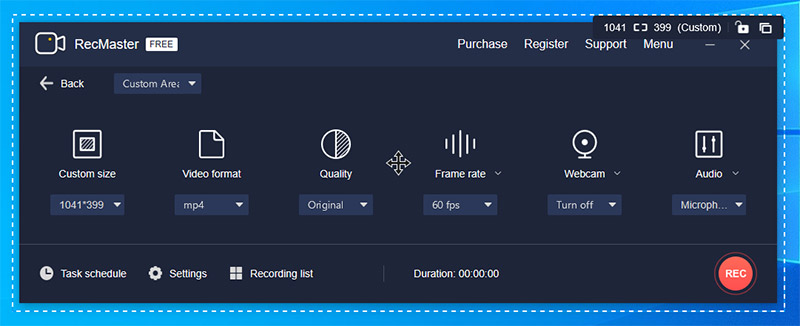 Step 4: Start the recording by press REC button or tab Alt+ 1 (Command +1) for beginning. Annotate with the toolkit during the recording process. When it's time for over, you can press the red button again to stop it.
Step 5: What if you include any unwanted clips in your video file? Should you have to re-record again? It's unnecessary to worry about that because you can make adjustment using the editor. Moreover, you can upload the recorded file to YouTube or Google Drive to attract more viewing.
Now you've finished the video recording process on your laptop and now you can enjoy with ease.
See also: How to screen record on hp laptop
2. How to video record on laptop with Screencastify
Wanna a video screen recorder without local installation? Screencastfy, the Chrome browser extension, is the right choice for you. You don't need to install any extra software to use Screencastify for laptop screen video recording. Even it's a web-based screen recorder, it's still competent for browser tab activities, desktop movements and webcam capturing. Besides, it performs screen recording task without adding the annoying watermark to your video. The basic drawing and editing tool are the reason why it's widely used by many teachers.
How to screen record on laptop with Screencastify
Step 1: Open your Chrome browser and tab the Screencastify in the Chrome store. After that you need to add this tool to your Chrome toolbar so that you can find it more easily.
Step 2: Find Screencastify on your Chrome toolbar and sign up with your Google account. Here you need to allow permission of camera, drawing tool and microphone for capturing.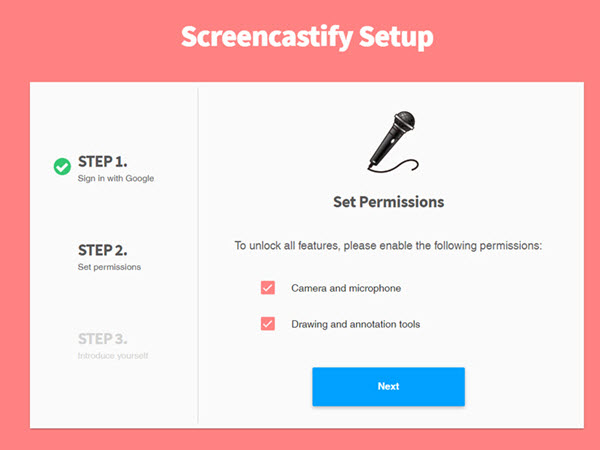 Step 3: Select the proper recording mode for the upcoming laptop screen recording. Additionally, you can make preference on webcam, audio, resolution, frame rate and more. Note that Desktop mode is momentarily only available for Windows user with a few adjustable options.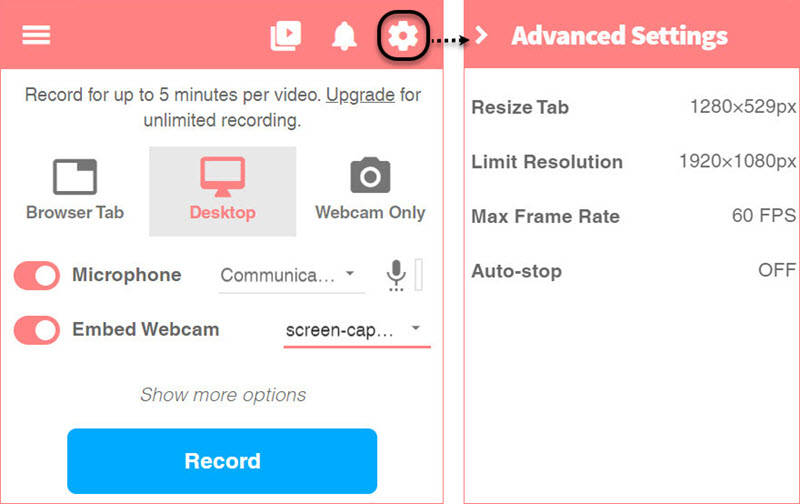 Step 4: Click the Record menu to begin recording. If you need, you can also draw in real-time to make expressive instructions, marks and signs.
Step 5: Stop and turn to Video Page for post-recording action where you can edit, trim and share videos with one click.
Final Word
As the easiest screen recorder for laptop, RecMaster always produce the excellent results for video record on laptop. Simultaneously, Screencastify is also a good choice to record laptop onscreen activities for a quick solution. Each screen recorder has strength and weakness, you can decide according to your preference.