Browser tab is a form of Internet navigation that allows a user to browse multiple web pages in a single window. These additional pages are denoted by tabs at the top of the browser window. Nowadays the most frequently used browsers are Safari, Microsoft edge, Firefox, and Chrome.
What to record? Cybercitizens surf all kinds of sites on the Internet through browser tabs. One of the most welcomed sites include website for daily videos – YouTube, sports video website – ESPN, game live streaming sites – Twitch, and radio website – Dublab. Question now is how to record browser tabs. Here I prepare 2 ways to solve this question – leveraging one Chrome extension and another third-party screen recorder to satisfy relative demands.
● Use Chrome Extension – Screencastify to Record Chrome Tabs
Screencastify is a one-click solution to all of your record demands on recording chrome tabs. It provides 3 modes for users to record Browser Tabs, Desktop and webcam. Screencastify is embedded with various annotations and video editing tools which mean that users have will no difficulty making their footage creative.
Here are steps of recording:
1. Add Screencastify to your Chrome extensions, click it and call out its main interface.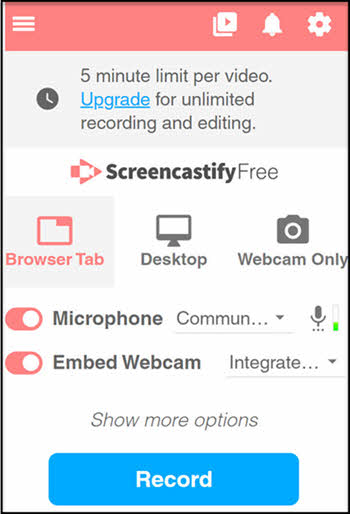 2. Right in the middle of this layout lays Screencastify's 3 basic recording modes – Browser Tab Mode, Desktop Mode and Webcam Only Mode. Then what follow are the settings of audio resource. Choose the recording mode and set up your audio resource and start recording.
3. In the lower left-corner appears a tool bar which provides cursor effect, annotations, super convenient for highlighting your video.

4. To stop recording, you need to click pause button on the tool bar, then the stop button will finally show up. It is in such a hidden place that I am so upset to spend a lot time finding it.
5. Once you stop recording, the interface will immediately jumps to editing section. You can trim your video here, however, if you desire more editing tools, click the circled area below and go to a new page to further edit your footage.
However, this could be the worst part of screencastify – when you click the circled area above, an interface will jump out telling you that its editing feature is only accessible for 3 days, later you need to pay for a total unlock. Whether to buy it or not, the decisions are up to you.
Screencastify is qualified as a good screen recorder to record chrome tab videos since most importantly, it allows users to record videos and webcam simultaneously. It also has powerful features such as built-in editor for simple trimming, it is got great annotations feature and cursor effect. However, Screencasitify bears evident deficiencies – the time limitation and the temporary editor.
However, Screencastify suits for Chrome tabs only. Users of Safari, Microsoft edge have to turn to another, say, more applicable software for help.
● Use Third-Party Screen Recorder to Record Browser Tabs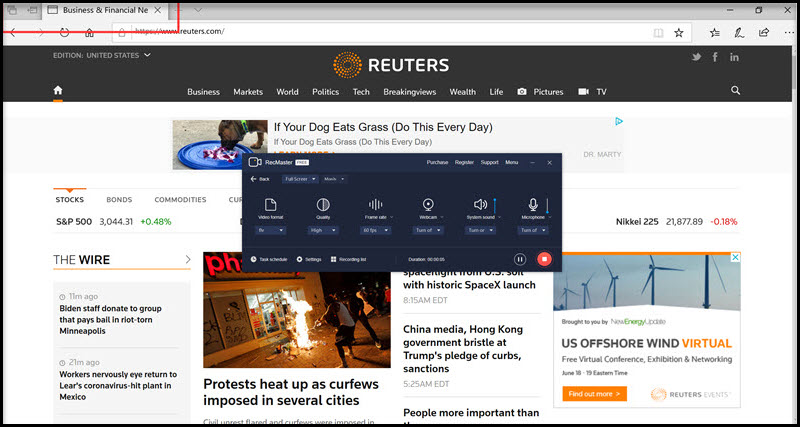 RecMaster delivers strong capacity to record browser tabs or say websites. This newly born software bearing uncluttered interfaces and easy mode of operation. Compared with Screencastify, RecMaster stands its ground firmly by virtue of high price-performance ratio – as a third party screen recorder, it literally suits for all the browsers mentioned above. In other words, it can not only act as Chrome recorder, but also Edge/Firefox screen recorder and alike. So let's check out its performance on recording Microsoft edge tabs.
1. Open RecMaster and choose Full Screen Mode.

2. Drag and Draw to make customized area for recording.
3. Tweak the settings before recording. Procedures are simple, you just need to select video format > "high quality" > 60 FPS > Turn off webcam > Turn on system sound > Turn off microphone sound.

4. Press REC and RecMaster begins to capture your screen. Press the button again to stop recording. Your footage is automatically saved to your local folder. You could find it at the Recording List.
Let's see some other awesome features that could be useful in recording browser tabs.
Custom Area Mode
Custom Area Mode allows users to capture part of their screen through several drags and draws. Benefits of Custom Area Mode are that it helps make smaller footage and it has minimum influence on computer's performance.
Game Mode
Designed to record PC game, Game Mode of RecMaster offers brilliant conditions for game recording which comprises the ability to record at 60 FPS with no lag. RecMaster supports record crisp 4K resolution, a maximum configuration for current games.
Webcam recording
Webcam Mode provides users with only one shot of webcam, and the desktop is not included. Webcam recording proves to be an effective way to make talking-head tutorials or commentary videos.
Annotations
RecMaster allows users to add annotations in the process of recording. Tools including brushes, erasers, texts, graphics and arrows are available.

With the help of annotation bar, users could effortlessly highlight their videos.
Scheduled Recording
Pre-set the time and RecMaster will automatically capture your screen and stop recording automatically as well. If you are craving for some lives but can't spare focus on that, solutions are to record them and review them when you are free. Scheduled Recording is exactly created for situations like this.
Ending
Two types of browser-tab recorders are introduced above – screen recorder software – RecMaster and Chrome extension recorder – Screencastify. Generally speaking, Screencastify suits for Chrome tabs perfectly and exclusively. Browsers like Microsoft edge or Safari aRecMaster manifests to be applicable for any browsers and it has multiple features that could satiate users' demands. With these two tools introduced to you, recording browser tabs should no longer be regarded as obstacles for you.
User Guide: Desktop Screen Recorder App vs. Browser Extension, How to Use Screencastify on Your Computer