As video stream now proves itself to be a mainstream tendency in cybercitizens' lives, demands of consumers spring out while video stream gains its popularity. Under such circumstances, questions like "What screen recorders to turn to?" and "Which one delivers the maximum performance?" have occurred. Among these exclamations, HP laptop users' demands are prominent due to their large user base. In the spirit of dealing every potential problem in screen recording area, here we provide 3 reliable methods as answers to "how to screen record on HP laptop".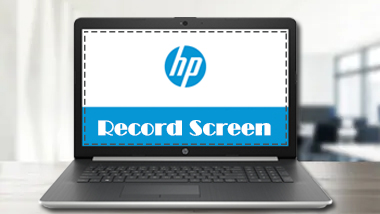 Content Navigation:
Method 1: Using RecMaster to Record Screen on HP Laptop (Recommended)
Method 2: Using HP's Built-in Screen Recorder to Do Screen Capture
Method 3: Using Snagit to Record Screen of HP Laptop
Method 1:  Using RecMaster
Apt for both beginners and the advanced, RecMaster is one of the most standard screen recording entities for laptop. Similar to those most well-known software like Bandicam Screen Recorder, CloudAPP, and Snagit, RecMaster to some degree serves as an instantaneous tool for any recording purpose. Consumers of RecMaster are offered with five recording modes – Game Mode, Full Screen Mode, Custom Area Mode (Mobile Phone Mode), Webcam Mode and Audio Only Mode. What distinguish RecMaster from its competitors are RecMaster's merits like, simple and intuitive interface, fresh-hand-friendly operation. RecMaster devotes itself to provide smooth and flawless experience for consumers. Besides, RecMaster possesses built-in edit tools that make annotation work easy to accomplish. Brush, Sticker tools, Graphic tools bring consumers into closer contact with profession.
How to Screen Record on HP Laptops with RecMaster?
It is no exaggeration to say that RecMaster helps its consumers get the hang of screen recording most quickly.\
1. Download RecMaster and set it up.


2. Double-click the icon and run the application
3. Choose a mode before recording

For your information, Mobile Phone Mode from Custom Area Mode suits Tik Tok or similar users pretty well. If you have any demand on recording smartphone friendly screen video like 16:9 clip, Mobile Phone Mode is what you seek for.
4. Do settings before recording
It's essential to do settings before recording. There are two major ways to achieve your tended configuration – through secondary main window or through directly clicking the Settings option. On its main window, you can select your monitor freely (if you have multiple displays), define the video format, recording quality, frame rate and decide whether to show the webcam/system sound/microphone.

5. Start recording
a. Once the pre-settings are accomplished, Press the red button to start recording.
b. Wait for the countdown and then capture the desired portion on the screen.
c. Use annotation to highlight what you are recording.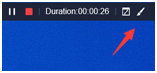 d. Press the red button on the floating bar to stop recording.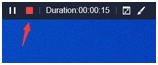 e. Check out Recording List to find out materials and playback if necessary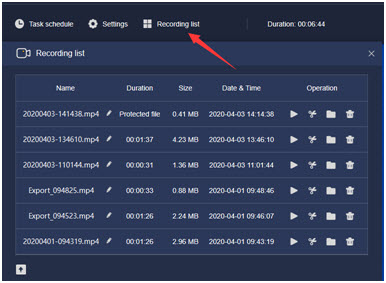 Method 2 – Using HPSR
Although serving as an add-on for Mercury (or HP) Quality Center to report issues, HP Screen Recorder is also a brilliant screen capture tool with great features. In addition to its most common used function – detecting bugs, many other tasks can be accomplished by HPSR too, like setting the size of recording file, adding subtitles and audio file to video, and exporting files in designated formats. But one thing HP users should be aware of is that connecting with HP Quality Center is the premise of everything.
How to screen record on HP laptops with HPSR?
1. Download and Install 'HP Screen Recorder'.
2. After installation, click the option Start > All Programs > HP Software > HP Screen Recorder > MSR Recorder to activate the software.
3. Click the Recorder tray icon and gain access to the main menu.
4. Select Quick Record to start recording.
5. Click Stop to get a raw footage. It is up to you whether to save it, discard it, edit it or not.
6. Save the file and export it in appropriate formats. HPSR supports formats including Flash, AVI, WMV(Window Media Video), MS PowerPoint etc.
However, HPSR falls short if any video length stretches more than 15 minutes. Huge files tend to corrupt is the main reason to cite for. Besides, HPSR is designed to deliver feedback of bugs, so it is not equipped with enough features.
Software Requirements of HPSR:
Need Windows 2000 or Windows XP to run HPSR.
Need DirectX 7.0 or newer version in support playback function.
Need MS Office 2000 or newer version pre-installed for HPSR exporting footage to MS PowerPoint format.
Need Windows Media Player 9 or newer version pre-installed to support the function-exporting as WMV format.
Hardware Requirements of HPSR:
Recommend 300 Mhz and 600 Mhz processor speed.
Recommend 128 RAM for Memory.
Recommend Super VGA or higher resolution for Display.
As for Graphics card, 4Mb video memory will suffice and 8Mb or above will be better.
Method 3: Using Snagit
Snagit's image and video capture feature is just flawless. Its versatility enables users to take in control everything happened on their laptop, be the videos, a particular region, the entire desktop or any web pages. Snagit is a multi-functioned software program making every recording demand properly meet. Its edit tools are abundant, a practical virtue for power users.
How to Screen Record on HP Laptops with Snagit?
1. Double-click Snagit icon.
2. Select Video button.
3. Click Capture, start recording on a custom area.
4. Once recording section gets finished, an instantly popping up window will lead you to edit your video.
The circled area above exhibits part of the available edit tools. Users could add text boxes and Graphics to their immature video. Animation tools are available too.
For HP users' information, trial version of Snagit provides with a full set of edit tools, but it lasts only for a few days and then expires. What's more, the cost for paid version is up to 50 dollars, so if you are quite fresh here, give it a second thought before making a decision.
Final Words
In conclusion, HPSR is easy to come by but its screen record features are smack of weak. Snagit is versatile, but whether its price is affordable is up to personal inclinations. Contrasted with the mentioned recorders, RecMaster enjoys both reasonable price and adequate built-in tools. Hope this article could solve HP users' screen recording problems.