Forget all the default screen recorders on your Laptop, be they Xbox Game Bar (Windows 10) or QuickTime (Mac Os), or HPSR (HP laptops). Those screen recorders could be the first thought of you but never the best idea. Third-party laptop screen recorder free, however, is a wiser choice, it bears much more useful features as well as much stronger performance. With a 3rd-party screen recorder helping you, you can produce instructive videos to show others how to operate on their PC to fix problems, you can record current problems of your PC and reflect with vivid recordings, record YouTube videos, record games, etc.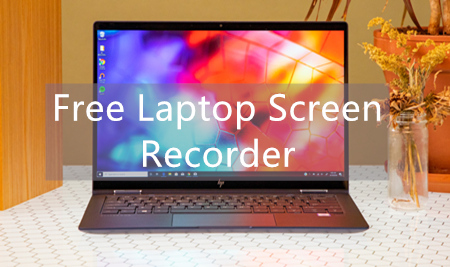 Unlike a browser screen recorder or web video recorder, a 3rd-party screen recorder also provides more stable performance and smoother quality to better video record on laptop.
This passage introduces a free laptop screen recorder for viewers and tells users how to record on Asus laptops, HP laptops, and Dell laptops.
Best Free Laptop Screen Recorders – RecMaster
Rising to the most easy-to-use and intuitive laptop screen recorders, RecMaster commits itself to provide the most out-of-box solutions for those who want to record screen but lack means.
It is powerful recording software allowing users to record all kinds of videos including gaming videos, tutorial videos, online lesson videos, streaming videos, and so on. Its 5 recording modes and simple video editor made a screen recording an easy task. If you care to produce high-quality videos RecMaster supports you with 60 FPS, original video quality, and Customized resolution according to your monitor.
RecMaster's Other Features and Specs:
Five recording modes that suffice all your recording demands (Mac version lacks Game Mode, as a good alternative, Full-Screen mode is also adoptable).
Original video quality, 60 FPS, uncapped resolution – the most advanced parameters are just several clicks away.
Add your profile and narration to your video by turning on 'webcam'.
Useful annotation tools for highlighting your videos.
Transforming videos into MP3 files with Audio-Only mode.
Support direct share to platforms like uploading to YouTube.
Free laptop screen recorder Records YouTube Videos
Screen recorder RecMaster is a free laptop screen recorder. It suits laptop users using the Windows system and the Mac OS system. Below we will show you how to record YouTube videos with RecMaster on your laptop.
Step 1 – Choose a Mode
5 specific recording modes are embedded in this software to help users record different types of videos. Game Mode is for capturing gameplay clips, Full-screen mode is for capturing your whole screen, literally all on-screen activities. Custom-Area mode captures a designated part of your screen, you can use this mode to record videos with a video corner. Webcam-Only mode is for recording your own head with narration. Audio-Only mode is for capturing system sounds and producing mp3 files. Once you've determined the recording mode, the next step is for setting configurations.

Step 2 – Set for the Recording
Tweaking settings before recording is essential, you definitely don't want your videos full of latencies or opaque fragments. To avoid imperfect occasions from happening, you should pay attention to these parameters – video quality, 60 FPS, Video format, and audio sources.
RecMaster allows users to output videos in MP4, AVI, and FLV among which MP4 is the most convenient format. Video quality set at three classes 'standard, high and original', original video quality is the highest option. Parameter – FPS is an important spec that decides whether you can record your screen without latencies. The higher FPS you have, the smoother your videos will be. The audio source is less important though.

Step 3 – Start and Stop the Recording
Once the pre-settings are fully made, you can click red buttons to start, pause, and end the recording. During the recording, annotation work is available, access its control by clicking the Annotation icon on the small floating bar. After the recording, you are empowered to do easy edits and share the work online directly to YouTube or Google Drive in clicks.
Other useful features of RecMaster

• Task Scheduler is created for helping users do the automatic recording. With this function, you can record your screen at any time in the day without your presence.
• Customized Watermark is an option for you to add customized text or graphics to your video in the protection of your copyright.
• Annotation tools serving to highlight your videos. You can add arrows, texts, circles to your videos so as to make them eye-catching.
Final Words
Use free laptop screen recorder records your PC desktops is a wise choice. Compared with the default recorder like QuickTime, Xbox Game Bar and HPSR, 3rd-party laptop recorder are always more powerful and stable. RecMaster is a good one compared with other 3rd-party recorders. Please feel free to download it on your laptop.