As the list for the best laptop in 2020's recent issue, Dell XPS 13 wins the crown. This is an acknowledgment of Dell products' quality and performance over the years. Dell series (Dell Inspiron, etc) prove themselves to be devices that do just about everything right – their displays are easy on the eyes, their brightness and sharpness are well-balanced, their battery endures a day's working without charging. You can do tons of activities on your Dell laptop – play all the advanced games, doing photo editing, writing emails, watching streaming videos, joining online meetings, etc.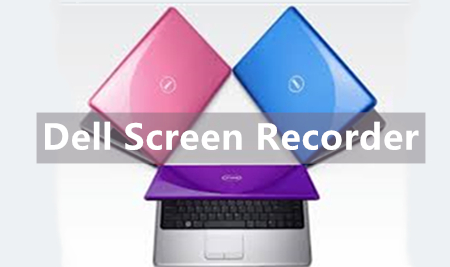 To help users capture all kinds of desktop activities, Dell laptops create a built-in dell screen recorder that is quite similar to HPSR on HP laptops. This supplement software is not available on Windows 10/8.1 and it is a great pity. And to maintain valuable moment happening on Dell laptops, an all-version adaptive screen recorder is necessary. The rest of this passage will introduce details of this powerful screen recorder.
Use Dell Webcam Central to Record Your Desktop and Profile [Windows 10/8.1 Not Adaptive]
Dell Webcam Central is the default recording software that comes with your Dell Laptop. You can take it as a special Dell screen recorder on your laptop since it can really capture your profile and desktop activities.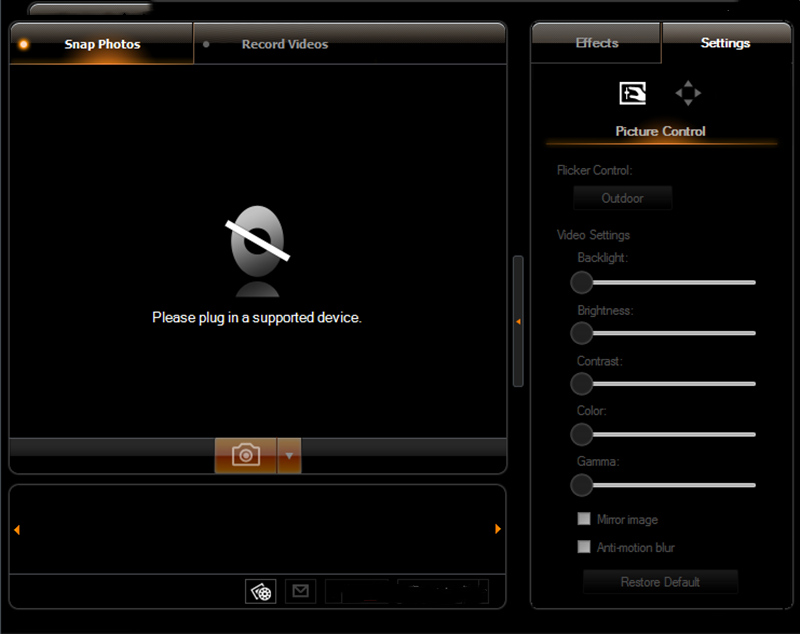 Dell Webcam Central allows users to take photos and record videos with the camera or change the device settings. If you'd like to webcam to take a screenshot or if you'd like to record a promotional or instructional video, Dell Webcam Central software will help you achieve your goals.
1. Click "Start | All Programs | Dell Webcam | Webcam Central," or click Start and type "webcam" into the search box. Select "Webcam Central" from the results.
2. Click "Desktop Share" to make your Dell Webcam records your screen. Then this software will manifest a picture-in-picture interface capturing your desktop. There are two recording modes – Record the entire screen and recording the custom area.
One good thing about this software is that you can record your desktop with your talking head. You just need to check the option 'show original video'.
3. Click "Record Videos" to enable the camera and begin capturing the video.
As I mentioned at the beginning of this passage, Dell webcam central misfits Windows 10 and Windows 8.1, which means you have to seek help from a third-party screen recorder.
Dell Screen Recorder – Use 3rd-Party Screen Recorder on Windows 10/8/7/XP
The third-party screen recorder has an evident advantage – it literally doesn't pick the operating system and it is so easy to use that even you are 100 percent strange to any recording software, you can get the hang of it in 3 minutes. Used to work perfectly on ASUS laptops, HP laptops, RecMaster is a free laptop screen recorder.
RecMaster suits for both advanced users and fresh-hand users. Offering flexible parameters like FPS, resolution, video format, and video quality for users to choose from. If you desire higher quality, more features, you can pay for its updated version, which is also pleasing.
With 5 basic recording modes, Dell users are availed to produce gameplay videos, full-screen videos, custom-area videos, videos with webcam, and sound-only audios.
RecMaster has been committing itself to provide users the smoothest and most pleasing experience with its built-in editing tool and annotative tool.
How to Screen Record on Dell Laptop with RecMaster?
1. Download RecMaster on your Dell laptop and finish the installation procedures.

2. Double-click the icon and run the application.
3. Choose a mode before recording. Considering Full-Screen is the most versatile mode, the following steps will exemplify this mode.

By the way, if you want to create videos and upload to TikTok or Ins from your Dell laptop, The Mobile Phone mode will help create an appropriate area that shares the same resolution with mobile version TikTok or Ins videos.
4. Do settings before recording
This part is for advanced users who want to create videos with the highest quality.
Specific procedures are listed below:
Choose your video format, MP4 is recommended here as it is the most transmitted format. Then you need to tweak the video quality as original, the highest video quality RecMaster attains to offer. Thirdly, FPS should be carefully set. If you want to create gameplay recordings, you need to make FPS be set at 60 to promise the fluency of your clips. As for ordinary videos, 30 FPS should suffice.
To make your video more instructive, you can consider adding webcam and microphone sounds to your videos. With intuitive narration and gestures, online lesson videos or tutorial videos could be successfully made.

5. Start recording
After you finish the setting part, hit the red button, and start recording your Dell screen. Wait for a 3-second countdown before recording. During recording, you can use annotation tools to highlight your footage. The access is marked below.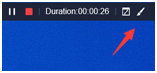 6. Check out Recording List to find out materials and playback if necessary. RecMaster bears a simple editor that allows you to do the easy cutting. Go to Recording List, find a little scissor that the button of your editor.
Final Words
Dell laptops' built-in screen recorder – Dell Webcam Central is free, easy to get by, but picks operating system. For Windows 10 and Windows 8.1 users, they are blocked by this software. And as a good alternative to Dell screen recorder, RecMaster is more powerful in features and quality, all kinds of recording purposes are achievable with its assistance.