Asus has joined the best-sold laptop brand list. This warmly-welcomed, leading portable device enables its users to do all kinds of tasks, especially the heating topic recently – original content creation. It is really easy to make Vlogs, podcasts, online lessons, or the most commonly seen videos on the Internet – streaming videos, with your laptops. And as a strong assistant in creating any forms of content, the screen recorder is punching above its own weight. Asus ROG and ZenBook users do screen record on their laptops and as a consequence, YouTube and Twitch are filled with tons of interesting resources.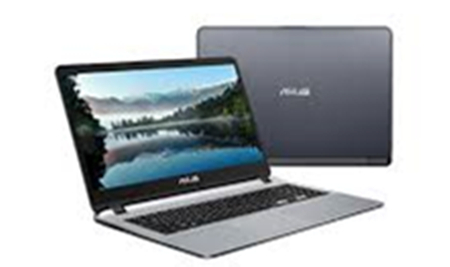 Speak of screen recorders, the most trusted screen recorders on the market usually are versatile. You can use it to record streaming videos, gameplay clips, produce sheer audio sounds, and even capture the talking head of yourself.
In the article here we will focus on one premium Asus screen recorder that works on all Asus devices. Let's get straight to the point.
How to Screen Record on Asus Laptop? [With third-party screen recorder]
Compared with other laptop brands, recording on Asus devices is much harder. HP laptop screen recorder – HPSR is a built-in screen recorder that comes with HP devices. Apparently, Asus didn't consider adopting this kind of mode, well, I mean, to embed an internal recorder to its devices.
So it is inevitable to leverage a third-party screen recorder if you want to execute any innovative ideas in your head.
One of the best recorders is RecMaster. RecMaster is not as well-known as those magnates like Bandicam or OBS. It is newly-born recording software relying on its high price-performance ratio to attract users.
Bearing rich features that are not a penny worse than the most powerful recording products on the market, RecMaster is regarded as a wonderful alternative if you are not that particular about your videos. I am not saying that RecMaster creates bad quality videos. The fact is that RecMaster always produces smooth videos in high FPS and resolution.
In addition to the parameter factors, RecMaster also provides a series of useful features that help your process of recording. They are a task scheduler that allows you to do an automatic recording. The annotative tool kit will help you highlight your videos with texts, graphics, or arrows. Simple editor and watermark customizer will assist you to produce the perfect videos with your own mark.
Here are the steps to do a screen record on Asus ROG and ZenBook laptop.
Step 1: Download RecMaster and finish installation. Given that nearly all Asus devices are using Windows operative systems, there will be consequently no download button for Mac users. If you have relative demands (record screen on Mac OS devices), you can go to RecMaster's official site to download it.

Step 2: Open RecMaster and there would appear its main control bar where you are offered 5 recording modes to choose from. They are Game Mode, Full-Screen Mode, Custom-Area Mode, Webcam Mode, and Audio-Only Mode. Different modes suit for different recording purposes. For example, Game Mode is for capturing all kinds of games that belong to DirectX 8-11. Full-Screen Mode is the most commonly used mode. Custom-Area Mode is for capturing small window programs like YouTube's mini player. Webcam Mode records only your talking head, it is convenient for producing speech video. Audio-Only Mode captures your screen, records the systems sound, and produces sheer MP3 format files.

Step 3: Once you've made up your mind to pick up the right mode, it is time to prepare for the recording. There are some important settings needed to be tweaked.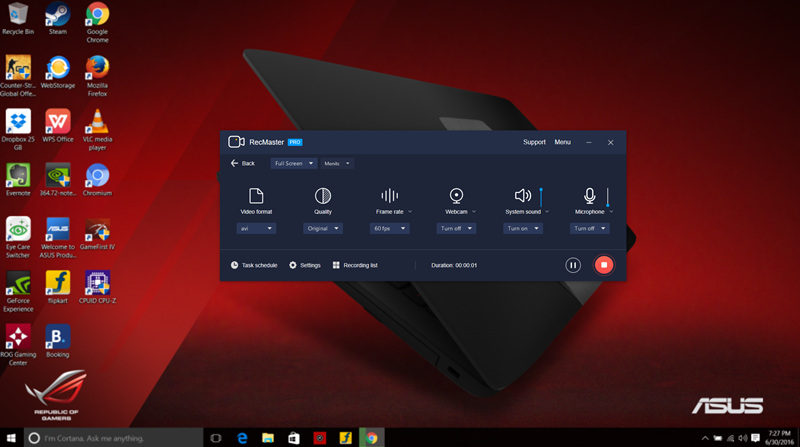 You can notice there are six different options displayer on this overlay and the options include 'video formats', 'Video quality', 'Frame Rate per Second', 'Webcam', 'System sound', and 'Microphone sound'.
To do screen record on Asus laptop, and make good video recordings, we should pay attention to Video quality, FPS, and audio sources. FPS should be configured to 60 if you want to do any gameplay captures. Common tasks like recording streaming videos require lower FPS, 30 FPS would suffice. Video quality should be configured to Original since it is the highest scale that RecMaster could provide. System sound is important, turn this option on, and microphone sound depends on your demand, usually, I suggest you turn it down to avoid recording noises from your room.
Step 4: Hit REC to start recording and during the process of recording, you can add annotation tools to your footages so as to highlight them.
Step 5: Hit REC again to stop recording. Now your recordings are saved automatically, and you are suggested go to Recording List to check your footages and if necessary, edit them.
Conclusion
After reading this tutorial passage on how to do a screen record on Asus laptop, you must be more familiar with how Asus screen recorder – RecMaster works. And use RecMaster to do content creation is practical, give it a try and you will not be disappointed.