Chrome web store contains bountiful extensions covering a large range of different software. Make good use of it and you can obtain extra convenience and get your workflow streamlined.
For those who want to save streaming videos or audios from the biggest video portal websites like YouTube or Netflix, they are offered another approach – to use Chrome screen recorder to record their favorite content. And this passage introduces one Chrome stream recorder and the workflow to capture streaming data with this tool.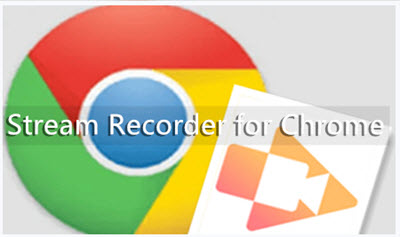 Ahead of the tutorial, here are something you need to know about streaming and Chrome stream recorder
Streaming is a method of viewing the video or listening to audio content without actually downloading the media files. This requires the recording tool to be in good quality so as to allow users to create videos with crisp visibility and low latency. The good things about website recorders are that they require no download or installation, but without the support of a 'software entity', they perform less stable than desktop recording software in resolution and FPS.
Screen recording is a CPU-intensive work, if you have high requirements on the performance of recording streaming videos, you are suggested to use a desktop recorder which delivers higher FPS and fluency to record streaming videos and audios.
Desktop recording software – RecMaster caters users much more features like video editor, annotation, task scheduler, no watermark, no time limit, high FPS, etc.

What's more, you can use RecMaster to record copyright infringed videos from video platforms. Click to see how to record Netflix, YouTube live stream, Hulu TV with RecMaster.
Now you can free RecMaster for your Windows or Mac computer for easy streaming capture.
How to Record Streaming Videos with Chrome Stream Recorder [Screencastify for Example]
Screencastify Chrome extension is the most installed screen recorder in Chrome's web store. The factors that determined its sovereign status are multiple. Firstly, it allows users to capture streaming videos and streaming audios on YouTube or other websites with full HD resolution. Secondly, it is accessible to simply edit videos with Screencastify. Thirdly, Screencastify supports sharing videos to multiple destinations including Google Drive, YouTube channel, etc with different forms like MP4, GIF, or MP3.
As a chrome screen recorder, Screencastify is easy to get by. You only need a Google account and at least 1 GB of free disk space as preparations to use Screencastify on Chrome tabs.
● Recording YouTube streaming videos and audios
Screencastify Chrome extension is also a one-click solution for recording streaming videos. It provides two modes to capture screen – Desktop Mode and Browser Tap Mode. This website recorder bears the most fundamental features of common recording software (that's what makes it so successful), but the fatal flaw of this tool is that it charges for money if you want to use its editing feature.
Here are steps to record YouTube streaming videos with Screencastify.
1. Add Screencastify to your chrome extensions, click its icon to activate it.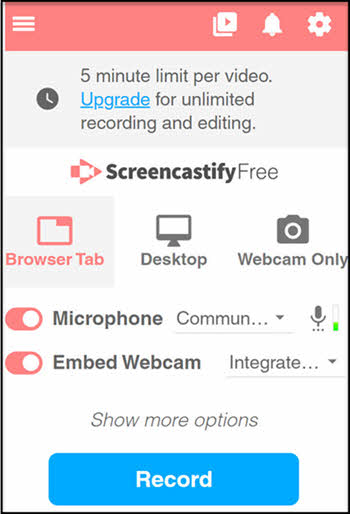 2. In the middle of its operating interface lays three recording modes, and what followed these modes are some settings options of the audio resource. Now, choose your intended recording mode and set up your audio resource.
3. Open your target YouTube streaming videos and start recording it with Screencastify.
4. In the bottom-left corner deploys a toolbar that allows users to add cursor effect, annotations to their footage. This feature is super convenient for highlight videos.

5. To stop recording, you need to press the pause button on the toolbar. However, I am so upset that I spend a lot of time fumbling it out – it is really not easy-to-find.
6. Stop recording and a window of Screencastify's editor will immediately show up.
You can trim your YouTube videos here, but if you want to more supplement of editing tools, click the circled area below and go to a new page designed for further editing.
However, this could be the worst part of Screencastify – when you click the circled area above, an inkling will tell you that its editing feature is accessible for 3 days, after that you need to pay for a total unlock. That's fine to set a block here, but considering the bad performance of its editor, the price-performance ratio is predictably low.
Merits:
Built-in editor for you to trim your video.
Great annotations feature and cursor effect.
Record videos and webcam simultaneously.
Diverse exporting formats: MP4, audio-only in MP3, or animated GIF.
Flaws:
5 minutes of recording limitations, pay for a license to unlock.
Half-open editor.
Fewer options for setting parameters.
Guide: How to Use Screencastify on Your Computer [Detailed Guide]
Final words
Compare chrome stream recorder – Screencastify and desktop screen recorder RecMaster, and we can see that Screencastify is easier to use. The desktop screen recorder is more outstanding at recording functions. And speaking of data management and security, desktop screen recorder is more secure.