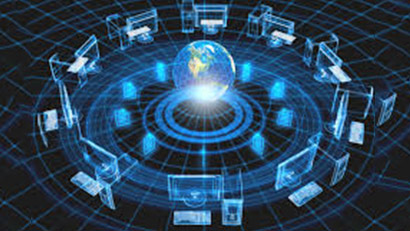 Website screen recorders have unique advantages over recording software – they don't need to be downloaded or installed, which means they don't occupy your hard disc memory. They are easily found and activated and providing users with almost the same features like desktop screen recorders. If you want to do recording on website, you may be inspired by this article – We prepared 4 awesome website screen recorders for you.
BTW, if you are strict with video quality, desktop recorder is never a bad choice for you. RecMaster is especially friendly to beginners particularly because of its thinly-designed interfaces, evident layout uncluttered overlays as well as 5 powerful recording modes suiting different demands in recording. Hit the icon below and give it a try for a perfect capture on gameplay, presentation, tutorial or so.
Desktop screen recorders could be in all kinds of uses, but chances are that people who simply want to record videos within several steps will be overwhelmed by the entire download and installations and the complicated settings. So this article lays emphasis on recommending 4 screen recorders (two website recorders, two chrome extensions) that allows recording on website, let's get straight to the introductions and instructions.
Content Navigation:
1. Powerful Web Launch Website Screen Recorder – Apowersoft
2. Totally Free Web Launcher Website Recorder – 123Apps
3. Two Screen Recorders for Chrome
Apowersoft (Web Launch Screen Recorder, Powerful Features)
Apowersoft is a handy website screen recorder. It doesn't pick system – both Windows and Mac users are enabled to operate recording on website. As its name suggests, it is really powerful in considering that it requires none extra plug-in or subscription.
What' even better about this web launch recorder is that it supports upload footage to cloud, (save to local accessible of course.) as a leading feature of it, Apowersoft concentrates on delivering users with smooth experience on screen recording.
Steps:
1. Enter Apowersoft's website and hit Start Recording. A launcher will automatically be downloaded to your PC. This process will take too much time.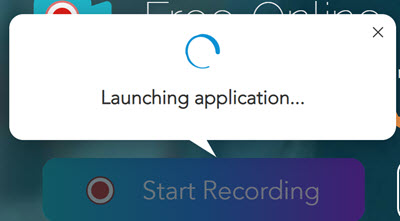 2. Then a control bar will instantly popping up. Four recording modes reveal themselves to you.

3. Click Full screen to start recording.
4. Feel free to add annotations.
5. Stop recording and save your video locally or upload it onto cloud. In case you want to share immediately to places like YouTube or what else, Apowersoft supports tons of channels to share.
Merits:
Easy operation.
Clear guide from website.
Uncluttered interface.
Sufficient features in terms of free version.
You can hear video's sound when you are editing.
Flaws:
It needs launcher to run in full performance.
It is not equipped with edit feature yet.
It needs payment to unlock further features like editing tools, De-watermark, commercial-use supportive, no time-limit etc. FYI, nearly 70 dollars' charge for lifetime is quite high compared with other online screen recorders.
Fail to serve users in off-line environment.
123APPs (Web Launch Screen Recorder, Totally Free)
This tool allows recording on website but to fulfill this purpose, a batch of bundled products are needed. The fact is that two tools are involved – video recorder and video cutter. The first one is for recording and the latter is for editing. 123apps is all good except that its recording feature supports only webcam recording, which could be a letdown to our current readers. But if you are OK with that, 123apps is a brilliant website for you since it is totally free.
1. Google "123Apps.com", scroll your mouse to find out "video recorder", that's what we are searching for.
2. Start recording. Here we can't emphasize too mach that this web-recorder supports only webcam recording, assume that it is typically tailored for videos that involves people's participation in their videos.

3. When you finish recording your video, save it and jump to 123Apps' another page to edit your video, which is "video cutter".
4. Upload what you just record and an editing interface will show up.
This "video cutter" supports cropping video, rotating video, trimming video, and the best part of it – quality choosing. You can save your video as HD, which is rare to see among other web screen recorders.
5. After you complete all the recording works, video cutter allows you to upload you footage directly onto your Drop box or Google drive.
Merits:
This website is totally free of charge.
No requirements for launchers.
Support almost every format of video, which means this web video editor could be regarded as somehow a independent.
Easy operation.
Flaws:
This website only provides webcam recording.
No annotations to come by while recording.
No editing tools.
Out-of-fashion interface.
Paralyzed when off-line.
Screen Recorder for Chrome (Two Useful Screen Recorder on Chrome)
● Tool 1. Screen Recorder
Screen Recorder is an add-on for Chrome extensions that contribute to the goal of recording on website. Chrome is obviously a huge magnate we can't bypass. Chrome is grand not because it is piggybacked by google, but also its unique convenience it succeeds in delivering. Once you stored an APP in your chrome, next time you will have no effort in fumbling it out. It's just right there waiting for you to click on.
Steps:
1). If you have added Online Recorder to your extensions, click the icon the activate it.
2). Choose your recording mode.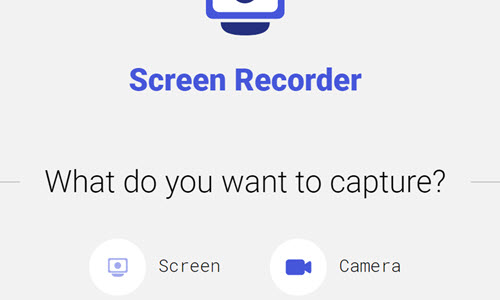 Your audio source will show up after you made your selection. But be aware, this recording website doesn't support recording with microphone and system sound simultaneously.
3) Choose the part of your PC that you wish to record. Then click share.
4) Stop recording and your video will automatically playback. Save your footage and that's all the workflow.
Merits:
Simple operation and concise interface.
Three screen recording modes for you to choose.
You can use camera to record narration video or something like that.
Flaws:
System sound and microphone can't be captured simultaneously.
Lack of editing and annotation functions.
Fixed format and frame rate.
● Tool 2. Screencastify
Similar to Screen Recorder, Screencastify is also a one-click solution of recording on website. It provides two modes – Desktop and Browser Tap modes for screen recording. Compared with Screen Recorder, Screencastify is better embedded with annotations and video editing tools.
1. Add Screencastify to your chrome extensions, click its icon to activate it.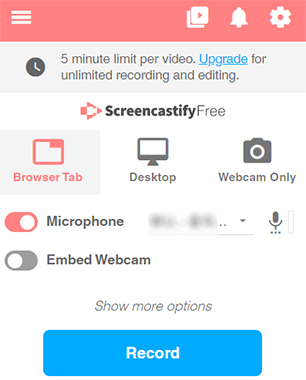 2. In the middle of its operating interface lays three recording mode, and right followed are settings of audio resource. Choose your intended recording mode and set up your audio resource and start recording.
3. In the lower left-corner appears a tool bar which provides cursor effect, annotations, super convenient for highlighting your video.

4. To stop recording, you need to click pause button on the tool bar, then the stop button will show up. I am so upset that I spend a lot time figuring it out. Quite unfriendly design here.
5. Stop recording and the interface will immediately jumps to editing section.
You can trim your video here, but if you want to more supplement of editing tools, click the circled area below and go to a new page designed for further editing.
However, this could be the worst part of screencastify – when you click the circled area above, an inkling will tell you that its editing feature is accessible for 3 days, after that you need to pay for a total unlock. That's fine to set a block here, but considering the bad performance of its editor, the price-performance ratio is predictably low.
Merits:
Built-in editor for you to trim your video.
Great annotations feature and cursor effect.
Record videos and webcam simultaneously.
Diverse exporting formats: MP4, audio only in MP3 or animated GIF.
Flaws:
The video time is capped at 5 minutes.
Editor function only supports a three-day trial.
Few choices for Settings.
Conclusion
Generally speaking, for the goal of recording on website, two types of useful website recorders are mentioned above – normal website recorders and Chrome recorders. After a brief comparison, the conclusion we come up with is:
Apowersoft possesses the most features and perform, only its free version could satiates most people's demands over screen recording. And its paid-version provides with most worthy features. But consequently, it is the most expensive one. So if you are not in professional need of features, Apowersoft is not fit for you.
123APPs provides webcam-only mode of recording, but it is a website that charges nothing.
As for chorme-extensive screen recorders, they are easy to find and have adorable outlook, but their recording features are not completed compared with Apowersoft. On another hand, it is more than sufficient for fresh hands to record their videos.