There are many handy Windows 10 streaming audio recorders to help transmit online audio content to computer, be it freeware or shareware.
There are totally over 1 trillion streams online in past 2019, 1/4 of which just come from on-demand streaming audio, especially the music song streaming. No matter you are a teen streaming audio listener or streaming video viewer, as long as you want to record streaming audio from YouTube (Music), Vevo, Spotify, SoundCloud and so forth services and platforms, you can directly use either of the following best (free) streaming audio recorders for Windows 10 to do it easily, but not need to waste time on wading through the numerous names online to find out a most suitable one hardly.
Many paid (audio) streaming services do offer audio download feature.
Streaming thing has become the trend thanks to its simplicity and convenience, so more and more people are switching their entertainment manner like from traditional physical CD/cassette to modern music streaming services. Popular music streaming apps Apple Music, Spotify, Tidal, Amazon Music, and YouTube Music are typical examples. Usually, those music-centric or other type of streaming services provide certain free songs, podcasts, radio or so with ads in compressed quality. To enjoy ad-free & hi-res audio content, download and play them back offline, you will have to subscribe their premium plans, whose free-trial periods may vary from days to months and prices from $4.9 to $15 per month.
For unsubscribed users, it's impossible to download or save streaming audio directly, then the third-party audio capture tool is badly needed for file ripping or extracting. Since Windows 10 is currently the most widely used desktop system, now a best Windows 10 streaming audio recorder roundup is made for your reference, among which some free apps are included.
1. RecMaster – Easiest Windows 10 Streaming Audio and Video Recorder
RecMaster is a simple screen recorder that's able to record streaming audio coming from system or say sound card into MP3 and WAV on any Windows 10 based desktop or laptop easily in clicks, without installing any sound driver at all. Also, as a multi-functional screencasting program, it also supports recording speaker sound, offers other functions to capture Internet streaming video to MP4/AVI/FLV in high quality, capture on-screen activities (gameplay included) with webcam and narration, as well as shoot front camera video alone.
If your target streaming is so long that you don't have time to sit in front of monitor to manually end it, you can take advantage of the built-in Task schedule tool to automatic start and stop the streaming audio capture at your preset time period.
How to record streaming audio on Windows 10 with RecMaster?
To begin with, you should know that only the unprotected streaming audio can be accessed and recorded by RecMaster. because currently it's incompatible with the DRM-protected due to the lack of DRM cracking feature. If you have no idea on whether the audio has copy protection or not, you can straightforward take the following steps to check whether the recorded is normal. If there's no sound or it just sound weird, then in all probability the source streaming audio is protected.
Now, when you've opened the audio file with proper configuration and are ready to get the streaming recording work started, please free download RecMaster here and then follow the guide below.
Step 1. Install and launch this recorder, and then select "Audio Only" mode on the main interface. Since this mode purely helps you keep streaming audio in audio file still, if you are willing to save the audio in video format, you can choose "Full Screen" or "Custom Area" to make it happen.

Step 2. When navigating to Audio Only's interface, you are given three main options to define the audio format, to confirm whether to turn on the system sound, microphone or not, and their volume values. Since all streaming audios are actually belong to system sound, you should turn this option on with a proper sound volume. If there's no special demand like syncing Karaoke or narration, you'd better turn off microphone to avoid any noise to be captured alongside.

Step 3. Click on red REC button located in the right bottom area to start the recording immediately. By default, there's a 3-second countdown for you to open and play streaming audio at the same time. You will also be informed with the default shortcuts on starting, pausing & resuming, ending recording etc., all of which are adjustable under Settings panel.
Like what's been mentioned above, Task schedule is designed for any automatic and timed recording including streaming audio one. So if you are prefer such a self-activating capture, do create and enable mission from Task schedule.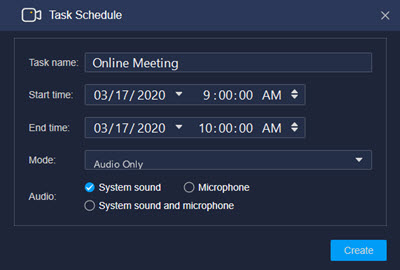 Step 4. When the audio plays to an end, you can press the same red button or type shortcuts Alt+2 to stop the recording. If you are using Task schedule, just leave it alone to stop automatically. After that, the final recording named with specific recording time will be loaded and listed in a "Recording list". You can preview and rename it from the list window.
Price: Annual $19.95 for 1 PC ($5 coupon code is distributed on purchase page)
2. Wondershare Streaming Audio Recorder
This is a dedicated digital audio recorder that can help you detect and record any streaming audio played on your Windows 10 computer for personal usage, be it from YouTube Music, Spotify, Pandora, SoundCloud, iHeartRadio, Apple Music, Google Play Music, Yahoo Music, Deezer, Skype or many others online music/radio/podcast/chatting services.
As a full-fledged Windows 10 streaming audio recorder, it not only allows you to record online music or radio to .mp3 (MP3) or .m4a (AAC) in your desired sample rate (up to 4800Hz) and bit rate (up to 256kbps), but also features filtering the ads, fixing & editing ID3 tags, creating ringtone from recorded audio, scheduling recording and also burning any library audio to CD.
The only thing you should take a note is that from its official page, obviously there's been no update for a long time and the interface is too outdated.
Price: Lifetime $19.00 for 1 PC
3. Apowersoft Streaming Audio Recorder
Similar to product from Wondershare, Apowersoft Streaming Audio Recorder is also capable of recording high-quality streaming audio from websites of music, video, radio and also any online chatting platforms to MP3, AAC and so forth mainstream formats effortlessly. The internal ID3 Tag editor will automatically recognize and keep original file information of title, genre, artist and so on still. Surely, you are also free to edit them by yourself.
This Windows 10 streaming audio recorder can also act as online music downloader to allow song searching and downloading, audio file converter to transfer recorded or downloaded file to iTunes/text/MP3 etc., and also audio editor and CD burner. There's a Schedule Task tool too to help initiate one or daily capture mission at customized time at a fixed repeat time.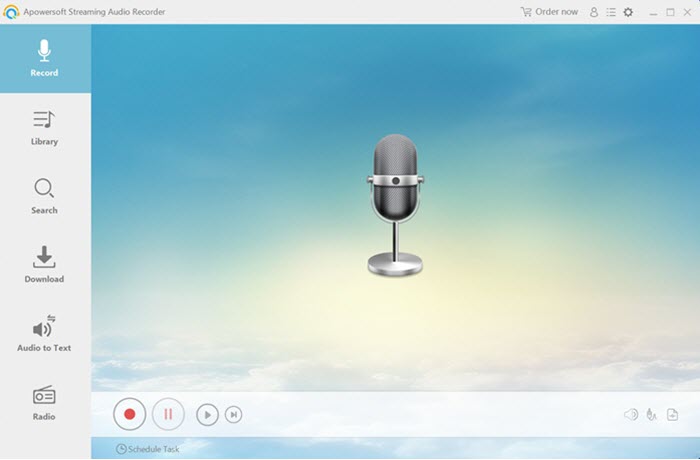 Price: Annual $39.95 for 1 PC
4. NCH SoundTap Streaming Audio Recorder
This is another top-ranked Windows 10 streaming audio capture software which is good at grabing whatever sound playing on computer into MP3 or WAV file format. Specifically, the sound may be online radio webcast, streaming audio broadcasts, (Zoom/Google Houngout) virtual meeting/webinar, web courses, Skype VoIP phone calls, or that coming from media player apps.
It provides you a series of codec and compression options to better control the capture quality and if you have related NCH software suite like WavePad Sound Editor, Switch MP3 File Converter and MixPad Audio File Mixer, you can directly link to them for further operation.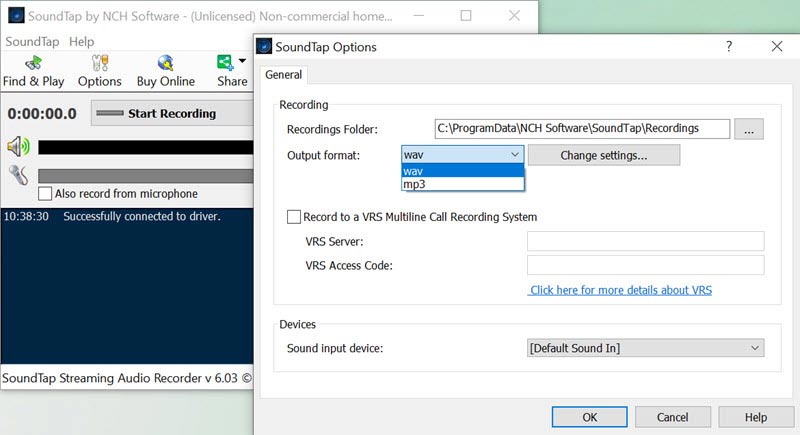 Stated clearly on its official page, SoundTap works on 63 bit Windows only and won't record any DRM-locked streams. That's to say, if you are using a 32-bit system version or willing to document any copy protected audio contents online, SoundTap is not a ideal choice.
Price: $19.99/license
5. Audacity – Open Source Windows 10 Streaming Audio Recorder
Audacity is a household name for advanced users to record audio on Windows 10. As a powerful audio recorder and editor, it's taken by many podcast and music creators to record footage and edit the footage into a perfect piece of (multitrack) work.
It of course can serve you simply as a streaming audio recorder to keep a recording of any online sound from YouTube, Vevo, Spotify and so forth. You can leverage either of the available recording devices or say hosts – MME, Windows DirectShow, Windows WASAPI – to record sound from sound card smoothly with less or no latency. Earlier Windows systems may have another Stereo Mix option here, however, due to system update or other reason, it's likely to disappear on Windows 10 Audacity.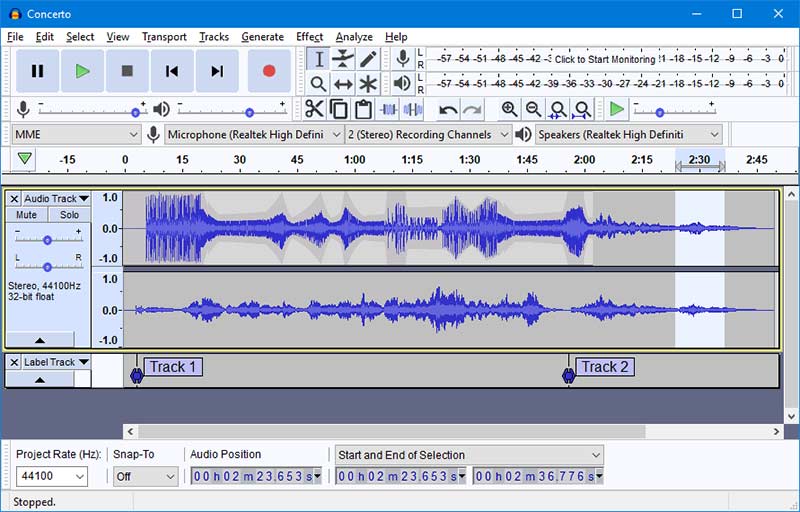 Conclusion
This is the end of five best Windows 10 streaming audio recorder apps roundup. Regularly, they are totally enough for you to capture common audio streams on the web for personal usage. If you meet some copy protected audio contents and are unable to record them, then you are suggested to pay for their own premium service for further unlimited download and entertainment.