No matter you want to record sound from YouTube on your iPhone, Android phone, Mac or Windows based machine, you are bound to obtain a handy YouTube audio recorder as you wish from this article.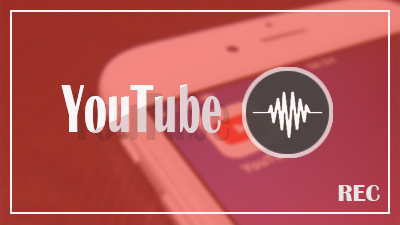 In many cases and for various reasons, you want to record YouTube audio on your gadget or desktop computer. While the truth is, even your device model, maybe from iPhone, Android, MacBook or Windows PC, has an internal screen or voice recorder, you cannot directly take advantage of it to record YouTube audio only, because system sound capture is forbidden by default due to the copyright issue. That's where YouTube audio recorder program comes in, with the help of which you can grab the in-system or in-app sound, like that from YouTube, effortlessly.
Considering diversified YouTube audio recording requirements and uses, including documenting the background music to phone for unlimited offline playback, keeping a recording copy of YouTube streaming audio on PC for further production in DAW (Digital Audio Workstation) like GarageBand and Logic Pro, and many more, we've rounded up handy applications available for all mainstream operation systems, be it mobile or PC OS.
1. YouTube Audio Recorder for Windows and Mac
Recording YouTube audio on Windows or macOS based computer is quite simple once you have a solid audio recorder like RecMaster. It's a multi-functional screen and YouTube recorder that's not only able to capture the desktop activity into video segment, but also features saving the sound coming from microphone and sound card as a single audio file. That's to say, recording audio from YouTube streaming is also possible. Now let's get together to walk through how RecMaster keeps a recording of YouTube audio on PC. You are suggested to free download it right now and equip your machine with it. Below is a how-to tutorial on Windows 10 PC and Mac computer also shares the same workflow.
Step 1. Launch RecMaster and pick "Audio Only" recording mode on its main interface.

Step 2. Select the audio format, turn on system audio source to be recorded and make sure the volume is set at a proper level. RecMaster now supports recording YouTube into MP3 & WAV on Windows and M4A & CAF on Mac. Simply choose the format that fits your requirement most. If you won't involve the microphone sound into the capture, do turn it off on this secondary main UI.

For Windows users: Task schedule is here to standby in case you are willing to start and end any YouTube audio capture at a fixed time period.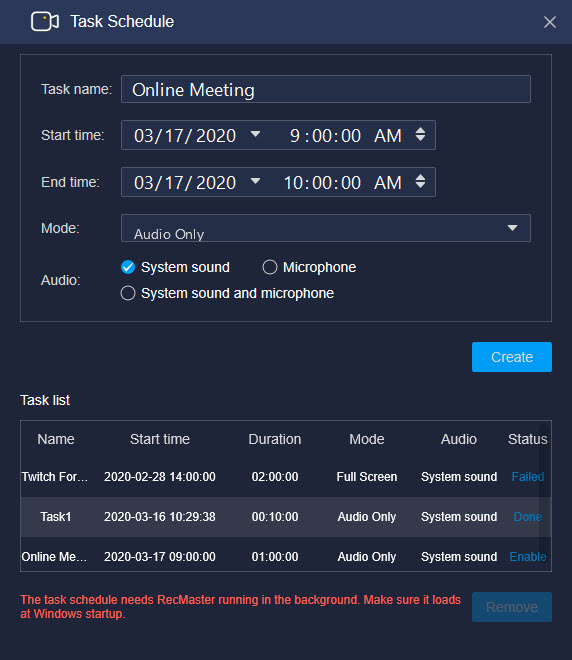 For Mac users: You are empowered to auto-stop the recording by defining a audio length under Duration. Also, when you are going to recording a long piece of music playlist, live streaming or similar, and want to save the large or long audio every xx minutes or MB, feel free to enable the auto-split functionality and preset the length or size.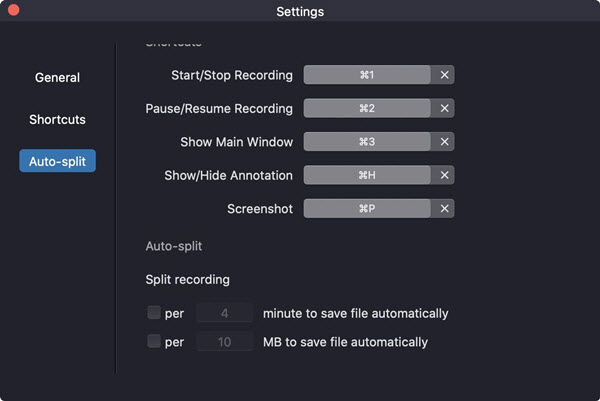 Step 3. Navigate to the YouTube content you'd like to make a capture. Play it before starting the recording on RecMaster or vice versa according to your habit. As a rule, compared to button operation, hotkeys are recommended to use for quick capture.
Step 4. When the task is over, you can check the file about its quality, rename it and edit it (only available for Mac version) from the recording/recorded list. Moreover, you can upload and save them unto your Google Drive for cloud storage.
See also: How to Choose an Excellent Internal Audio Recorder?
2. Android YouTube Audio Recorder Without Root
Recording YouTube audio on mobile, especially the Android phones, is much harder to realize than making it happen on computer, that's because there's no such internal audio recorder which is capable of capturing in-app sound on all old and new Android systems. Even the popular Android screen recorders like AZ Screen Recorder, Mobizen, Screen Recorder cannot create audio file from YouTube straightforwardly unless the phone is rooted beforehand.
Tracing back to the primary cause, it's Google didn't open its internal audio recording API to Android systems that makes it impossible to record Android phone's internal sound. Luckily the good news is Google has exposed the API on Android Q, the 10th version of its system line. And still, there're a fraction of Android phones from Samsung, Huawei, Xiaomi and Meizu have the capability to record screen with internal sound. So you should check the feature of your phone, accomplish the screen recording and then extract the audio from video with the help of third-party video to audio converter.
Absolutely, if you fail to record audio off YouTube anyway or find a quality recorder to do so, move on to computer to finish the mission in clicks with the help of RecMaster as displayed above.
Android Related Guide: How to Record Android Screen on Computer [with Wire or Not]
3. YouTube Audio Recorder for iPhone
Since iOS 11, Apple gives iPhone the ability to do screen recording and capture sound with ease. You can check this official article to learn how Apple's screen recording feature works. Just like that of Android phones, it will output video clip with audio. To obtain the YouTube music or background sound file standalone, you can download third-party video converter app from App Store or turn to QuickTime to export it as audio only on Mac. (See how to capture music from YouTube)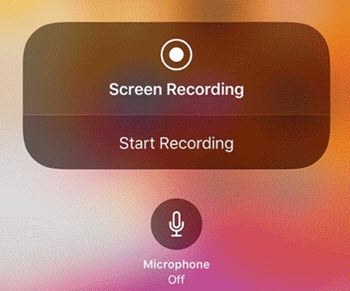 If your iOS is a little bit elder or the capture process has lags, you'd better go to your computer to get the same job done with desktop screen recorder like RecMaster.
iPhone Related Guide: How to Record iPhone Screen on PC, Fix Screen Recording Has No Sound on iPhone/Mac
The Bottom Line
YouTube Downloader vs. YouTube Recorder, for sure, the easiest and fastest method to save YouTube audio to local space is gaining the benefit of YouTube audio downloader or YouTube to audio converter. However, besides the stability and flexibility of such tools, they are not friendly with general unprotected live streaming contents. Under such situations when you are unable to download YouTube, which makes YouTube recorder a must-have, be it audio recorder or screen video recorder.
Our advice is you don't need to take time on which one to choose, but combine the two types of tools together to get the audio ripped from YouTube video. The only thing you must notice is that don't keep the audio file for unfair or profitable purpose. If so, you are probably encounter some legal problems.
See also: Audacity Record from YouTube with Explicit Guidance