People's desire to save audio may come out from the baby's first cry of pure. It's because of the influence of this idea that inventors have created phonograph to save sound and then the produce of cassette has developed by discarding the drawbacks of phonograph. Now in the digital area, people have no longer employed these tools to record audio but the original intention of saving sound has never changed.
Why we need an excellent internal audio recorder on computer?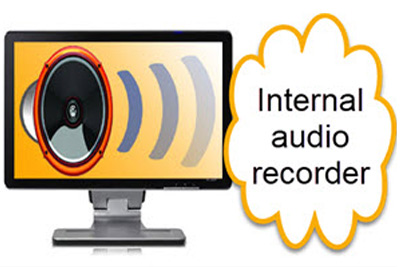 As a netizen, our purpose to record audio has increased sharply with the rising of digital applications. Now, we begin to chat through internet with virtual face-to-face applications like WhatsApp calls instead of traditional mobile calls. In our spare time, we start to scroll down the mouse or smart devices screen to go through videos for fun. Even in the working filed, many enterprises introduce novelty office tools like Zoom, GoToMeeting to assist work.
The employment of these digital applications truly promotes our work efficiency and enriches our life. But many platforms deliberately limit or ban the way to save audio in their applications due to copyright policy. If you want to save audio from these platforms or sound produced by your computer, high performance internal audio recording software is necessary.
What factors we need to consider when selecting it?
There are many things that we need to take into consideration. What types of sound recorder do we prefer: the paid one or any free available ones? What's about our ability to employ these tools: are we a newbie or an experienced guy? What function do I mostly use: the pure recording function or any additional functions like powerful editor? To help you better select a suitable one, this article lists 4 different audio recorders to fulfill your diverse demands.
● Internal audio recorders for beginner
The simple but flexible one – RecMaster
OS: Windows 7/8/8.1/10; macOS X 10.11 or above
RecMaster it's an easy-to-use audio recorder, which empowers you to grab audio generated by computer or any outer source simultaneously or separately in MP3/WAV on Windows or M4A/CAF for Mac in one-click solution. As a flexible screen recorder with audio, it's available for you to record online lectures, movies, webinar meetings and more with personalized options. Meanwhile, it offers versatile utilities like file format, quality to record internal sound without any impact on its quality. For some fixed tasks, you can preset the scheduled task for recording like scheduled online meeting call and get the desired file. Finally, you can directly get the file without any third-party plug-ins or converters to transform the format for sharing and playing.

2. The convenient one – Apowersoft Free Online Audio Recorder
OS: Available for anyone once internet connected
Apowersoft Free Online Audio Recorder is also a safe bet for the inexperienced beginners. As its name suggested, all the procedures are implemented on the official website. With simple operation, you are allowed to record audio on your Windows or Mac computer straightly in original quality. Meanwhile, it endows you the ability to record the sound from various inputs-produced by computer or added by microphone. With this tool, it's not a matter to record online lecture, music clips and other internal audio on your computer.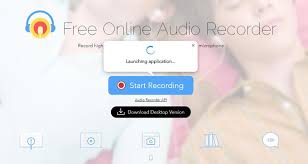 ● Internal audio recorders for the experienced
1. The high-quality one – Free PC Audio Recorder
OS: Only for Windows user
If you want to record audio effortlessly in high quality, Free PC Audio Recorder is ready for you. This multimedia software enables you to easily record any file from various sources, such as the line-in audio from your microphone, the audio stream online, the system audio from your PC sound card, and the in-and-out voices on your computer. It offers a built-in microphone which avoids the trouble to find a physic microphone. Meanwhile, it permits you to record high-quality VoIP voice conversation from other applications such as Skype call, Discord audio, Zoom…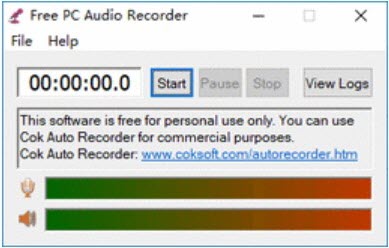 2. The famous and popular one – Audacity
OS: Windows, macOS, Linux and other Unix-like operating systems
Audacity must be the heavily used screen audio recorder by many experienced persons. As an open source audio editor and recording software, it has a load of features for audio recording and advanced post-recording editing. For audio recording, it allows you to save audio from a microphone or a mixer and schedule audio recording using the Timer Record function. However, what makes many Audacity addicts love this application is the powerful multi-track audio recording & editing capability.
It offers features of multi-track audio software including navigation controls, zoom and single track edit, project pane and non-destructive and destructive processing. Moreover, it also has a large array of digital effects and plug-ins like noise/vocal reduction, multi-track mixing and adjustment of audio pitch/speed. Thanks to the power preloaded editor, users have more possibility to create productive internal audio.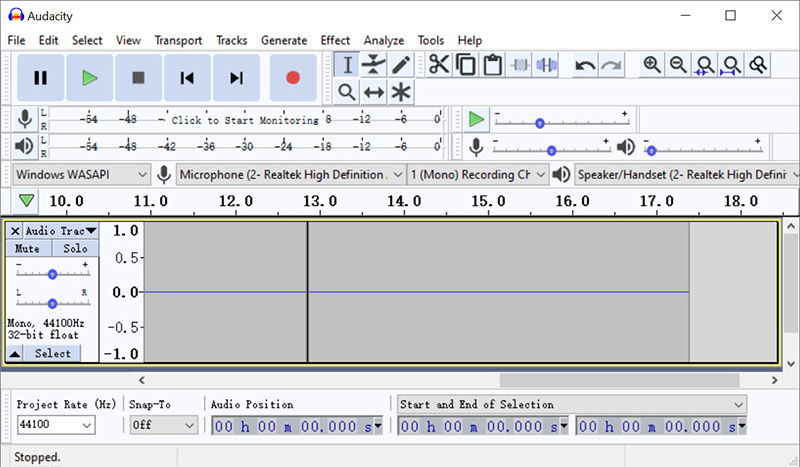 Final Word
No matter you're a beginner or an experienced one, you can all find the desirable internal audio recorder in this post. If it's the first time to record internal audio, we suggest you to employ RecMaster to help you smoothly save the wonderful audio.