Background music (BGM) is a frequently used component in videos. Videos would be odd if not embedded with background music. However, the problem is that uploaders, especially YouTube ones, usually forget to point out the music they've adopted in their videos causing problems for viewers who want to embrace the adorable music they've encountered. Under such circumstances, some viewers may seek help from others for example, from music recognition app like "Shazam", which, however, disappoints viewers with unstable performance.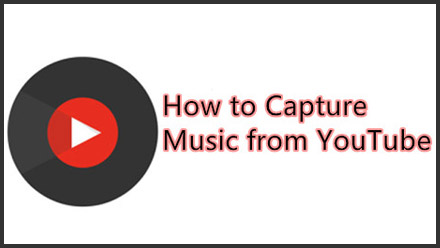 Well don't worry, this article's got the trump cards for its viewers. We prepared two desirable ways to solve the problem to capture music from YouTube, and two tools are involved – a VLC media player and a third-party YouTube recorder. Both approaches are rarely adopted but effective to record mp3 files out of YouTube videos.
Precautions: According to the Terms of Service for YouTube, "You shall not download any Content unless you see a 'download' or similar link displayed by YouTube on the Service for that Content."
Use Third-Party Screen Recorder to Capture Music from YouTube [The Easiest Way]
RecMaster is competent in recording all kinds of YouTube videos including YouTube streaming videos, game videos, etc. The best part of this screen recorder is that you can regard it as an audio recorder because it is created with Audio-Only mode, which is the core feature we will leverage in the subsequent links. Follow the detailed instructions to save music from YouTube immediately.
1. Download RecMaster and choose the right version according to your operating systems.
2. In the main interface, you should select "Audio Only".
Don't forget to tweak the settings, especially you need to turn on "System sound" and fine-tune its volume to a proper level. Microphone sounds are suggested to turn off in case you capture unwanted noises. Do pay attention to your footage formats, choose MP3 or WAV on Windows, and M4A or CAF for Mac

3. Navigate to YouTube to play the target video or music and Start recording.
4. Pause and continue recording if necessary. When the recording is about to finish, you should hit the "Stop" button to end recording. The audio file is saved automatically to local folders and you can find the audio in the Recording List.
How to Record Audio from YouTube with VLC?
Adopting VLC to capture music from YouTube is simple. VLC is embedded with an internal recorder to capture screen. But if you don't want to station at your screen monitor waiting for your video get recorded down, you shall try downloading videos directly as a means to capture soundtracks from YouTube.
To attain the goal, Firstly users need to download YouTube videos with VLC and then convert your videos into mp3 format. All the procedures are carried out within VLC.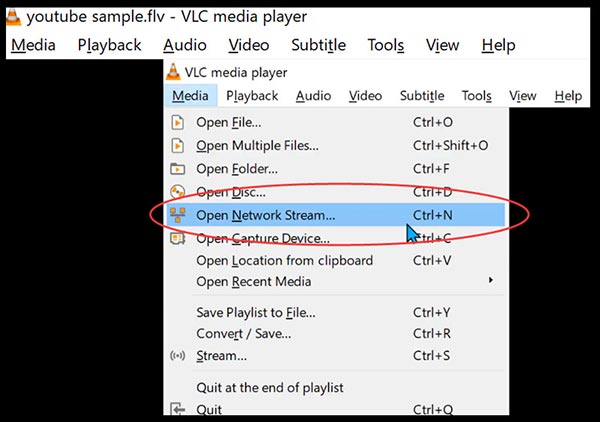 ● Firstly, Download Video from YouTube with VLC
1. Open VLC > on the top-left corner, click Media > Open Network Stream.
2. Paste the prepared URL of a YouTube video to the blank field.
3. Then it comes with the procedures of searching the current video's local address. If you are Mac users, click "Window" > "Media Information" on your VLC interface. If you are Windows users, select"Tools"> "Codec Information".
4. Find the "Location" bar at the bottom, and copy the URL.
5. Paste the URL to a blank browser This operation is for opening an MP4 version of your YouTube video and later downloading could be achieved right on the tab interface.
6. Right-click the video, and click "Save Video As"
7. Name the file and save to the desired location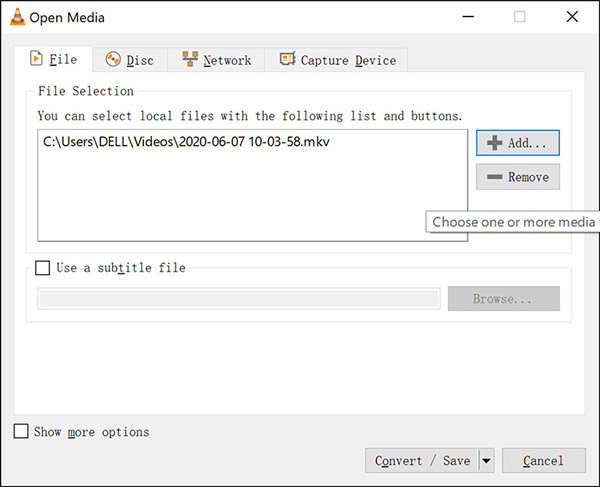 ● Then Convert the Video Format to MP3
1. Click on Media > Convert/Save[CTRL + R].
2. Click on Add and select one of your local video files.
3. Click on Convert/Save.
4. Then the setting interface will jump out letting you choose the file format. At the Profilecolumn, choose Audio – MP3.
5. Hit Browse, Choose a destination file and also name your audio file.
6. Click Start.
Now you get your audio and realize the purpose to capture music from YouTube.

Deficiencies of Both Mentioned Measures
VLC solution's deficiencies:
● The procedures of this approach are tricky and complicated.
● Too many participators involved – Browser, Converter, Media Player, and Sample Video.
● Convert is a tedious process. What's been converted is an audio file extracted from a whole video, which means viewers could not choose their loving fragments.
RecMaster's deficiencies:
● RecMaster is not for free.
● Its free trail has 2 minutes time limit.
Ending
Compare the two solutions to capturing music from YouTube when you're unable to download YouTube, we can notice that way of VLC is free, uncluttered, and doesn't need the participation of another converter or downloader. But the deficiencies are evident – VLC doesn't allow users to capture part of the video nor cut and trim the converted mp3 file.
On the contrary, RecMaster avails its users to capture online music of any fragments, and provide them with an editing feature to further trim their recordings. RecMaster saves users' energy and it is not time-consuming at all. All in all, if you don't mind the tricky procedures and don't want to spend money on grabbing YouTube music, the VLC solution suits you. If you prefer a one-off solution, RecMaster is an optimal solution to you.
Other YouTube related sources:
How to Capture Video/Audio from YouTube
How to Record Screen and Share to YouTube with Two Ways
How to Record YouTube Live Stream [Use Archive or Recorder]