As the famous smartphone brand being popular all over the world, iPhones holds a special place in the market due to the innovative design and reasonable price. You can browse the internet, watch videos and play mainstreaming games on iPhone with high resolution and comfortable screentouch.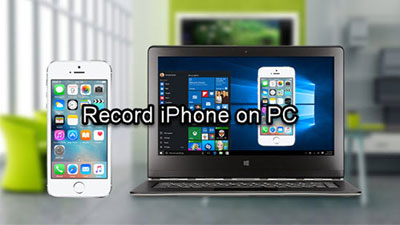 There may be various situations where you need to record your iPhone's screen on PC since all the people prefer a bigger screen. For instance, it may need to share your cool gameplay moment on YouTube, create a how-to demo of software running on iPhone or post some trouble-shooting solutions to your relatives. With the built-in screen mirroring function, all these can be easily realized.
Screen mirroring allows you to view content from your mobile device on your TV or computer screen so that you can enjoy the content in a more convenient way. Here you can use screen mirroring function to wirelessly record iPhone's screen to your PC. To help you, we have come up with some efficient ways that can let you mirror iPhone screen on your personal computer.
1. Record iPhone Screen on Windows: Using AirPlay + Screen Recorder
Airplay is a proprietary protocol suite developed by Apple company which allows wireless streaming between devices of audio, video, device screens and photos. However, AirPlay is only accessible to Apple TV or AirPlay 2-compatible smart TV. In order to use the AirPlay function on your Windows, you need to convert Windows computer into an AirPlay receiver by downloading some software. Here LetsView is our suggestion due to the free and wireless service it offered.
Although LetsView offers the recording function by default we still recommend a profession screen recorder RecMaster to assist your iPhone screen recording on Windows PC. It gives you more rights to configure the settings and upload to social media in one-click operation with high quality. Here's how to record iPhone screen on Windows computer with LetsView and RecMaster.
To record your iPhone screen, you need to prepare:
● An iOS device running iOS 9 or later
● A Windows computer
● Download LetsView application both on your Windows computer and iPhone
● RecMaster running on your computer
How-to steps:
Step 1: Download LetsView software on your computer and iPhone.
Step 2: Download RecMaster to your computer.

Step 3: Connect iPhone and your Windows PC to the same Wi-Fi network.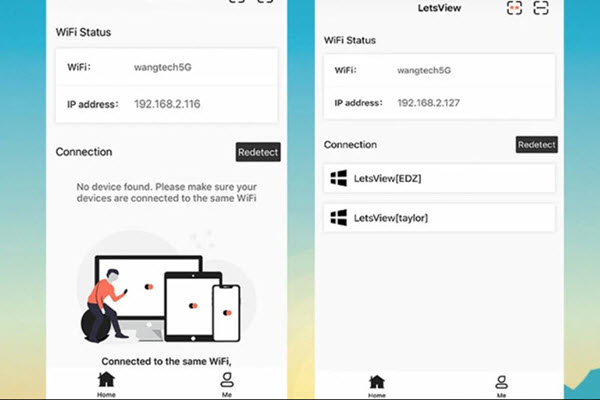 Step 4: Open LetsView iOS app and select your computer's name. Select "Phone Screen Mirroring" to mirror your iPhone screen to PC.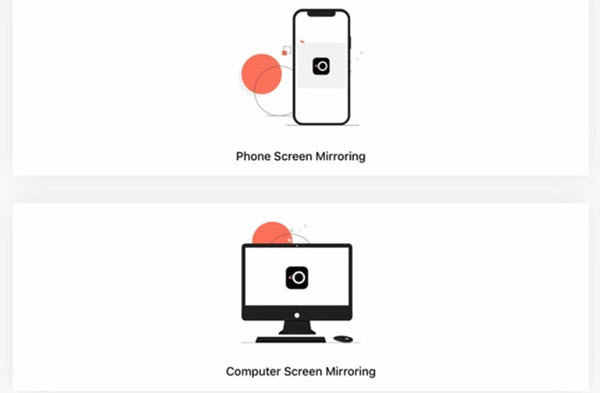 Step 5: Choose Custom Area or the Mobile Phone Mode to capture iPhone screen. After checking related configuration, press the red button to start.


Step 6: End and edit your iPhone screen video with the built-in editor.
Pros:
– Uncluttered UI with easy operation.
– You can directly export the edited videos to YouTube and Google Drive.
– Able to record iphone screen with audio and offering more flexible settings like adjustable frame rate, quality and format.
– Easy-to-use editor to trim your video.
Cons:
– A little complicated steps to record iphone screen on Windows PC.
2. Record iPhone Screen on Mac: Using the Apple Way
QucikTime Player is developed by Apple which forms an Apple closed ecosystem including iPad, iPod, Mac and iPhone. You can easily record iPhone on your Mac with QuickTime Player, which offers a simple solution for recording the screen, video and audio of an iOS device.
To record your iPhone screen, you need to prepare:
● An iOS device running iOS 8 or later
● A Mac computer ( with OS X Yosemite, EI Capital or latest Sierra)
● Lightning cable (the cable that comes with iOS device)
● The installed QuickTime Player
How to steps:
1. Connect your iOS device to the Mac using the Lightning cable.
Note: The newest version of Macbook discards the older USB connector type by using the Type-C connector. So you'd better buy an Apple Lightning Digital AV adaptor to connect your iPhone and Mac.
2, Open the QuickTime Player as found in the Application folder. You can also click the Spotlight search icon in the right corner to find this tool.
3. Pull down the File menu and then choose New Movie Recording.
4. A recording window will appear. Then you need to click the arrow next to the record button and select iPhone as your choice. Here you also have the option to select which Microphone to use and decide the Quality of the video. QuickTime Player will resize and change the image to mirror the iOS device's screen.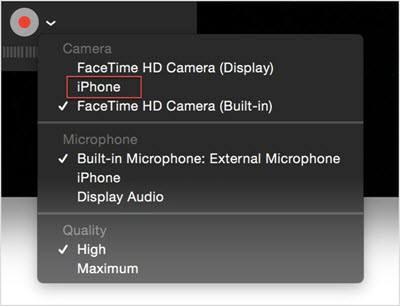 5. Click the Record It's time to navigate your iPhone to show what you want to record on your iPhone.
6. When you finish, hit the red circle button again to stop the process. You need manually save the video by clicking File to find Save button.
Pros:
– It's free without downloading.
– Simple to use and no need for learning carve.
– Support high quality video. You can export up to 1080p.
– Neat interface and no interrupting information will appear.
Cons:
– It's only available for Mac user. Windows PC users can't enjoy this benefit.
– Unable to capture internal audio which means that you can't capture the background music from your iPhone screen.
– Not compatible with devices that use iOS 7 or earlier.
– No editing function to polish your video.
Conclusion
There are listed two feasible ways to record iPhone screen on PC. Based on the features and convenience, we recommend you to try RecMaster for the powerful performance. You can also choose one based on its characteristic and your demand.
Related article:
Record Android screen on computer
Tips on how to record on Macbook
Fix screen recording with no sound on iPhone, Mac, Windows