The web video recorder is a special kind of recording software that needs no download or installation. These web-based apps could be wonderful choices for those who are afraid of potential spam or malware that come with download links. Well, makes the story short, this passage introduces 2 web launched screen recorder – Screencastify and Apowersoft.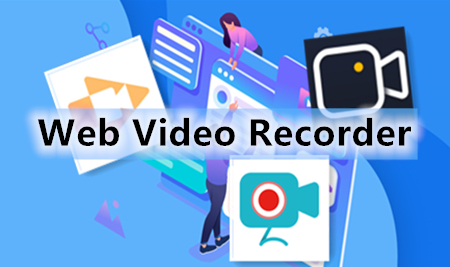 They are both qualified as good video recorders that are free of charge and bear the useful features in recording desktop. However, the deficiencies of both apps are evident too, the Web video recorder cannot work offline. So to work in a more stable way, third-party recording software is actually more reliable.
Third-Party Video Recorder – RecMaster (Offline Working, More Stable Performance)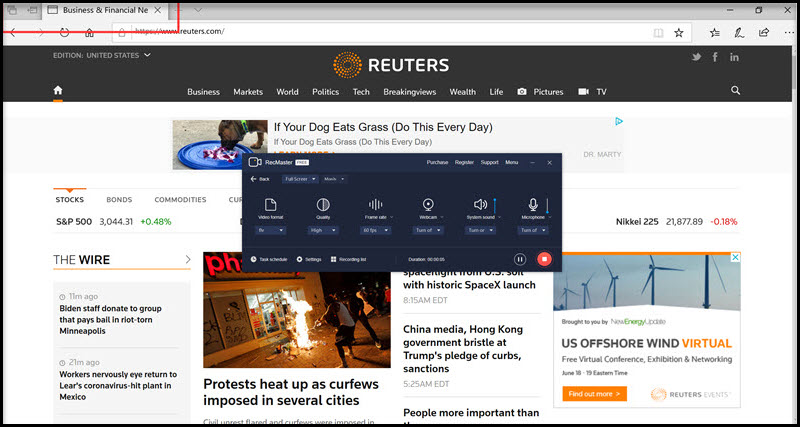 You may be bewildered about the difference between web and desktop screen recorder (third-party recorder).
Desktop screen recorder – RecMaster is a more powerful tool that delivers stronger ability in recording on-screen activities, be they browser-tab recording, website video recording, or gameplay recording.
This versatile software possesses intuitive interfaces and easy operations. Compared with Screencastify and Apowersoft, RecMaster provides users with more stable recording performance and a high price-performance-ratio recording experience. Let's dig deeper and see how to record screen with RecMaster.
1. Open RecMaster and choose Full-Screen Mode.

2. Tweak the settings before recording. There are only 3 options you need to pay attention to. You need to select Video Formats > Video Quality > FPS (Frame Rate per Second).
If you want to add a 'talking head' to your video, you should turn on Webcam. Audio sources are important too. System sounds should be set active and microphone sounds'.

4. Press REC and RecMaster begin to capture your screen. To stop recording, you need to press the button again. Your footages will be automatically saved to the hard discs of your PC. You could also find them on the 'Recording List'.
Web Video Recorder – Apowersoft (Powerful Features yet Limited Editor)
Apowersoft is an easy-to-get-by website screen recorder. This attribute decides Apowersoft is an app that is not particular about the operating systems. This recorder is website-based software and both Windows and Mac users could easily gain access to it once they have an internet connection. Apowersoft, as its name suggests, is quite powerful in recording features.
And the best part of this web-launched recording software is that it requires no excessive plug-ins and supports users to upload their footage to the cloud, (and of course the saving to local hard discs.)
Here are the steps to use this recorder:
1. Enter Apowersoft's official site and hit Start Recording from its main interface. Then a launcher will be downloaded to your PC. This process is crucial for subsequent operations but will take some time.
2. Then a control bar will pop up wait for your orders. What's worth mentioning is that Apowersoft offers users four recording modes.

3. Now you are suggested to click Full-Screen to start your recording journey.
4. And don't forget to add annotation tools to your footages during recording.

5. When you want to stop recording, you are offered several options to output your recordings. You can save your videos to your local folders or upload them onto the cloud. The uploading to YouTube is accessible too.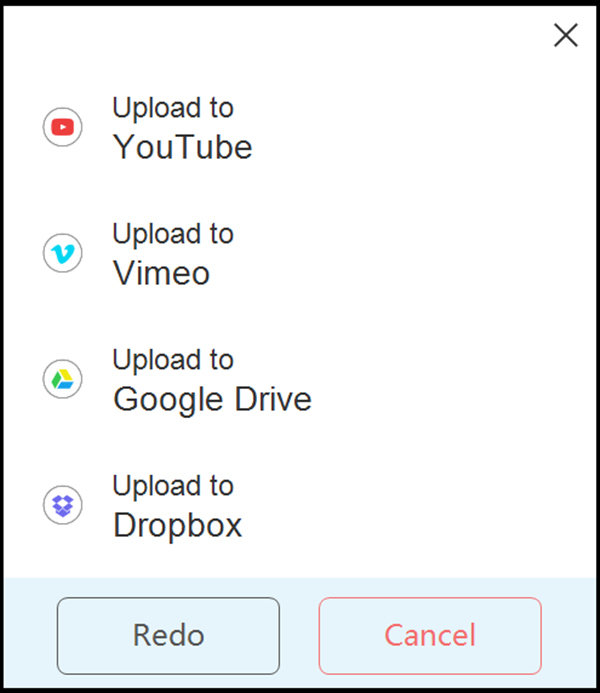 Web Video Recorder – Screencastify (Simple Operations and Versatile Functions)
Screencastify is a Chrome-based video recorder that is designed for any recording demands from cybercitizens. This one-click solution provides 3 modes for users and with the aid of them, users can record Browser Tabs, desktop activities, webcam of themselves, and so on. Besides that, Screencastify also bears various annotative video editing tools, which means users are availed to produce creative footages with no difficulty.
Here are the steps of recording screen with Screencastify:
1. Given that Screencastify is a chrome-based video recorder, users need to add Screencastify to their Chrome extensions first and then click it and call out its main interface.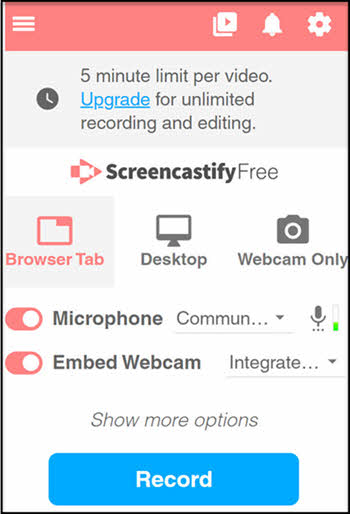 2. You can see 3 basic recording modes – Browser Tab Recording Mode, Desktop Recording Mode, and Webcam-Only Recording Mode. Here we should choose Desktop Mode to cover most of the recording demands. And in the same interface, you can set the options for audio resources, webcam options.
3. During the process of recording, you can at any time add cursor effect, annotations, to your recordings by dint of the toolbar.

4. Click the pause button on the toolbar to stop recording, the button for finishing recording is such invisible that you could spend some time finding it out.
5. After all the links of recording, it is high time to edit the footage. With the help of Screencastify editor, you can trim your videos, cut unwanted parts, and make perfect integrity of your video.
If you desire more editing tools, click the circled area below and go to a new page to further edit your footage.
However, the editing feature could be the worst part of Screencastify functions – when you desire more functions on editing and click the button leading to Screencastify's 'Editor', the editing feature is only accessible for 3 days, when the expiration date comes, you need to pay for a license to unlock this additional feature.
Writer's Words
This passage generally introduces 2 good web video recorders to its viewers. And to mend this type of recorder's deficiency (cannot work offline), a third-party recorder is introduced too. Hope you get inspired by this passage.
See also:
Easy Monitor Video Recorder: Automatically Record Computer Screen