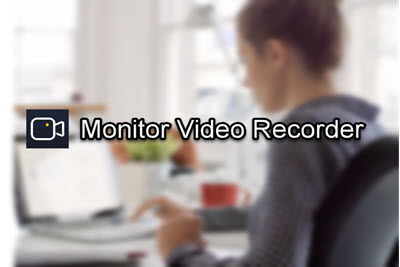 Computer has played an indispensable role in every aspect of our life. Bank staffs leverage the computer to simplify their daily work, programmers use computers to create new software codes and the public also utilize the computer to perform many personal activities.
However, along with the convenience it brings to us, there are also some tricky problems caused by using this tool. It's easy for hackers to steal important yet private data and some employers also find it difficult to monitor worker's e performance by using computer for work. Like installing a closed-circuit television camera to monitor house environment, you can also leverage the monitor video recorder to check your computer performance easily.
What Can We Use to Carry Out Video Monitoring
You must have seen many surveillance cameras in your daily life, which can collect footage around designated area so as to ensure the security. Instead of installing a professional surveillance camera to monitor your computer activities, you can simply rely on an auto-start screen recorder that automatically begins recording as long as you launch your computer. Under such circumstance, you can effortlessly supervise the computer activities.
What Are the Features of Monitor Video Recorder?
Generally speaking, the common characteristic of it is the task schedule function. Not all screen recorders support the auto-start function but most professional screen recorders embed the fixed-time recording service. With the help of this function, you can record screen up to 24 hours without stopping. In this way, you can also successfully monitor your computer activities. Besides, many screen recorders also provide the webcam, audio source function to assist auto-recording.
Monitor Video Recorder for Windows and Mac – RecMaster
RecMaster is an HD screen recorder that can be used to monitor screen activities with high quality. It not only includes basic recording functions like auto-recording, fixed-time recording but also has extra tools like mouse cursor, annotation functions to capture screen activities in detail. Since there are a few functional differences between Windows and Mac version, we would like to introduce them separately.
Way 1: Monitor computer activities by using auto-start function – Windows only
The auto-start function can be configured to monitor screen videos for Windows 10/8/7/XP user and here we are going to talk about how it works.
Step 1: Download and install RecMaster on your Windows computer and then navigate to the main interface. Here you can see five recording modes: Game Mode, Full Screen, Custom Area, Webcam and Audio only. Simply choose one recording mode to enter the settings interface.

Step 2: Move to the Settings button and turn to the Auto-start section. Here you need to choose both "Launch program at Windows startup" and "Start recording once program loads (Full Screen Mode)" to enable the auto capture. In the duration panel, you can change the default choice to any desired length. (the maximum setting is 99 hours)

Step 3: Turn back to the Full Screen interface, please ensure that the video format, frame rate, quality, webcam and audio options are wanted choice. If you are going to record screen secretly, you are suggested to shut down the obvious effects like mouse effects, countdown and the floating bar.

Step 4: Turn off your computer. Next time RecMaster will automatically start recording when you re-start as long as you log in.
Way 2: Monitor computer movements by using Task Schedule function – Windows
Apart from auto-start function, RecMaster provides another auto-recording feature named Task Schedule for Windows. While for Mac users they can take advantage of the Set Duration function to make any scheduled recording (up to 24 hours). Tutorials are listed below to schedule designated recording.
Step 1: Get the installation package from official website or links below to download this application. After that, follow the wizard to complete the whole installation process.
Step 2: Choose one recording mode. You can make decision according to your actual needs among full screen, custom area, webcam, audio only and game mode (Windows only). Note that you're going to utilize this tool as monitor video recorder, you are suggested to set full screen mode to capture the desktop display.

Step 3: Set Task Schedule function. Find Task Schedule icon in the Settings interface where you can set name, audio source, start and end time as well as recording mode. When you settle down all the parameters, click Create to preserve your settings. For Mac user, you need to find Set Duration panel to do this.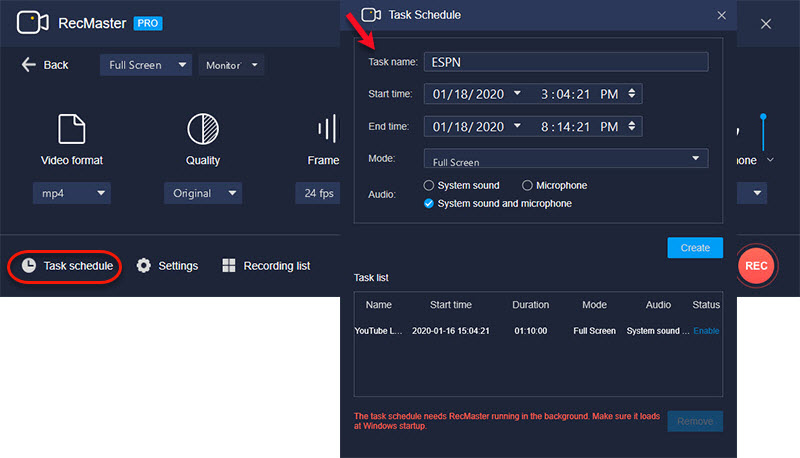 Step 4: Back to the full screen interface to make changes on video format, quality, frame rate, storage place and more. In the same way, we still suggest you to close all the unnecessary yet obvious options for a clean recording environment.
Once you enable the recording task, it can run at the designated time by default.
Conclusion
RecMaster deserves the reputation as the easiest monitor video recorder for Windows and Mac. Come and make this tool help your monitoring acitivities.