Technology has changed the way we communicate with each other. Now you can simply download a video call app like Viber and Skype on your mobile phones or computers, and then chat with your friends or do online business at anytime and anywhere. This is exactly why video calls are widely used in job places, educational fields and daily life.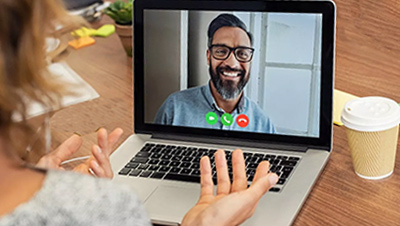 But every coin has two sides, along with the convenience it provides, video call also brings some new problems. As a secretary, you are required to save and store an important video meeting for future reference. In daily life, you want to save memorable video call with family though social media. For enterprises workers, you may need to record a hastily organized teleconference for the absence. Many video call apps like Viber and Skype which can't record the video calls or don't have flexible functions to edit, hence useful video call recorders are needed to keep your call.
There are a plethora of video call apps in the market, some are aimed for PC users, others are for mobiles and a few can adapt to both PC and mobiles. Here we will recommend 5 top video call recorders to you including both for PC and mobile phones.
1. RecMaster
OS: Windows 10/8/7 and Mac OS X 10.11 or above
RecMaster is an easy-to-use video call recorder. With one-click operation, you can start the video call app recording easily. Equipped with diverse modes, it provides feasible and satisfying solutions to any video call capture problems. Users are freely to select the suitable mode and do some personalized settings. Here you can free download and install.
How to do video call recording by using RecMaster
1. Open RecMaster
2. Choose the most suitable mode. Here are five basic modes for Windows users: Game Mode/Full Screen/Custom Area/Webcam/Audio Only. You can choose Full Screen to capture the whole screen but if you want to record the minimized window, Custom Area is better.
3. Preview the default. RecMaster provides three types of video formats and if you need higher quality video, you can choose 60 fps with high quality.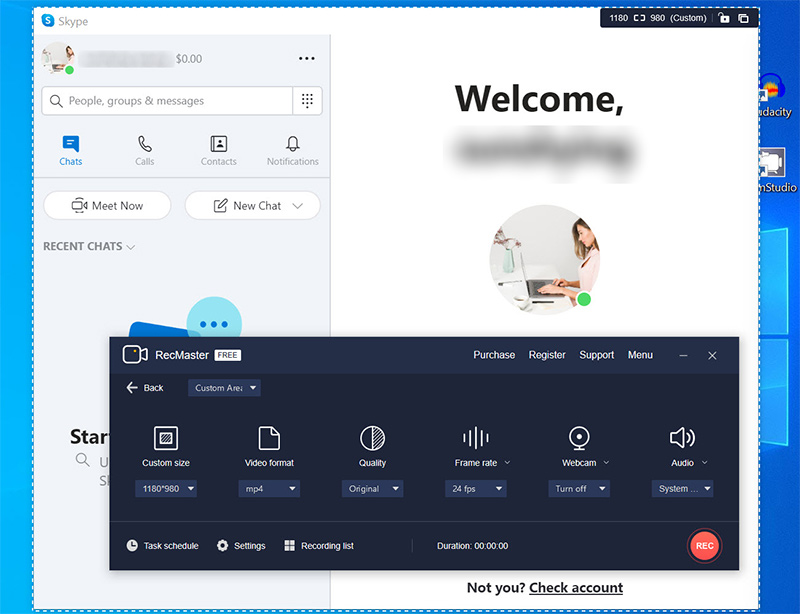 4. Click REC button to start. If you forget some important details during the recording, use the annotation function to add.
5. Complete the video recording, click Stop button to end. Edit the file in the Recording lists where you can rename and play the video.
2. Filmora scrn
OS: Windows 10/8/7 and Mac OS X 10.11 to 10.14

Filmora scrn is a good video call recorder to capture video calls. Included with all basic features like changeable cursor, picture-in-picturecapture and higher frame rate (up to 120 fps for Windows).The biggest advantage of Filmora scrn is the solid full editing suite.If you want to share your videos to popular media platforms, your exported video can be saved as MOV, MP4, MP3 and animated GIF file formats. It's free for trial and if you want to use it for lifetime you need to pay.
3. AnyCap Screen Recorder
OS: Windows Vista/7/8/8.1/10 (32/64bit)
AnyCap Screen Recorder enables you to record videos and audio calls from Skype, Facebook, Google Hangouts and other applications for free. It provides two formats options, and you can choose to record the video calls into MP4 or AVI files. It can capture any video and audio calls data to record with high quality and then directly recordit to your hard disk. More importantly, all these operations are free and you don't need to pay a penny for the service.

4. ApowerMirror
OS: Android and iPhone devices/ Windows and Mac

ApowerMirror is a powerful screen mirroring application for both iPhone and Android devices. One of its compelling advantages is that you can use it to record mobile phone screen on your computer. It records videos with traditional features like recording phone screen and take screenshot. With ApowerMirror, you can easily manipulate a phone's screen with your mouse and keyboard, including WhatsApp messages and SMS text messages. For recording video calls, you just need to download and install the app in your computer. Then you need to connect your Android/Phones under the same WiFi network. Then do as followings.
A. Download and open ApowerMirror on your Android.
B. Select "WiFi Connection" and then click "MIRROR"> "Apowersoft" on your Android devices.
C. Choose "START NOW" and then you can mirror Android to your computer.
D. Click "Start Recording" to record WhatsApp.
5. All Video Call Recorder
OS: Android

All Video Call Recorder is a super user friendly app with free license. It adapts to both Android phone and tablets. All the things will be recorded in MP4 format. Apart from the popular apps like Facebook, this recorder also allows you to record amazing videos on ooVoo, ICQ and Tango. With this application, all you need to do is opening up this software and click start then continue talking. Remember to stop if you don't want your wonderful videos mixed up some noisy noises.
Next time if you want to record your valuable video call moments, try these mentioned ways to edit your recordings more easily.
See Also:
How to Record Mobile-friendly Video on PC
Record Video Message on PC: Enjoy without Time Limit