In the past, we rely on voicemails, emails and text to leave a message when we can't talk to someone right away! But now with the advancement of technology, things have changed a lot. Instead of sending plain text and voice messages, we can set vivid video massages as our option to express our feelings now. Moreover, many media platforms like Skype, Snapchat, Instagram provide video message service which indicate the importance to catch up the trend to send video message. To send a video message we firstly need to know how to record video message and that's why we write this post.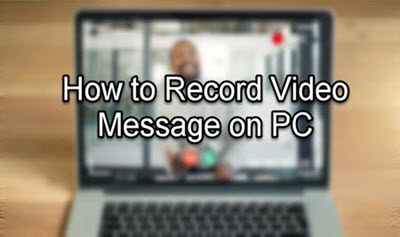 Platforms that You can Send Video Messages
● Skype & Oovoo
Skype and Oovoo are two video chat and messaging applications widely used for business video conferencing. Moreover, they also endow you to leave video messages like new product demos for people and it's a pretty cool stuff. Whether you are on your mobile phone or your PC, it's extremely easy to send a video message.
However, different platforms operate different rules and it's necessary to preview these policies in advance. As for video message recording, Skype allows you to record a message of up to twenty seconds from within Skype but you can upload longer videos (up to ten minutes) from your device. Similarly, Oovoo allows PC users to send 1-minute messages for free but premium users can send messages up to five minutes.
See also: How to record Skype calls/ meetings in MP4, MP3 on computer
● Vine, Snapchat & Instagram
If you prefer a rather private social-chatting application, I believe that Vine, Snapchat and Instagram do have their place when it comes to relaxing video message sharing. Just tag the person who you want to send the video message and then you can start to record video message using the built-in way. Once you release your video message, the person will instantly receive it. Bear in mind the time lengths about video message recording for each. Vine is six seconds, Snapchat is ten second and Instagram is fifteen seconds.
See also: How to screen record Instagram strory/IGTV video privately
It can be concluded that almost all the platforms have time limit to record video message by using the built-in way. Fortunately, you can send longer video messages by uploading video files or send video message via personal email account as an alternative. Therefore, in the following part, we will walk through how to record video message on pc to produce longer video files.
How to Record Video Message on PC Without Time Limit
A webcam is essential to record video message if you want to show your face. In case that you also want to show what happens on your screen display, you also need a screen recorder. To combine the two situations, you can choose a screen recorder with facecam for Windows.
Considering your ability and complexity of recording process, here RecMaster is our suggestion. As a simple facecam and screen recorder, it embeds features including capture video message from your camera, record screen with facecam and record video message with mobile phone mode. Additionally, it offers flexible settings and personalized options to meet your requirements without time limit. Now, download this video message recorder to your PC and follow our guidance.
Attention: Although video message recording duration is up to your choice, you're still limited to the maximum duration or file size offered by application service. Under this circumstance, you'd better read the policies and rules of this platform to send video message successfully.
How to record video message on PC with RecMaster
Step 1: Download the package file and complete installation of RecMaster. After that action, please open RecMaster on your PC.
Step 2: RecMaster offers versatile solutions to video message recording. If you want to prodece video message merely from camera, select the Webcam Only mode. If you record video message for mobile phone application, you can use Mobile Phone mode. If you want to produce video message by demonstrating your screen, Full screen or Custom area modes are here for you. Here we select Mobile Phone mode as an example.

Step 3: Set your video message file as MP4/AVI/FLV and turn on webcam icon to show your facial emotions. If you want to record with background music and real-time narration, don't forget to turn on System sound and Microphone buttons as well.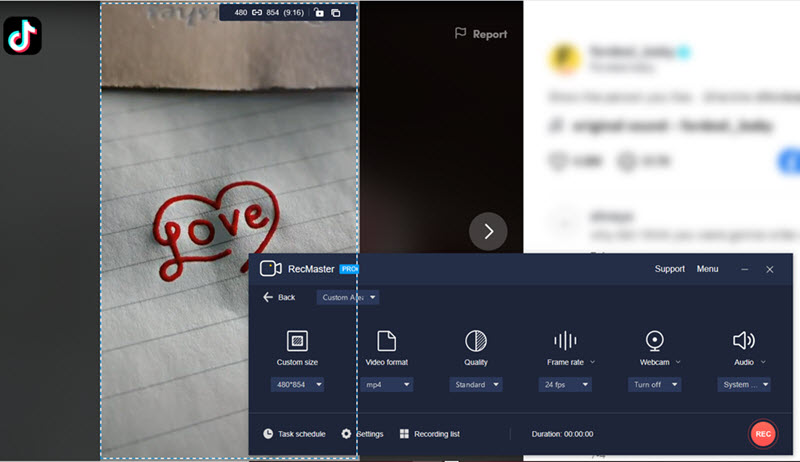 Step 4: With everything settled down launch the recording task by pressing REC button. If you're unwilling to manually start and stop the recording process, directly designate a fixed-time recording task with the help of Task Schedule tool in advance.
Step 5: When it's time to end video message recording, click the Stop menu. Note that you may create some unwanted clips at the beginning or ending part, RecMaster gives a way to cut and edit your video message recording files.
Now you can upload your video messages to social media applications or send them via emails with ease.
Conclusion
Now you have a general understanding to record video message on PC without time limit. We sincerely hope this solution is workable for you with the participation of RecMaster. Come and express your feelings to your friends, families and even strangers by sending video messages.