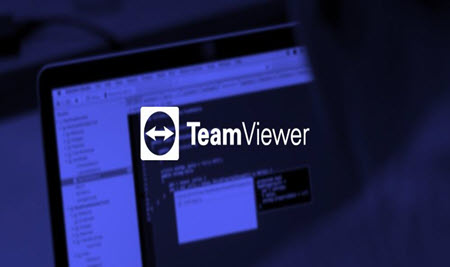 TeamViewer, which is the excellent remote work software, is widely used to gain access to computers and networks remotely in secure situation. It involves remote control function, launching or joining meeting services which improve work efficiency amid the coronavirus effect.
With the help of this tool, you can make online video presentations, start webinar at anytime, gain computer access to send files or make remote control effortlessly. Like many work-at-home programs, TeamViewer also embeds internal recording feature for users to make activities easily. Therefore, the following part is going to discuss how TeamViewer records sessions on Windows and Mac computer.
How to Record TeamViewer Session with Internal Way
It's possible to record TeamViewer's remote-control session and meetings (including sound, VoIP, video and webcam images) and saves these files as .tvs format (built-in format). Now it's time to move on the key point.
1. How to record a Remote Control session
As an initiator you can leverage the recording utility to capture the remote work activities after successfully connecting to another computer via ID and password exchange. Here is the workflow.
Step 1: Start a remote control session on your computer. Then you can see a widget panel on your computer if you're the session beginner.
Step 2: Tab the Files & Extras section on the toolbar panel and choose Start session recording icon in the dropdown interface. Now the session is being recorded.

Step 3: Once you finish the session you will be prompted to save the recording file. It's up to you where you would like to store the recording file.
You can enable the TeamViewer application to automatically conduct remote control sessions recording. Follow the guidance below to set up this function: Click on Extras >Options>Remote Control > choose Auto record remote control sessions> tab OK to confirm your settings.
2. How to record meeting sessions
Step 1: Select one type of the meeting session that you want to hold. When it runs successfully, you will shift to a new panel.
Step 2: In the Screen sharing section, you need to click on Options button >>Record meeting>>Start recording to make the meeting recording navigation. You can also record meeting screen with webcam by turning on camera on My video section.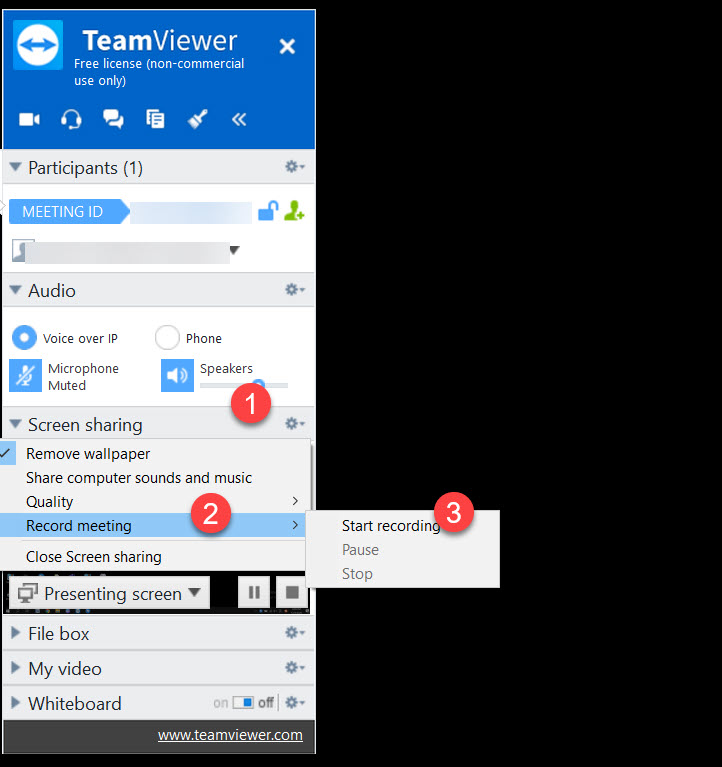 Step 3: Once you stop the recording process, it will ask you to decide the file storage path.
[ATTENTION]The internal way is convenient but it does have some fatal flaws for perfect screen recording process.
1. Only the session presenter has the ability to use TeamViewer record session feature. While in many cases especially the remote-control session, the clients are in desire need to capture the whole movements for trouble-shooting videos.
2. The default file format is TeamViewer Session format (the internal format). While it offers the session converting feature (convert the default format to AVI), it currently only possible on devices running the Windows operating system. For other devices user drop out of the Windows system, they have to rely on file converter or third-party software to convert the file.
3. Limited settings options. It narrows down the user's privilege to make adjustments on settings and involved parameters. People are only allowed to record with fixed settings.
Better and More Flexible Way to Record TeamViewer Session [Recommendation]
Considering that you have the demand for better TeamVierer screen recording experience, here we recommend the third-party software called RecMaster to assist your recording process. As a simple screen recorder, RecMaster is competent for online meeting recording in mainstream platforms such as Zoom meeting, Skype call, and TeamViewer as well. Besides, it has a full set of flexible yet powerful recording features to make efficient video recording. More importantly, it's available for both Windows and Mac user and supports one-click upload to YouTube and Google Drive. The features and whole workflow are listed below in detail.
How to record TeamViewer session with RecMaster
Step 1: Please download the installation package of this software and follow the instruction to complete the installation process in advance.
Step 2: For onscreen video capture demand, you're suggested to choose Full screen mode and Custom area mode. Just as its name inclined, one aims for whole screen capture while the other is to record TeamViewer meetings in windowed or any particular region. For audio call recording demand, please move to Audio only section.

Step 3: Do settings as you like. RecMaster allows you to configure settings as you preferred. You can choose video format (MP4, AVI, FLV…), video format (original, high, standard…), audio source (microphone, system sound, microphone & system sound), and other advanced tools.
Mouse cursor: It helps focus the viewer's attention on any particular area by showing mouse movement, click sound and so on.
Task schedule/Auto-split: Windows user can utilize the task schedule function to preset the beginning and ending time so that it can automatically complete the recording procedure. While for Mac user, you can use the auto-split feature to save recordings in any fixed duration or file size without stopping.

Step 4: When everything is settled down, press REC to get started. During the recording duration, you can optionally add notes and annotations by using the pen, line in the annotation toolbar. Mac users can leverage the whiteboard to make fully explanation.
Step 5: Replay your recorded video and cut out any unwanted clips if necessary. If you like, upload the file to YouTube and other platforms.
Why We Need to Make TeamViewer Screen Recording?
Screen recording is the good way to simplify everyday tasks that need repeated process each time like new employees training, products tutorial presenting and after-sale skill instruction video. Besides, it can locally save TeamViewer's webinar or phone calls so they're always available when the attendees need a quick refresher as well for the absent to replay these videos. In short, screen recording is the helpful way to fully record TeamViewer activities and reappear without discrepancies or misunderstandings that might occur by oral expression.
Conclusion
This post tells how TeamViewer records session with the internal way and also suggests an alternative way. If you prefer a handy yet high performance method, you are suggested to try RecMaster.