A successful video is not only imparting useful skills but also making viewers involved in. As for video content presenting, the most crucial part of the whole video is the beginning and ending part which helps user understand the general content effectively. This rule accordingly applies to screen recording videos like how-to tutorials, online courses, which is widely used in our daily life. So this post concerns on how to cut screen recording on your computer.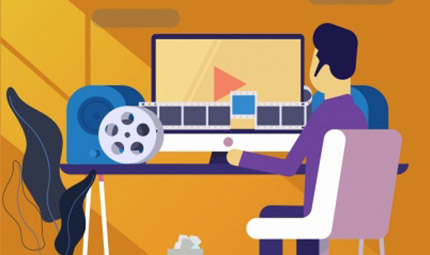 Why you need to cut screen recording?
The 5-second rule is the well-known norm for video industry, which means you need to attract your target audience's attention within the first 5 seconds of the video. It has to be done because viewers' attention spans are shrinking and they understand right way that those few moments set the tone of the whole video. Therefore, you need to guarantee the quality of the video's beginning part by cutting and editing. Moreover, discarding the useless movements of your whole video makes your structure and content more organized, which contributes to leaving a deep impression on viewers' minds. In this way, we need to find out ways for screen recording editing.
Tools for screen recording cutting
Tool 1: All-in-one screen recorder can act as not only a screen recorder but also a video editor. This type of tool strengthens in screen recording and at the same time owns basic editing functions such as cutting, merging and zooming in/out. If you're a green hand or want more flexible recording settings, this tool is the one for you.
Tool 2: A specific video editor either a standalone or online one. It directly works for professional video editing and always embeds powerful features like speed-change, music-adding, video transition and more. Complied with strong functions, it requires complicated operation and higher fees at the same time.
So this post will recommend two methods to cut screen recording and you can choose according to your budget and experience.
Method one: Cut Screen Recording with Screen Recorder RecMaster
RecMaster is a user-friendly screen recorder with a basic video editor built-in. As for screencasting, it provides flexible recording settings from recording modes to related parameters to adapt versatile recording situations. Moreover, the built-in editor can satisfy your basic recording requirements like rename, cut, merge… It allows one-click uploading videos to YouTube after video editing. Now let's have a look of RecMaster's recording process.
Step 1: Download RecMaster on your desktop and follow the wizard to launch installation.
Step 2: If you're capturing a screen recording, your video will appear in the Recording List when you're finished. If you're editing an existing recording, open the file in the RecMaster editor to make sure.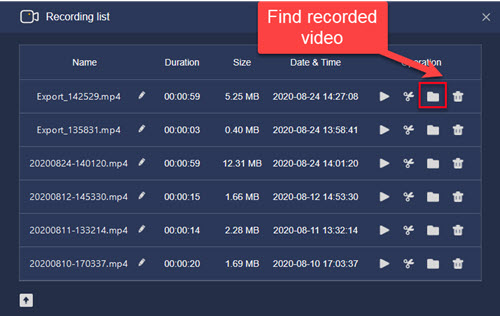 Step 3: Click the scissor icon to open the editing interface. Directly use the playahead tool or play the video to mark up clips and then use the Cut function, which divides the video into two parts. Repeat the steps to cut the video as short as you like. Here you can choose to Delete or Export any circled single clip.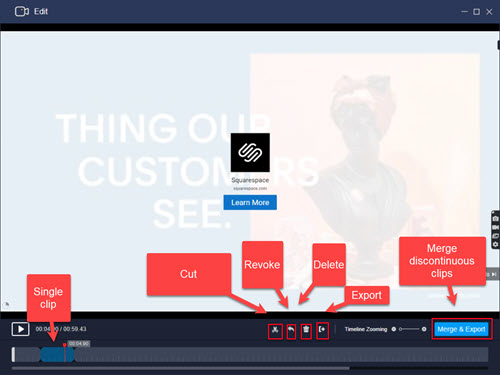 Step 4: Save the edited video. To save discontinuous clips as a video, select Merge & Export button. If you want to distinguish the new video, you can rename it.
Step 5: Locally save or one-click upload to YouTube/ Google Drive.
Method Two: Cut Screen Recording with Online Editor
Online editor is a good choice for screen recording editing without local installation. Providing professional editing features, tools and templates, Clipchamp is loved by millions of users worldwide. Stocked with features from media, text, overlay, transition and logo, it can not only edit recordings but also create easy one.
Step 1: Open the official website (https://clipchamp.com/en/video-editor/) and sign up with Google, Facebook and email.
Step 2: Find out Create a video and you need to choose a format for your project. Widescreen format (16:9 ratio) is suggested for better compatibility of YouTube and Vimeo videos. Note that you're only permitted to record within 10 minutes for free. You can also drag a video from your desktop computer to make editing.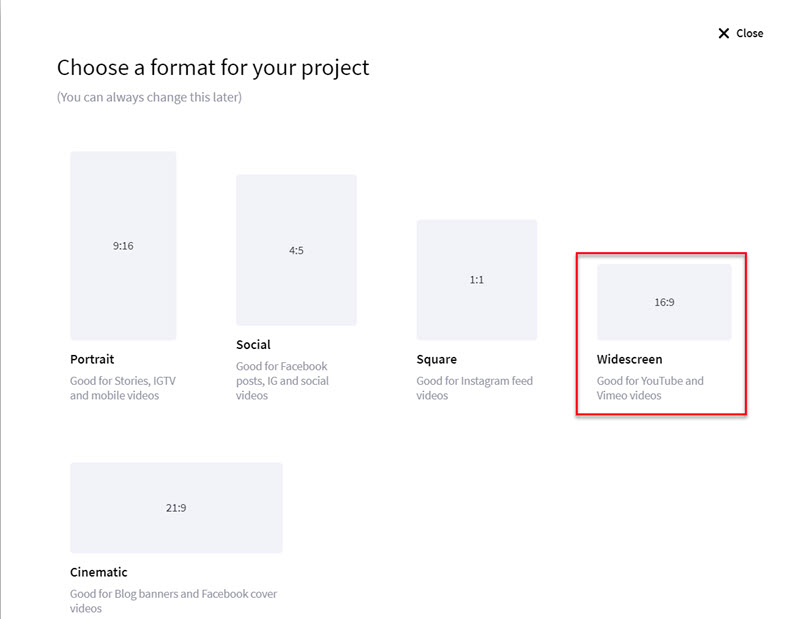 Step 3: Drag the desired video into the timeline to add it as your project. There are several effects for you including Layout, Transform, Filters, Color Balance, Fade, Speed and Audio. To Split and Delete any unwanted clips, move the Playhead and choose Split as your next operation. If you want to add background music, you can click Stock to get free video/audio templates.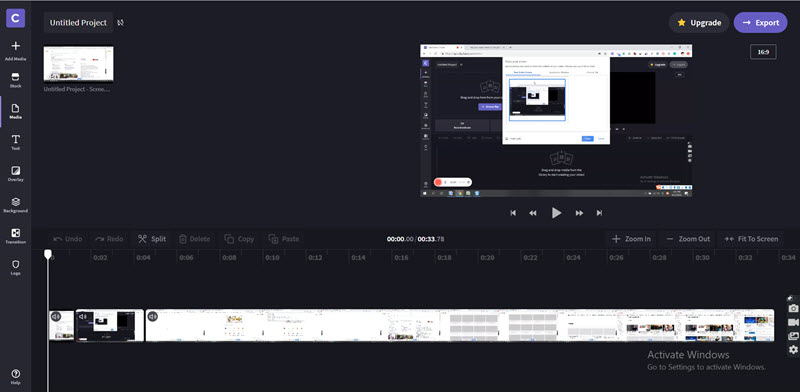 Step 4: When it's time to over, you can export your video as 480p for free. You are also allowed to export video as GIF.
Summary of RecMaster and Clipchamp
RecMaster
Clipchamp
OS
Windows 10/8/7/ XP; macOS X 10.11 or above
With internet connected, everyone can reach
Type
Desktop screen recorder with editor
Online editor
Record computer full/ custom computer screen
Y
N
Recording length
No time limit (for pro users)
10 minutes
Cut screen recording
Y
Y
Picture in picture effect
Y
Y (But you can't use this for free)
Produce video in 1080p/720p
Y
N (But you can export in 1080p/720p for paid)
Video stock
N
Y
Transitions
N
Y
Price
$19.95 for one-year license
$29.95 for lifetime license
$ 9/ month for Creator: Lack 1080p export, custom logos and picture in picture effects
$19/month for Business: All features without free video stock.
$39/month for Business Platinum: Unlimited free video stock
Final Word
The pros and cons of two screen recording tools are clear now. Choose one for to cut screen recording for perfect video. If you use screen recording function more often than editing, you're suggested to choose RecMaster.
See also:
How to Combine Screen Recordings on PC [Two Ways]
How to Record Screen with Whiteboard