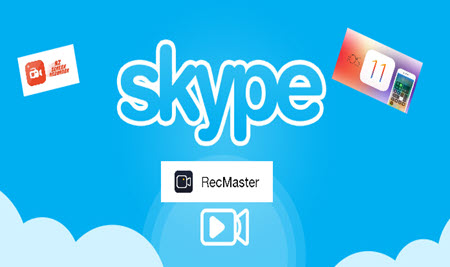 Skype is a telecommunications application that specializes in providing video chat and voice calls between computers, tablets, mobile device and other devices users over the Internet. As the 17-year-old top-notch software, Skype is used by 100 million people on a monthly basis to keep in touch with outsides amid the COVID-19 pandemic duration.
When it comes to any important Skype meetings, many users would like to search for ways to permanently save this one-off event. Under such circumstance, a good Skype screen recorder becomes the crucial tool to meet this goal. Therefore, we write this post to talk about best Skype screen recorder for desktop and mobile phone users so that you can save Skype calls/meetings with ease. Now keep on reading and be ready to pick the suitable one for you.
Is There Any Internal Way to Record Skype Calls?
Surely! Like many telecommunication providers, Skype also comes with an internal screen recorder to offer a quick solution for Skype meetings saving. It can record Skype calls as MP4 format and automatically save it to cloud storage. In this way, it's unnecessary for you to worry about the enough storage space problem even you have a bad performance device. The built-in recording feature does favor to users who are in desire need of a convenient recording solution.
However, every coin has two sides and the internal way is also no exception. What makes user walk around is the legal notification bothering. As long as you start a recording, all the involved persons will know you're recording. Moreover, it can only output files into MP4 format with 24 hours as the maximum recording duration. Additionally, you're given little rights to define the settings and involved parameters.
Considering you may have high requirements on Skype calls recording, here we recommend two solutions to you so that you are available to flexibly recording process either on desktop or mobile phone device.
Solution 1: Easy and Flexible Skype Screen Recorder for Windows and Mac
RecMaster is a simple yet flexible utility to record Skype activities. As a professional Skype screen recorder, it works well on WhatsApp call recording, Skype call capture and other online meeting saving. It can help you grab either Skype video call or audio call in one-click solution with changeable file format. In addition, there are several useful features to add your Skype screen recording including mouse effect, task scheduler, embedded editor and annotation tool. In a word, you can save Skype movements without any effort by virtue of RecMaster.
How to record Skype calls with RecMaster
Step 1: Start with downloading RecMaster from the official website and complete its setup process. Run the program on your computer after it's installation to proceed to Skype calls recording.
Step 2: Choose one recording mode. Whether you're holding a Skype call on computer or web-based version, RecMaster works in the same way to save callings. For general video calls recording, you can select between Full screen and Custom area modes. When it turns to pure audio recording, you're suggested to use Audio only option.

Step 3: When you have Skype calls, you need to record Skype voice of both yourself speaking through the mic and another speaker's voice producing from your audio card, so you need to enable both the System sound and Microphone buttons. Furthermore, file format, quality and advanced tool usage can be decided according to your actual needs.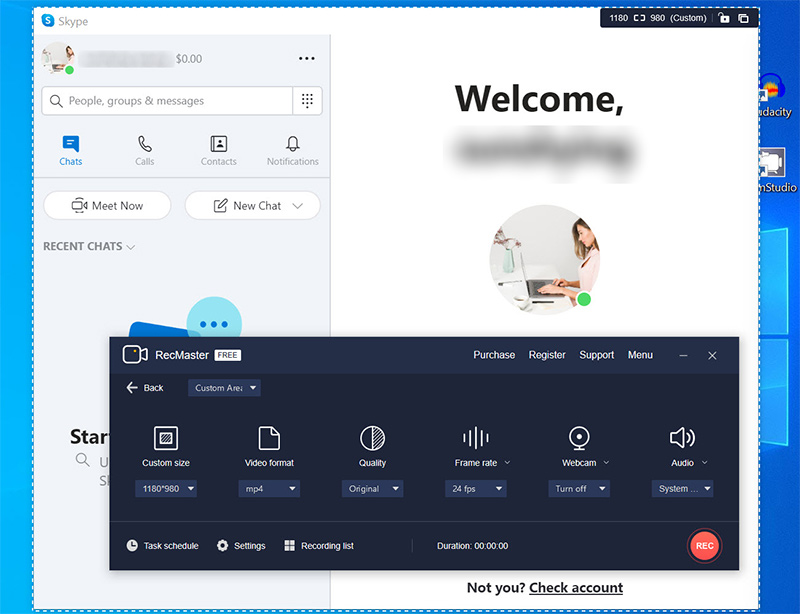 Step 4: Click the REC button (or Alt+1 hotkeys by default) on the recording panel of RecMaster to record Skype calls you have in progress. The Stop button (or Alt+2 keyboard combination by default) will end the recording process and save the file.
Step 5: What if you mistakenly involve some unwanted moments in the video file? Simply utilize the in-built editor to help you. With everything is done, you can upload this file to YouTube, Google Drive.
If you prefer a scheduled Skype call recording, you can take advantage of the task schedule tool to designate scheduled screen recording.
Solution 2: High Performance Screen Recorder for Mobile Phone Users
1. The built-in tool for iOS operating user.
There is a big benefit for iPhone holders to do screencast on Skype. You just need to guarantee the running system of your iPhone is iOS 11 or above and then you're given the ability to make screen recording as well as capture sound like Facebook Messenger call with ease. No download and extra plug-ins installation is required to conduct Skype recording process. Now let's see how it works: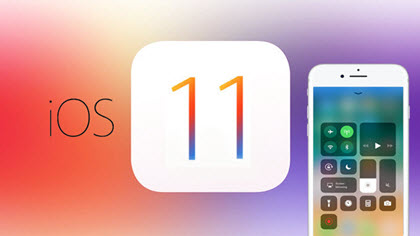 Step 1: Navigate to Customize Control Center and then make configuration as below: Settings>> Control center >> Turn on Access Within Apps option.
Step 2: Get started! Move to the Control Center and choose the Screen recording button. Remember to turn on the microphone icon as well so that your narration can be captured simultaneously. Now you can switch on the Skype call interface.
Step 3: End recording. Tap the red icon appearing with the timer to find out the stop icon.
Step 4: Review the file. Your recorded file is saved in the Photos app. Here you can replay, delete and share the video.
RecMaster also have the ability to record Skype calls on your iPhone. You can refer to this tutorial for detailed information >>How to record iPhone screen on PC like a breeze
2. A popular third-party screen recorder for Android
It's a pity that most of Android users can't enjoy the benefit of the internal way. Fortunately, there is a stable and comprehensive choice called AZ Screen Recorder. It's widely applied by Android users to carry out screen recording movements like Mobile Legends recording, Periscope videos and all the onscreen activities. Besides, it embeds functions including webcam add-in, real-time drawing, no recording time limit and video editor. Here let's begin to work with this tool.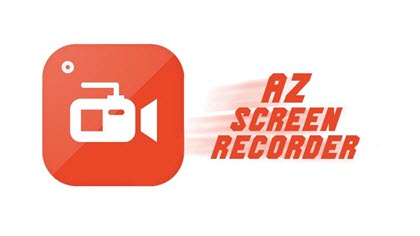 Step 1: Download and install AZ Screen Recorder to your Android mobile phone.
Step 2: Select from choices to do screen recording, take screenshots and more.
Step 3: Start Record with the red button and you can confirm the recording.
Step 4: Drag the notification interface down and then press the Stop button. If necessary, you can leverage the video editor to make adjustments.
You can also read this tutorial to see how RecMaster works recording on Android device >>How to record Android screen on computer
Conclusion
Find a suitable Skype screen recorder from the article to assist your recording Skype. Allowance for compatibility and performance, RecMaster is still our suggestion to conduct any screen recording activities.