Summary: With the help of a good video recorder for YouTube, your YouTube community movements will become more convenient and colorful.
YouTube, the biggest and most well-known video-sharing platform in the world, is the paradise for anyone who wants to enjoy and relax themselves from video-watching. If you're a YouTuber, it lets you upload your productive videos created from all aspects and allows for the distribution of content and ideas through its comments section and social sharing buttons. When it comes to a YouTube viewer, you can view all the online video contents concerning study, business, health and other respective.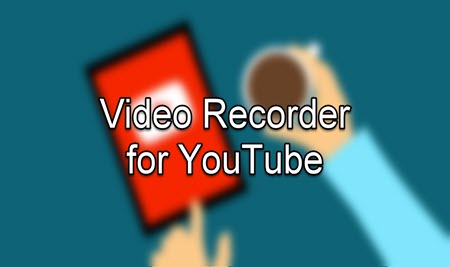 Either as a YouTuber or a YouTube viewer you will get to know the importance of a good video recorder for YouTube. On one hand, if you face the dilemma that you're unable to download YouTube videos to your personal computer, a YouTube video recorder can deal with this problem by screen recording. On the other hand, if you want to make a YouTube video by demonstrating desktop screen movements, then a video recorder is the simple and necessary tool for you to get the job done in the easiest and most efficient way. Therefore, in the following part, we will discuss a perfect YouTube video recorder.
RecMaster- An Easy and Efficient Video Recorder for YouTube
It's no exaggeration to say that RecMaster is the compatible and easiest YouTube screen recorder in the market which promises to offer one-click solution for all video recording needs. As long as you have a personal computer running Windows or Mac system you can enjoy the benefit bringing from RecMaster. It's competent for recording YouTube videos on PC, creating videos for YouTube and capturing live streaming from YouTube. Additionally, it embeds versatile tools to make your YouTube video recording like a breeze.
Key Feature of RecMaster as a YouTube video recorder:
● Multiple video recording modes: directly capture video from camera, carry out video recording in full screen, and record video for YouTube in any designated area.
● Able to record video with sound (microphone/ system sound), flexible frame rate (0-60 fps), and changeable video quality (original/standard/ high).
● Create and save video recording file as MP4/AVL/FLV format (Windows) or MP4/MOV/M4V (Mac).
● Advanced video recording tools including task scheduler, annotation tool, mouse cursor effect…
● Built-in editor to make adjustment for a perfect video recording.
● Support one-click upload to YouTube and Google Drive.
How to use RecMaster for YouTube video recording as a YouTuber
Producing an onscreen video with RecMaster is ultra easy and well-organized. Whether you're a pro or green hand in the recording area, you can complete a YouTube video recording process at one go. Here is the workflow in detail:
Step 1: Download the installation package of this YouTube video recorder from its official website and follow the wizard to finish whole process.
Step 2: Designate recording mode. Choose one option from Full screen, Custom area, Webcam or Game Mode (Windows only) to launch the video capture activities.

Step 3: Make configuration on settings. MP4 format is our suggestion for better compatibility and popularity and 30 fps is enough to create a fluid video. Remember to turn on audio button if you want to capture voice as well. Other settings like mouse cursor, storage resolution and picture-in-picture effect can also be determined according to your decision.

Step 4: When it's time to start video recording, you just need to click REC button. Be ready to display your screen activities and leverage the annotation tool to assist your recording if needed.
Step 5: End with the Stop button. It's essential for you to preview and edit the recorded video file since unnecessary and clattered clips may bother the viewing experience. To accomplish this goal, directly use the editor to cut and merge your video file.
You can upload recorded videos to YouTube account by virtue of one-upload function.
How to use RecMaster for YouTube video recording as a YouTube Viewer
Step 1: Make RecMaster running on your computer to launch the YouTube video recording process.
Step 2: Full screen mode is recommended to grab video content from YouTube. If you want any exceptional choice, simply move to the rest options.
Step 3: You may want to save YouTube video as MP4 so that it's playable on any device. You can choose video format as MP4 with high quality in the setting interface. If you only need a voiceless video, you need to turn off system and microphone buttons. Otherwise, you will get a YouTube video with audio.
If you don't want to sit in front of the computer for the whole recording duration, depend upon the task schedule function to release yourself by presetting the beginning and ending time.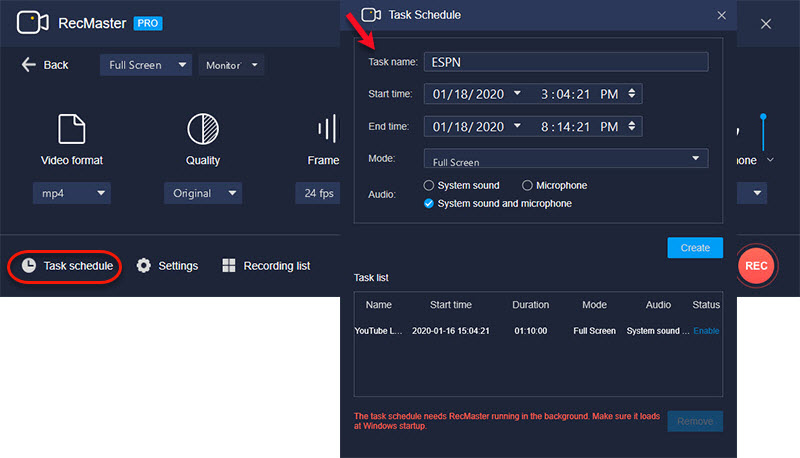 Step 4: Start and complete the recording task with the REC and Stop button accordingly. If you would like to use the shortcuts, you can press keyboard combinations as below.
| | | |
| --- | --- | --- |
| | Shortcut for Windows | Shortcut for Mac |
| Start/ Pause | Alt +1 | Command +1 |
| End recording | Alt +2 | Command +2 |
| Show main window | Alt +3 | Command +3 |
| Hide/show webcam | Alt +4 | / |
| Hide/show annotation | / | Command +H |
| Screenshot | / | Command + P |
Final Word
RecMaster deserves the reputation as the easiest video recorder for YouTube. It helps your YouTube video recording become interesting and effective. If you have other better recommendation, don't hesitate to let us know.
See also:
5 best YouTube video recorders online
Best Screen Recorder for YouTube Videos | Features & Guide
YouTube audio recorder: capture YTb audio easily on mobile or computer