Facebook is one of the most famous social platforms the world has ever seen. Users of Facebook gain access to all kinds of information from any industry in the world. When they are given the feast of resourceful videos, at the same time they interact with each other through pressing the 'like', 'share', and 'comment' button.
One of the biggest puzzles of Facebook users is that they cannot save Facebook videos to their PC or portable devices. This problem has things to do with the way Facebook transmitting its data – streaming. Streaming videos or audios is won't last long and they expire the moment users cut off their internet. Besides, Facebook officially doesn't provide its users with a means to download their videos. Today I am going to introduce you guys two ways – download Facebook videos and record Facebook videos to save users' favorite content to their devices.
Method One: Save Facebook Videos to PC without Additional Software
Method one has nothing to do with ads spam or malware. All the procedures are carried out within web browsers.
The mechanism of this method is simple. Users do some changes to the video link and make it downloadable. This approach doesn't need other software to save Facebook videos. With the help of a mere browser, users are able to download the videos from Facebook, so the method is super suitable for PCs (Windows and Mac), portable devices like Android or iOS phones.
One fatal flaw of this method is that users can't download a batch of videos at one go, they would spend a lot of time on it if they have a group of videos waiting in line. So in this case, we suggest our users record facebook videos (Click here and jump to method two).
• How to download Facebook videos on Windows and Mac?
a). Open Facebook and play the videos that you want to download/record.
b). Right-Click the video and from the four given options ' Play, Unmute, Show video URL, Copy video URL at current time', choose 'Show video URL' and copy the URL.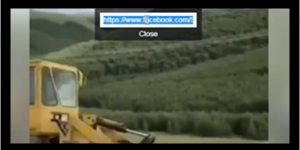 c). Open a new tab and paste the URL at the Search bar of your browser.
Now edit the video address, www.facebook.com – m.facebook.com. The purpose of this procedure is to transform the 'PC URL' into the 'mobile URL'.
d). Hit Enter and the window will become a Facebook video with a mobile-phone outlook.
e). Right-click the video and select 'open link in new tab'.
f). In the new interface, your Facebook video is accessible to be downloaded. Right-Click the video again and select the 'Save video as…'
• How to download Facebook videos on Android and iOS devices?
1. Open a video and press the three dots option.
2. Click 'Copy link'. Paste the link to a chrome tab and you get a mobile Facebook video.
3. The next thing you have to do if you wish the video can be download is to change the 'm' before 'Facebook' into 'mbasic'.

4. Now you will get a subtle different interface of the Facebook video, which is the older version of Facebook allowing you to download the video. Click on it and hold it for a second and the download option will appear.
Method Two: Use Third-Party Screen Recorder to Save Facebook Videos
• Professional Screen Recorder for PC
The third-party-screen-recorder method suits for PC and laptop users (Windows and Mac, Macbook, etc), but it doesn't support the operations on portable devices like iPhone or iPad and Android devices.
Compared with the already mentioned approach above, RecMaster has unique advantages in that it is a one-click solution for quantities of videos' storage.
Screen recorder RecMaster is a brilliant tool for capturing streaming resources on the Internet. Its stable performance and reliable features in recording streaming videos/audios help it successfully carrying out all kinds of tasks. With RecMaster's help, users can record Facebook messenger call or Facebook live all as well and let alone to save Facebook videos.
Now let's see the steps.
1. Download and Install RecMaster.
2. Activate the software and when you see the main interface, choose Custom-Area Mode or Full-Screen Mode to capture Facebook videos.
If you want to record videos in full-screen, you should adopt the Full-Screen Mode, and otherwise, you use the Custom-Area Mode to record minimized video.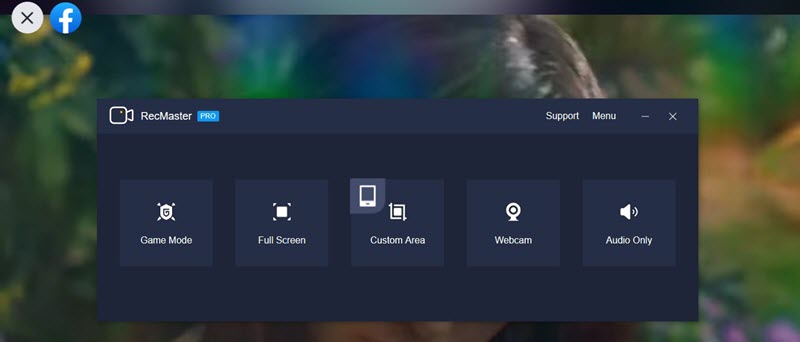 3. After you've decided on the recording mode, it is time to get your settings configured. If you have trouble tweaking these parameters, you can keep the settings unchanged and go straight to record your videos. But if you are advanced users, you should consider tweaking the FPS, video format, footage quality, and audio sources.
4. Press REC to start recording. During the process, you can annotate the video if it is necessary.
5. Stop recording and go to Recording List to check your footage, you can also edit your footage there.
• Screen Recorder for iOS and Android
A-Z Screen Recorder provides high-quality and smooth recording service for users. You can capture the videos without worrying time limit. More importantly, the recorder has a built-in editor, with which you can make advanced editing after recording: add background music into the video, extract image from the video, compress the video etc.
How to use A-Z Screen recorder to record Facebook videos?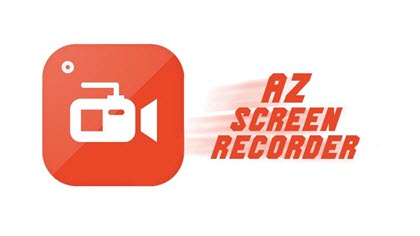 a. Download and install.
b. After installation, you can select among choices to record live streaming, take screenshots and more.
c. Select Record.
d. Confirm the recording.
e. With everything captured, you just need to pull down the notification and click the Stop button.
Verdict
This passage introduces viewers to 2 practical ways to save Facebook videos. The first approach is to use a tricky way to download Facebook videos. The second approach is using a third-party screen recorder to record Facebook videos. The first method is free and safe but lack of flexibility. The second method is more professional and provides more options for users.