This tutorial is about how to record Myspace music and videos easily.
Myspace was once the world's most visited social networking site, but now it is a popular music recommendation platform. You can listen to songs or watch videos on this platform. On Myspace, you are allowed to discover, listen to, and share music from all over the world. But this platform does not provide download services, you have to buy music from iTunes, Amazon store, or other sources. If you want to save your favorite music to listen to when you are not online, you can use an audio recorder to record it on your computer easily. In this tutorial, we will show you how to record Myspace music and videos conveniently. Let's start learning!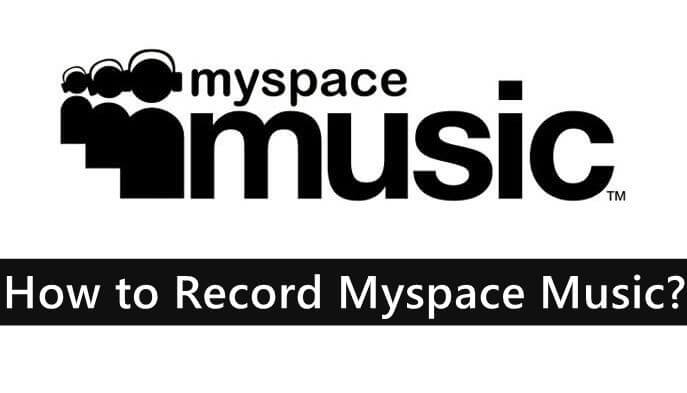 How to Record Myspace Music Only?
If you only need to record music only from Myspace for personal use, you can use audio recording software to help you. It is important to note that the recorded video cannot be used for commercial purposes. Below are two ways to record music on Myspace.
Way 1: Using Audacity
To record audio on your computer, you can use this free audio recorder and editor. Get to know the detailed steps on how to record your computer audio in Audacity.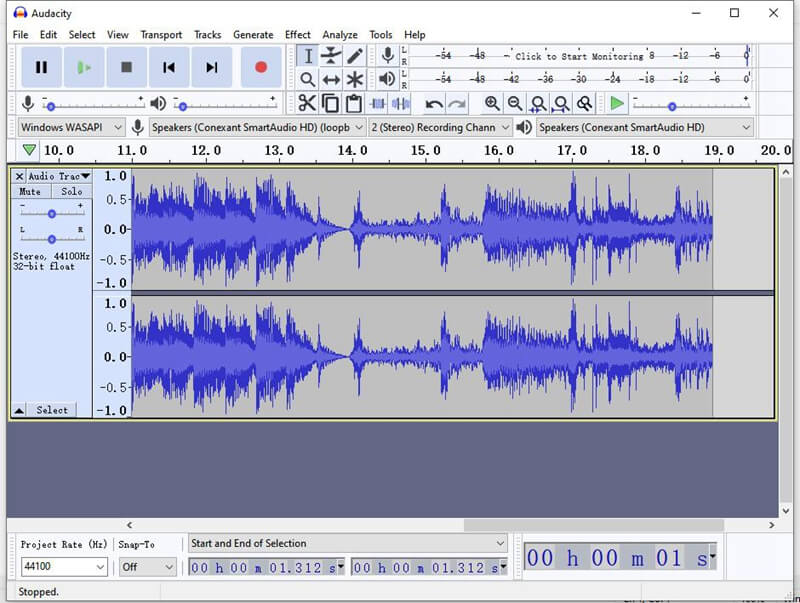 Step 1: Set up your device and capture your computer sound. When you download and install Audacity. Open it and choose the Windows WASAPI Audio Host and then the (loopback) input in the Recording Device box.
Step 2: The next step is to turn off Software Playthrough. If this step is missing, Audacity will record and playback audio repeatedly, creating loud echoes and damaging your device. Just go to Transport>> Transport Options>> Software Playthrough (on/off) and toggle playback on/off when you need.
Step 3: Then, you can test the sound level. This step is optional, and if you want to record perfect audio, you can try setting the sound level by playing similar material and monitoring it in Audacity before you start actually recording the Myspace music. All you need is to turn on monitoring by left-clicking on the recording table and clicking again to turn it off.
Step 4: When all the preparation is done, you can click the red button to start recording.
Step 5: During the recording, If you want to pause, you can click the Pause icon. When you are satisfied with the capturing, you can click on the Stop button. Audacity also enables you to edit your recorded music.
Way 2: Using the best video/audio recorder RecMaster
If you find the steps for recording music with Audacity too complicated, or if you also want to record videos on Myspace, RecMaster is the best choice for you. It is one of the most easy-to-use screen recorders. You can use it to record Myspace music and videos with just a few clicks. The simple main interface is free of cumbersome buttons. Even if it's your first time using it, it can be smooth. You can get this reliable music recording tool by clicking on the buttons below. It has a Windows version and a Mac version.
Step 1: Launch RecMaster and choose the Audio Only mode
First of all, you can launch the recording software and go to Other Modes>> Audio Only. This mode helps you to record the system sound and your microphone sound simultaneously or separately.

Step 2: Confirm the audio settings before starting the record
After that, you can confirm the settings. RecMaster allows you to record the system sound and your own voice at the same time. If you only need to record Myspace music, don't forget to disable the microphone.

Step 3: Start the capturing by clicking on the REC button
When you've ready for the recording, you can hit the big red REC button or type the Alt key + 1 to start. The recording will start after the 3-second countdown.

Step 4: Pause or stop the recording
During the recording, you can click on the Pause button or press the Alt key + 1. When you finish recording a song on Myspace, you can hit the Stop button or press the Alt key + 2. The recorded audio will be saved in the recording list automatically.

How to Record Myspace Music and Video?
Now, you have already know how to record Myspace music on your Windows computer. There are also many great videos on Myspace, and if you want to record them and watch them when you have time, RecMaster can meet your needs as well. It is also a powerful video recorder.
To record Myspace music and video, you can choose the Full-Screen mode or Custom Area mode in RecMaster. You can choose to record your entire computer desktop or any part of your screen easily. RecMaster also helps you to record your webcam and edit the recorded videos with the built-in editor. Jump to read how to read screen and audio on Windows 11.

The end
Myspace is a popular music platform, if you want to listen to your favorite songs or favorite videos without an internet connection, you can use the recording software to record Myspace music and videos conveniently. In this guide, we have shown you how to use Audacity to record computer sound, and how to use RecMaster to record music and videos. The best screen recorder has many advanced features waiting for you to explore. Get it and have a try now!
Related guides
How to Reduce Audio Noise in Video Recording?
How to Record Google Earth Video on Your Computer?