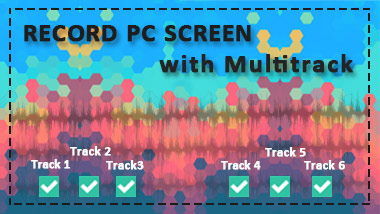 In many situations, you may want to record PC screen with multitrack audio. Then what tool you need to rely on?
Have you ever captured screen video on your computer? If yes, you may more or less know that in most cases, you can only produce a video with one video and one audio track only. Even some programs show screen video, webcam video, system sound and microphone voice as separate tracks in the internal editor, they output all video/audio contents into the same track in the end. So how to create multitrack (audio) recording when recording a PC screen? You have several different choices.

Before getting straightly to the point, firstly I want to inform all of this post visitors that if you are simply a common video maker, not a pro-level songwriters, singers, musicians, or having any post-production requirement for certain audio source, you don't have to pursuit for a multitrack recorder, and general screencasting tool like RecMaster is totally enough for both screen video and audio capture.
Free download RecMaster now to keep a recording of everything happening on your Windows or Mac monitor (multi-monitor included) without hassle, be it gameplay session, PPT presentation, software demo, picture-in-picture how-to, webcam face talking or audio from mic/system. No matter you are a video maker or a general public, RecMaster will improve your work efficiency and help you save on-screen actions and online streaming in only clicks.
● Multiple Recording Modes

● Various Settings

● Advanced Tools
– For Windows: Task Schedule, Auto full screen capture at Windows startup, Mouse cursor effect, Real-time Annotation, Built-in editor, One-click share.
– >For Mac: Mouse cursor effect, Real-time Annotation & Whiteboar, GPU acceleration (for less/no lags), Auto-stop, Auto-split large/long recording, Built-in editor, One-click share.
For those who really need a pieces of multitrack recording helper but are utterly not knowledgeably about it, please move up to the next part in which I will give several tools to help.
1. OBS Studio – Record PC Screen with 6 Audio Tracks at Most
As a screencasting software OG, this open source screen recorder, available for Windows, macOS and Linux, is enjoyed by a large number of live broadcasters, gamers and plain users to document what's going on on the computer screen. Regardless of unlimited scenes and sources support, its Audio Mixer is able to grab up to 6 pieces of audio tracks and store them into a single video file. Once you add the available audios into Sources with "Audio Input Capture" and "Audio Output Capture", they will appear on Audio Mixer section, where you are free to do settings on "Advanced Audio Parameters" like volume, balance, mono, sync offset, audio monitoring, and track number.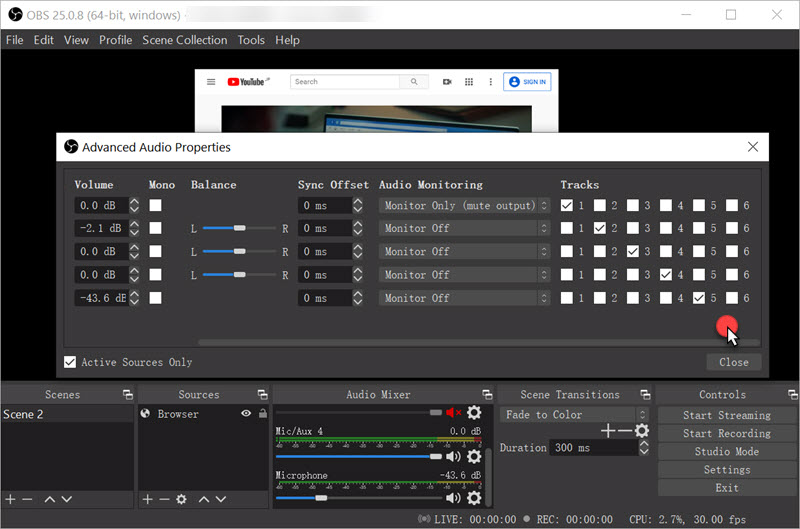 Since only MKV container format is compatible with multiple tracks, you should go to Settings -> Output -> Recording to pick mkv as the target recording format, as well as tick the right audio track numbers accordingly. In addition, OBS still offers advanced users further video and audio parameter options to fine tune, for instance encoder, rate control, and CPU usage preset. (For more detailed capture settings, you can check out Best OBS Settings for Recording)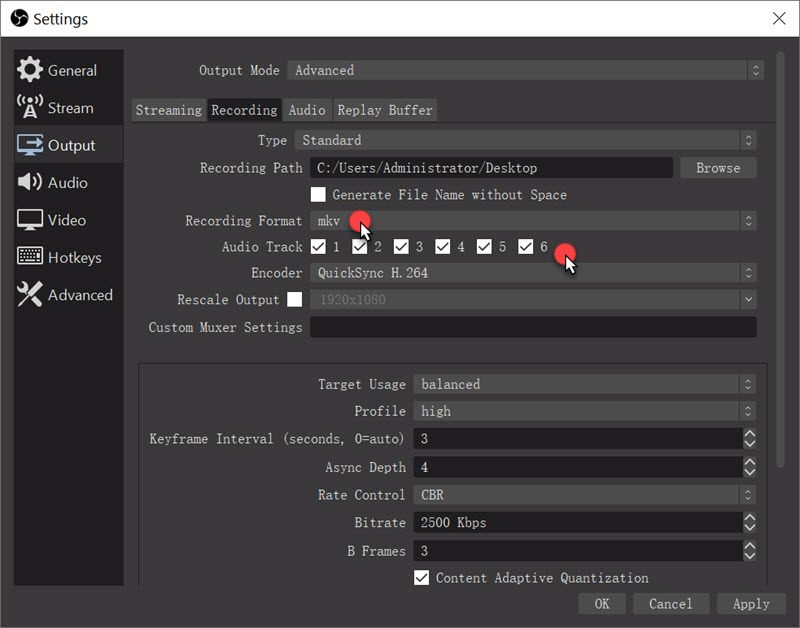 In short, OBS Studio is a good bet to choose if your goal is to record video with several audio tracks on computer at no cost. And 6-track-support can meet many demands actually.
2. Audacity – Free Record & Edit Multitrack (Up-to-16) Overdubbing
To be clear in the beginning, this is a pure cross-platform audio recording application or say one of the popular DAW (Digital Audio Workstation) enjoyed greatly by creative musicians. That's to say, if you need to cooperate audio with screen movement, you should combine Audacity with another screen video recorder to get the most important job done. As to add multitrack audio into video, free HandBrake video transcoder can lend you a hand.
Audacity is safe OSS (open-sourced software) you can trust still. It empowers you to make multi-track overdubs from computer's sound board, or other hardware setups like Samson/xc2/xae G-Track USB Microphone, USB mic pre-amp with XLR mic input and a mini-jack headphone socket, and Behringer/xc2/xae UCA202 Stereo bidirectional USB audio interface… With it, you can set and record one track first, and then play it and add another track to capture and mix with the former one. Do repeat this operation if necessary to overdub diversified sound layers, e.g guitar, drums, piano, and voice, into original sound track.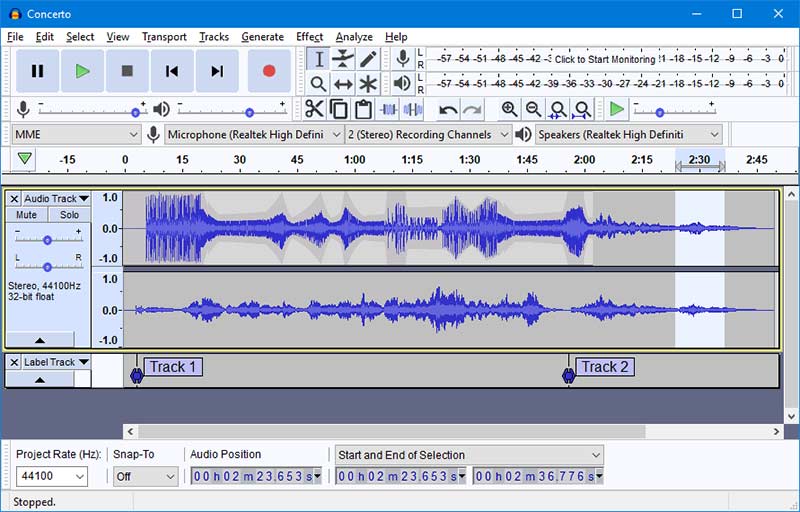 Official Tutorial: Recording Multi-track Overdubs
See Also: How to Record Multitrack Interview/Podcast on PC
More about DAWs: Many music producers and podcasters take modern, flexible and powerful DAW as a crucial tool in their creative arsenals to make music/podcast interview out of brain's ideas effectively and painlessly. If you are bound to create high-quality multitrack files in the future, you are suggested to pay for a more stable, easier ore more professional DAW in the long run, Steinberg Cubase, Apple Logic Pro, Apple GarageBand, Cakewalk, FL Studio, Cockos Reaper, just to name a few.
3. Sony Vegas Pro – A Well-know NLE Embracing Multitrack Capture
Starting the life as an audio multitrack NLE (aka non-linear editing) for Windows, even Vegas Pro now moves up to be a video NLE, it still features screen capturing with multiple audio tracks. Everytime you open Vegas Capture, all of the available monitor(s), audio input and output audio devices are listed. As long as you have an audio interface with multiple discrete channel inputs connected into your PC, you are enabled to select one or more to capture and save as separate tracks. The channel number depends on the audio device that you are using.
4. Physical Digital Multitrack Recorder
With a long period of time's tech development and innovation, digital multitracking just leads the trend and multitrack recording hardware is still the fave of many audio engineers and artists. Specifically, those multi-track recording devices are standalome machines and have varying specifications, especially on the number of simultaneous audio recording tracks. If you'd like to dub your screencast with excellent pro-standard music, vocal, etc., you can take a portable multitrack (from 4 to 32) recorder hardware into consideration and add it into your wishlist, for instance Zoom (F4/R16/LiveTrack), J4T, TASCAM DP/LiveTrack…
Verdict
From cost-free screencasting software to premium media editor, specialized audio recording software to DAW, you can try them from easy to complicated, free to paid according to your real computing skill and demand to record PC screen with multitrack. If you are too new to this kind of thing, you should take a crack at OBS Studio freeware in the first place.
For any further suggestion on this topic to share, please feel free to email us.